Bike shop's own label last mile cycle hire expands across the Cotswolds
Bainton Bikes of Oxford is to expand its own-label cycle hire scheme across a number of new locations using bikes it designed and produced alongside Portug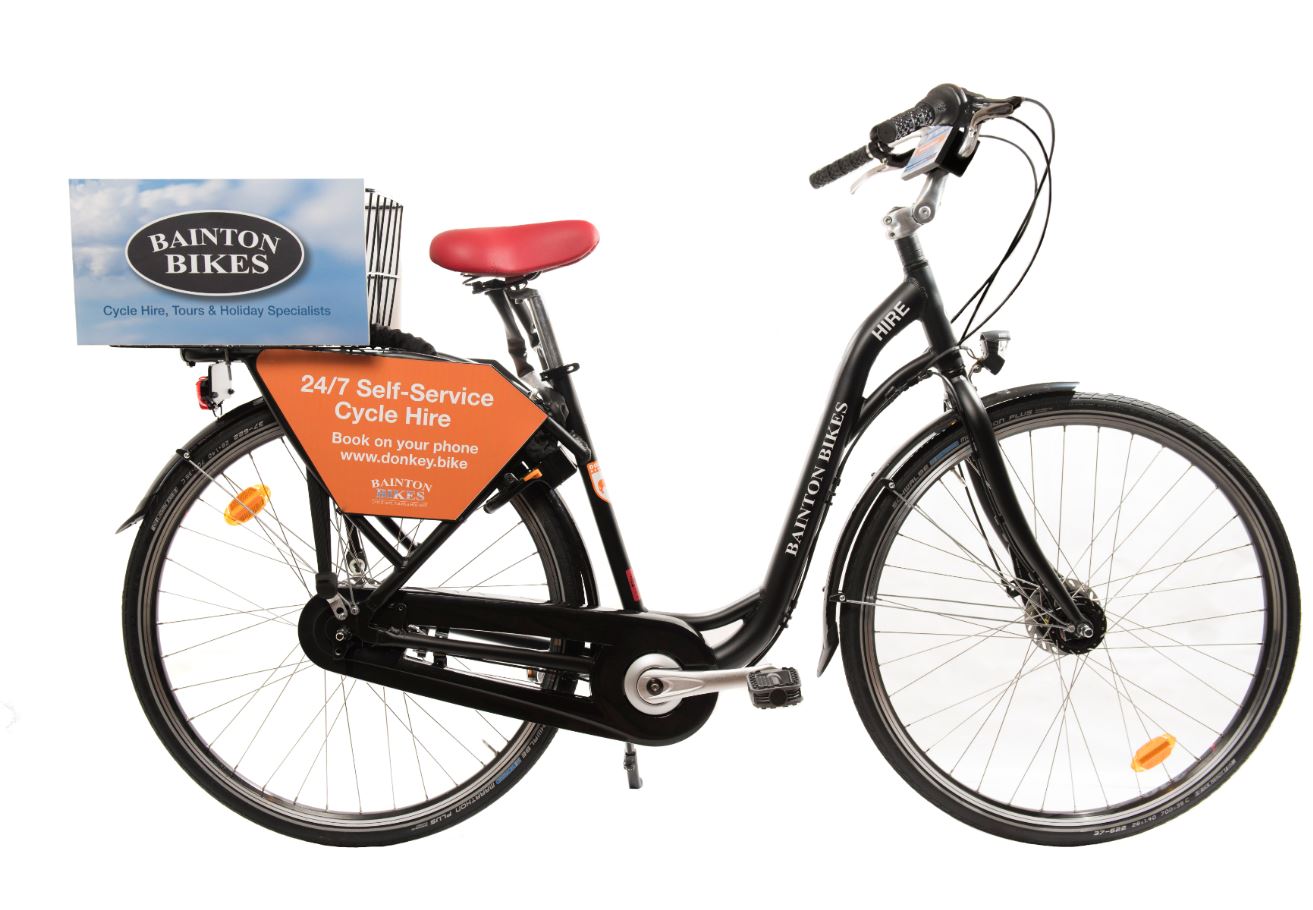 uese manufacturer Orbita.
Profiled on CyclingIndustry.News in August of 2016, the independent bike shop spotted an opportunity to roll out own label bike hire having made a success of a scheme in Oxford. The firm pressed ahead with developing its own hire bikes, which will be clad with Donkey Republic's digitally controlled hire kit.
Enabling the user to pick up bikes from anywhere removing the need for on street docking infrastructure, Donkey Republic allows riders to book and pay for bikes on www.donkey.bike in advance or on the spot, 24/7. They then use the Donkey app to locate and unlock the bikes – by connecting to the lock through Bluetooth. In other words, they need no internet on their phone to unlock and lock the bikes as many times as they want, but also no docking stations, no cash, no leaving of ID cards or deposits and no complying with rental shops' opening hours.
The pairing of own brand bikes and the Donkey Republic software now allows Bainton to roll out its hire business in numerous locations with launches planned throughout next week. These take place at:
Cheltenham: Tuesday March 28th: 1600 hrs at junction of Promenade and Crescent Terrace; champagne reception from 1700 in Pittville Meeting Room
Tetbury: Wednesday March 29th: 1100 hrs behind Market House and champagne reception from 1145 in Market House meeting room (upstairs)
Cirencester: Friday March 31st: 1030 hrs by War Memorial in market place; champagne reception afterwards from 11.15 at Bingham Gallery, Dyer Street
Moreton-in-Marsh: Friday March 31st: 1730 hrs at Rail Station; champagne reception from 1800 at Redesdale Hall, High Street
Kevin Moreland, director at Bainton, told CI.N: "Today's hirers want to be able to pick up and put down a bike at will without having to park it in a docking station. This is what our scheme will offer.
"Our Donkey bikes will allow you to pick up a bike at, say, the railway station at any time of day or night, use it as necessary and return it there when finished. With a complement of routes, the bikes allow exploration of areas otherwise less accessible, whilst easing traffic congestion and providing a green sustainable model."