"No shortage of Deliveries & Drivers with Club75 Bikes"
//Sponsored content//  Club75 Bikes – Who we are? A Trustpilot 5* rated client-driven company with over 50 years' experience. A bespoke delivery and collection service for you and your customers delivering bikes up and down the U.K.
Have you ever wondered why your Bike delivery gets trashed? This is how many times your bicycles are handled before they get to the customer:
*  Parcel is picked up from you
*   Delivered to the Depot
*  Loaded on the wagon
*  Unloaded at the hub
*  Re-loaded onto a wagon
*  Taken to the delivery depot
*  Unloaded in the depot
*  Put on a van
*  Then delivered to customer
The more times your bicycle is handled the more chance of damage. At Club75 Bikes we cut down the number of times your bicycles are handled before they get to the customer:-
*  We pick up from you and deliver to your customer
*  We deliver direct to the customer
*  We contact the customer directly
*  We let them know when we are delivering
*  Will let you know when it is delivered
*  You can speak to the driver direct who is delivering your bicycle
*  Service 3 to 5 days from date of collection
Then:-
*  We let your customer examine the bicycle
*  We will remove all packaging
*  We will fully Insure your goods
And:-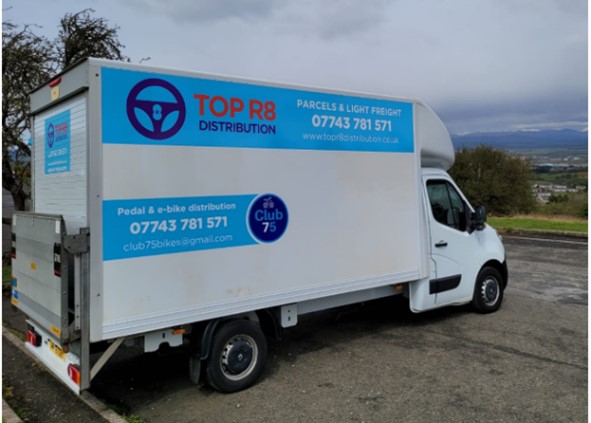 We do not tranship goods to others, we use our own network. Not only that, we only ship bikes – therefore there is no freight contamination, and you can see us coming, all of our vehicles are liveried.
Delivered in association with CCN Haulage Network –  TopR8 Distribution –  M & H Carriers – Cumbria Express (CXP) and Digital Support
What our Customers have to say:
Jacky Stewart: "Great Service with very Polite and helpful delivery man. Perfect. Thank you"
Jason Redden:  "Eddie the delivery Driver was a superstar! Very helpful. Great service 😊 "
Geoff Crowe: "Winston was amazing. Got our pallet onto a difficult loading dock, through narrow doors and into the Mill no problem".
Anne-Marie Pincombe: "Excellent Service – I received a delivery from Whinston at Courier Compare this morning. He was really friendly and extremely helpful, offering to put my delivery into the garage despite the fact we had been told it would only be delivered to the kerbside. The whole experience was very positive and was a great start to the day ~thank you !
Why don't you change your current Delivery provider? Contact us via:

Eddie: 07743 781571
Whinston: 07713 530626
Email: info.club75bikes@yahoo.com
Coverage includes Scotland, England, Wales, Highlands. Islands of Scotland coming soon
//Sponsored content//