Continental talks investment in "eco-friendly rubber", OEM expansion and Brompton tyres
The Continental booth at Eurobike had a few hidden gems for anyone looking closely. Already racking up pre-orders is a Brompton-suited tyre, but there's also an interesting story for those looking for eco-conscious efforts from the bicycle industry.
Creeping into the catalogue is a tyre currently under the Taraxagum banner and about a third of its contents is a natural rubber replacement stemming from the root of Dandelion plants.
The innovation came from PHD student Cara Recker who developed the idea and proposed to Continental's German headquarters that it may be worth following up. That student now works full time in a new Taraxagum dedicated facility opened in June of 2019 in Anklam, Germany.
It is said that over the next 5 years Continentla will invest €35 million to further explore refining the rubber production process.
UK distributor Cambrian Tyres told CI.N: "The Taraxagum range feels just as grippy, if not more so and weighs in very respectably too, the Urban tyre is just 350 grams. At present we have a clincher tyre for road and urban applications."
It is around 30% of the tyre's content that is built from the sustainable source, with the remainder stemming synthetic rubber, among other components. The cultivation of the root happens across all temperate climates, meaning it could be sourced from much of Europe, the USA and Russia, among other places.
"It's potentially a natural rubber replacement and the bicycle is the testing ground to see whether the application extends to automotive," adds Childs. "The land required to harvest the material is the sticking point at present; a car tyre would require half a football pitch of plant to manufacture. There's work still to be done."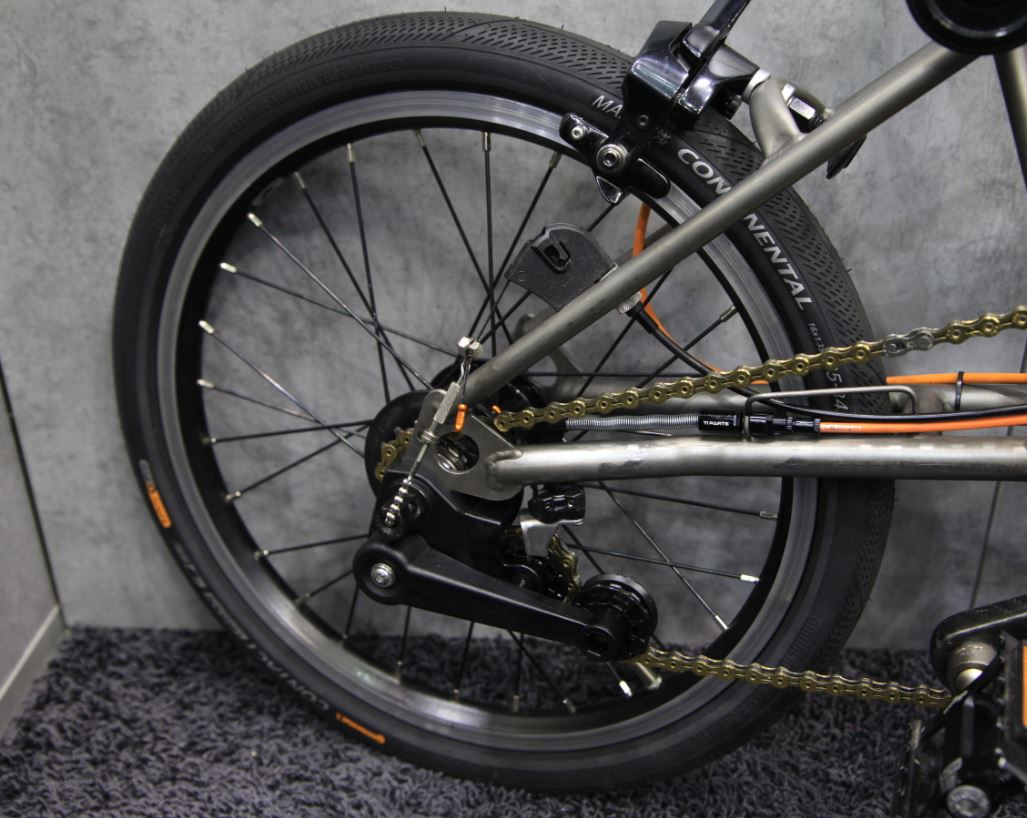 Tucked away at the back of the Eurobike booth was the poorly kept secret that a Brompton-suited tyre is indeed joining the range and for those that have seen it the pre-orders have flowed, we're told.
Due in Q1 of 2020 (approximately February), the tyre was soft-launched at the RideLondon event where the interest was deemed strong. Likely to retail just shy of £30, the tyre offers a similar level of protection to its main rival at Schwalbe.
Those attending the Cycle Show's trade day tomorrow will also discover a few new additions in the catalogue, notably the GP Urban, a Contact Plus now suited to cargo bikes and new Gravel tubeless for 650 and 700c wheelsets. The Terra Trail (40mm) and Terra Speed (35/40mm) tyres also are worth the attention of shops.
"You'll be surprised to hear it, but there's a steady demand for 26″ tubeless options appearing of late, so we've options there for anyone still running that wheel size," adds Childs.
We're told that Continental will ramp up its OEM aspirations too.
"The premium end is coming obviously from our German factory, but over in Asia we are covering all bases for manufacturers. There's capability to very quickly expand out there and I think that growth has to come. Not many brands boast their own Asian factory, so Continental has a very competitive product. Next year we will have some great mid-price tubeless products that we expect to do very well," concludes Childs.