DfT 2020 Road Traffic Estimates show "highest level of cycling since 60s"
The Department for Transport (DfT) has released its changes to the 2020 Road Traffic publication following the impact of coronavirus (COVID-19) on traffic estimates.
The traffic estimates presented in the release cover the calendar year of 2020 and include the period following the government's announcements of lockdown measures to reduce the transmission of the coronavirus.
It perhaps comes as no surprise that the coronavirus pandemic has had the biggest single-year impact on road traffic since records begin in 1949. 280.5 billion vehicle miles were driven on Great Britain's roads in 2020, a decrease of 21.3% compared to the previous year.
The report shows that during the calendar year of 2020, there was a 45.7% increase on the 2019 levels to 5.0 billion cycle miles. This is the highest level of cycling on the public highway since the 1960s.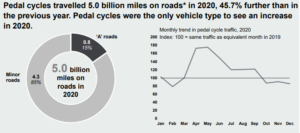 Additionally, last June, Government data detailing the change in transport use over the lockdown period showed cycling levels rose by up to 300% on some days. The report also found that pedal cycles travelled 5.0 billion miles on roads in 2020, 45.7% further than in the previous year. Pedal cycles were the only vehicle type to see an increase in 2020.
Pedal cycle traffic saw its highest monthly levels in 2020 during April and May, following emergence of the coronavirus lockdown coming into force on 23rd March 2020. Pedal cycle traffic for April and May 2020 were 73% and 75% higher than their levels in the equivalent months in 2019, respectively.
2020 monthly cycling levels remained above the equivalent 2019 figures until October. The report showed that traffic on minor roads saw the biggest increase, rising by 51.8%, where traffic on 'A' roads increased by 18.8%.
The next annual traffic statistics release is expected to be published in May 2022, reporting 2021 traffic figures. Provisional figures for 2021 will be published on a quarterly basis during 2021-22. The next provisional figures, for the year to end March 2021, are due to be released in June 2021.