Dyneema spokes lace superlight 860 gram MTB wheelset
An Italian retailer specialising in luxury components has laced up a 860 gram wheelset that it claims is now the lightest MTB pair ever assembled.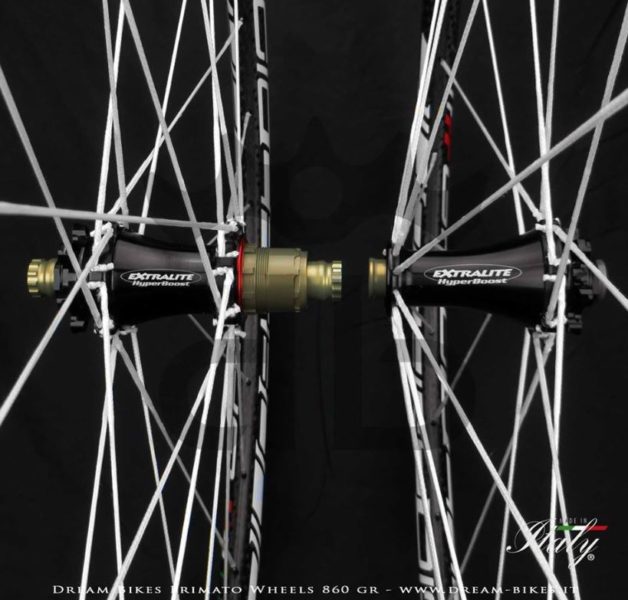 Assembled by Dream Bikes, the wheelset utilises an innovative and previously untested formula, for the first time lacing a wheel with Berd Spokes, made from Dyneema fabric.
Dyneema (the brand name for Ultra-High Molecular Weight Polyethylene) is touted as wonder material of sorts and lays claim to being the world's strongest fibre. Utilised to date in cycle clothing and select bike parts, the material first surfaced in the cycling world during the 2015 Tour de France. Used as part of the make up of clothing, the incredibly strong fibre can shrug off the damage from road rash when embedded in cycling kit.
Said to be 15 time stronger than steel, but with the bonus of flexibility, the fibre is surprisingly well suited to lacing spokes.
According to Dream Bikes: "These wheels are not currently on the market, we have assembled them for a very ambitious project that you will see grow up in the next few months on our page. They will still be tested and will help develop and refine the technologies applied to future products that we will see on the market."
The wheelset is further made up of a T1000 fiber 29″ clincher rim with a 26mm inner channel. This is laced to Extralite Hyperboost hubs with ceramic bearings. Not shy of backing its strength claims, Dream Bikes say the wheelset has no rider weight limit and will be guaranteed for life once available.
"The wheels are of the highest level available from current technology," adds Dream Bikes. "Despite the record weight, they aren't fragile or low-performance wheels. They aren't cheap, but they're out of category!"