Editor's comment: Why third-party insurance for electric bikes would be a huge mistake
You'll undoubtedly have read yesterday's story relating to a European Commission proposal to move to create compulsory insurance for electric bikes in Europe.
In the less than 24 hours it's been live, the reaction has been phenomenal and for good reason; there's a lot of false information circulating already. (In fact, I'll hold my hands up and say that our initial headline wasn't perfectly phrased, though it's now edited to reflect the reality).
"If today`s proposal becomes a law, third-party liability insurance will be required that would discourage millions of European citizens to use pedelec, undermine the efforts and investments of several member states and the European Union to promote sustainable mobility," states Adam Bodor advocacy director of the European Cyclists` Federation.
The key word there is IF.
At this stage the proposal is just that. No law has, at present, changed and it looks very much as though member states could veto any cementing of a poorly considered action to move forwards with the draft. Brexit, in theory, could hand the UK it's own destiny, though thus far legislation has voluntarily fallen in line with mainland Europe for a number of reasons.
"I can reassure members that it remains legal to use e-bikes in the UK without motor vehicle insurance. The article is based on a proposal which has been made by the European Commission for reform of the Motor Insurance Directive," said Peter Eland of the UK Bicycle Association.
The Bicycle Association, alongside a number of other trade representatives inside the UK and further afield, has long been battling such ideas, in fact this particular proposal to amend the Motor Insurance Directive has a near two-year history, says Eland.
Electric bikes are, against advice, included in the final formal proposal, that much is true. However, this proposal still has to pass The Council of the European Union and the European Parliament, not to mention a chorus of bike, motorcycle and EV industry folk who will be opposing such a move. Indeed the latter's concerns are already on the radar and noted in the proposal's impact assessment.
So let's look at the many fold reasons why this legislation in reality makes little sense:
Cities are choking with congestion and pollution, even the least green fingered politicians are accepting that point. To place a barrier in front of the uptake of clean and efficient transportation at this stage would be nonsensical. In the UK the Government has thus far failed to offer the same subsidy handed to electric car buyers to those utlising electric bikes, but the calls to incentive this are growing fast, as is the evidence that such a scheme works.
Next we have to consider just how many electric bikes already exist in the market, not to mention the enormous boon to business. In Holland, to give just one example, one in three new bike sales is now electric. 23.6% more people took home a pedal assist build comparing 2015 with the prior year. The growth curve continues.
Should the legislation come to fruition, 1.4 million electric bikes on the ground in Holland would require registration and, presumably, number plates to tally with their third-party insurance. That, we'd imagine, would be incredibly hard to enforce on a nation so smitten with the benefits that cycling culture has brought.
The EU's own type approval regulation 168/2013, as it stands, specifically excludes compliant pedal-assisted builds from classification as motor vehicles. That, in theory, should further stop such an idea in its tracks.
A lot of questions are being asked about who is lobbying for this and indeed the call for cyclists to carry insurance is not a new one. Thus far, the argument has been robustly defended with the logic that, in comparison to the damage caused by motor vehicles, the stats just don't add up to impose such a thing on bicycles of any kind.
According to Department for Transport data, in 2016, 43 pedestrians died in collisions involving a vehicle on the footway or verge. None of them involved a cycle. On the roads bicycles were involved, on average, in about three pedestrian fatalities a year, and 82 serious injuries. This equates to c.0.6% of pedestrian fatalities overall, and 1.5% of serious injuries. For context, cars were involved on average in about 317 pedestrian fatalities a year, and 4,394 serious injuries, or 67.5% of pedestrian fatalities, and 81% of pedestrian serious injuries.
In summary, the costs to implement are vastly disproportionate to the consequences.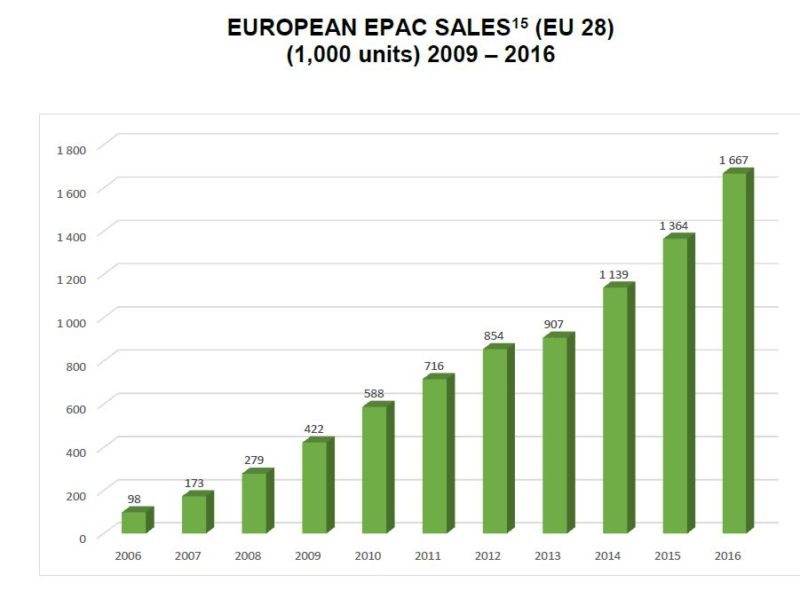 Europe's electric bike industry, currently embroiled in a spat with far-Eastern importers on dumping tariffs, manufactured 1,164,000 units in 2016. Furthermore, it sold 1,667,000, a 22.15% rise on 2015 sales figures. The market, against a stagnant backdrop of bicycle sales, is booming. Should barriers be put in place to uptake requiring registration and insurance the damage to trade would be significant.
Using the current trajectory of the attached CONEBI graph, it's safe to say we're on the cusp of 2 million electric bikes sold in Europe in the very near future, if not already in 2017.
That, according to research, is doing wonders to reduce private car reliance. That, in turn, is doing wonders to trim pollution and surprisingly health. Electric bikes, as has been found more than once now, are of course not 'cheating'. Indeed, it has been found that users experience physical exertion 95% of the time.
The EU is, at present, taking the UK and other EU countries to Europe's highest court over deadly air pollution breaches. To place a barrier on cycling for transport uptake, in any form, runs hugely counterproductive to its goals.
Will this legislation pass? Not if there is any sanity left on this earth.