ECF Secretary General to leave organisation after May AGM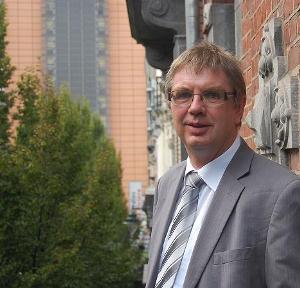 Secretary General Dr. Bernhard Ensink has announced he will bid farewell to the European Cyclists' Federation (ECF) in May, at the organisation's General Assembly.
Ensink has spent 12 years in the role after being appointed in 2006, having previously spent seven years as Director of the Dutch Cyclists' Association.
With Ensink at the helm, the ECF grew into a federation made up of 76 member organisations and over 20 staff professionals, receiving financial support from its national ember organisations and the European Commission.
One of the highlights of his career saw the Secretary General handing over the EU Cycling Strategy to EU Transport Commissioner Violeta Bulc at Velo-city in 2017. The EU Cycling Strategy was developed collectively by ECF's staff, members and its wider expert networks, embracing relevant policy areas such as infrastructure, vehicle regulation, multi-modal and intelligent transport systems, as well as the need for a fiscal level playing field for cycling.
The Velo-city conference series evolved from a bi-annual European series to an annual global cycling summit which now regularly attracts over 1500 delegates. Ensink also played an important role in creating global acknowledgement of ECF as the leader in international cycling advocacy.
Ensink commented: "I am proud of my contribution to the development of ECF and international cycling advocacy. ECF's board and I concluded that it's time for a change now after 12 exciting years – for ECF and for me. I am looking forward to new opportunities where I can offer my skills, experience and knowledge I developed as deputy mayor and CEO of NGOs on regional, national and international levels."
2019 looks set to be a year of significant transitions and fresh growth for the ECF, with its "World Cycling Alliance" network advancing in legal form and a new partnership with Cycling Industries Europe. The ECF will also develop a new strategy built on its "Vision 2030" adopted at it's Milan AGM this year.
Ensink will hand over his tasks during the first quarter of 2019 and will bid farewell to ECF at the organisation's AGM in May.