Electric Bike Corporation opens training and showroom facility in Warwickshire
The Electric Bike Corporation (EBC) has opened a new purpose-built training and display facility in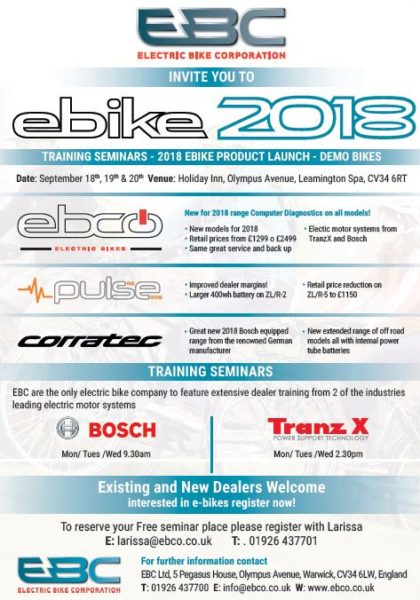 Warwickshire.
Now serving as a training centre for TransX, Bosch and Shimano e-bike products, the venue will now serve up seminars for Bosch (accreditation) and TranzX (certification) taking place in tandem with "e-bike Live 2018" on the 18th, 19th and 20th September 2017.
Over the last six months the EBC has trained over 200 individuals from IBDs, Halfords, Cycle Republic and staff from all 66 Evans stores. Now with a capacity to train small groups of 15-20 in the new facility it is our intention to hold regular seminars to keep our dealers updated in all the latest technology .The sessions include demonstrations on battery and motor servicing through to software updating, diagnostics and warranty issues.
Paul Stanforth, EBC's MD, said: "Electric Bike training in conjunction with leading electric motor brands such as Bosch, Shimano and TranzX has always been hugely important at EBC. It gives dealers the confidence, knowledge and the tools they need to sell and service  e-bikes. With our new training facility and display room located at our HQ at Warwick we now have the ability to train both workshop and sales staff on the latest tech, hardware and software."
To find out more and the next available seminar dates contact Nigel Watson at nigel@ebco.co.uk or
Paul Stanforth via paul@ebco.co.uk.