Electric bike purchases pulling people from private cars, finds NITC study
A study of nearly 1,800 North Americans using electric bikes has found that a large chunk primarily took to pedal-assist bikes in order to help ditch their private cars.
Undertaken by the National Institute for Transportation and Communities, the study is an eye-opener as to why people are taking note; some 28% said they made a purchase specifically to reduce their car reliance. Users further reported that, without their e-Bike, 76% of their trips would have been made by car.
A plethora of reasons were put forward by those surveyed as to why electric bikes appealed to them. These ranged avoiding parking charges and traffic, right through to medical and fitness reasons.
Electric bikes, as has been found more than once now, are of course not 'cheating'. Indeed, it has been found that users experience physical exertion 95% of the time.
Of those surveyed, 70% were men and 29% women (the rest unspecified). Both a primary and secondary reason for an electric bike purchase was sought, with car trip replacement ranking the highest and many other car use related points further cited. For just shy of 20%, "it is a cost effective form of transportation" was given as the primary factor.
Known to increase the distance people typically cycle, 22% stated that they bought into electric cycling to travel farther, while 27% suggested it was the hilly area that they lived within that swayed their decision.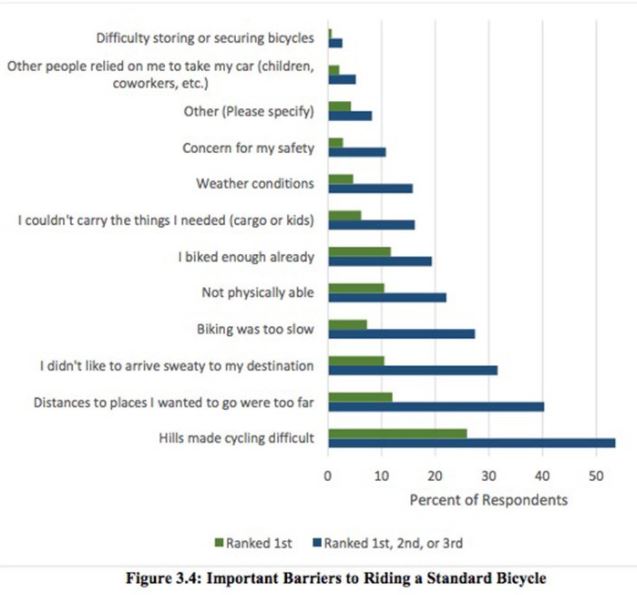 Further pitched as a leveller for cycling families keen to keep pace or those with medical conditions, 8% and 16%, respectively cited these reasons for their buy.
Graphs within the study further illustrate the point that many people are seeking to do with a bike what they typically do with a car.
On the "barriers to riding a standard bicycle", 54% suggested hills prevented them from achieving their goals, 40% blamed distance barriers and 17% suggested they couldn't carry the cargo they needed to haul on a pedal-powered bike.
Illustrating that electric bike riders tend to use their rides more, over 91% of those surveyed said they rode weekly or daily. Only 55% of former pedal bike users this frequently before making the change.
Graphs via: NITC
This article has now been added to our library of data to support your case for building for cycling.