Eurobike: Key lines from Wisper, Hutchinson, Hexlox and Weldtite
Having walked the Zeppelin halls of Friedrichshafen for three days, dodging wheely bags, micro scooters and occasionally dogs in trailers too, here's part one of a series of product round ups documenting some key lines for the year ahead.
Hutchinson (Sold via Windwave UK)
Rolling off the production lines of the Langlée factory this year its the Griffus tyre that's stole the show. Built for dry and rocky terrain and more aggressive off road riding you'll find 27.5 and 29er iterations with the choice of either black or tan sidewalls.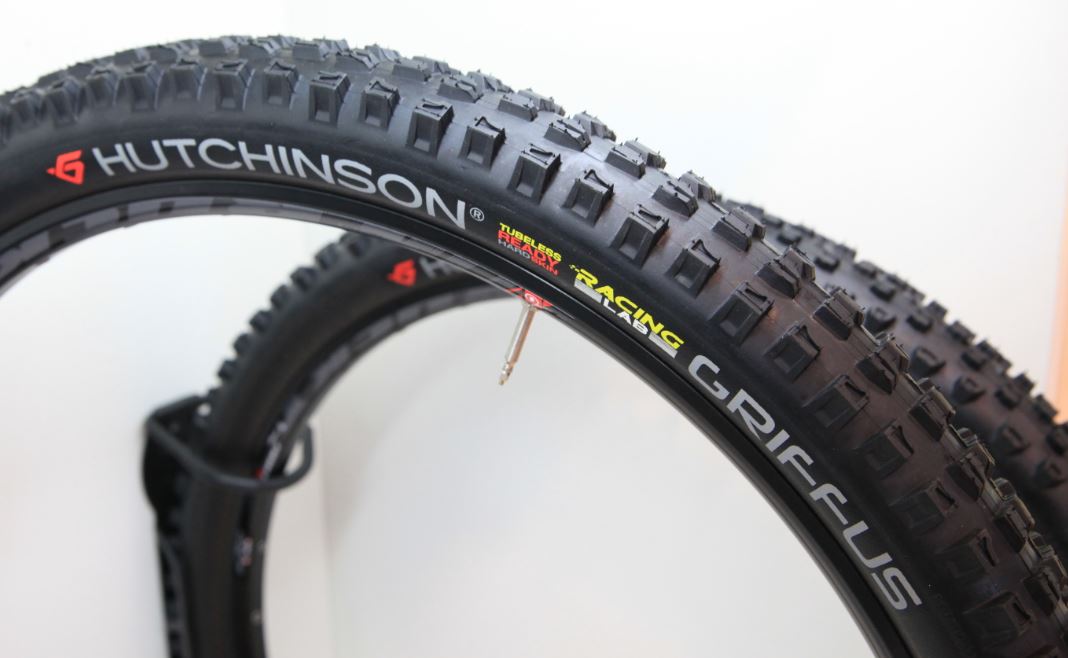 This is the first tyre from the Racing Lab range, meaning that it's the first to be developed alongside professional rider's with sustained input throughout the design process.
There's two iterations to be made available with a subtle, but important difference. Though not specifically designated as a rear tyre, the 2.4″ has a slightly different make up that the 2.5″ in that it will offer greater traction. An electric bike specific take on the Griffus will land in October in 2.5″ only.
The Griffus story will be further enhanced with the naming of a local trail after the tyre. Hutchinson has pitched in sponsorship for this route.
Due in Spring we will see a gravel tyre with slightly more aggressive patterns than the existing Skeleton tyre.
Meanwhile on the urban side, Hutchinson will go toe-to-toe with Schwalbe's Marathon. This will come from the launch of the Hausmann Infinity, a tyre that Hutchinson claims is near flat-proof. It's e-Bike ready and will carry a 5mm reinforcement under the bead and 2.5mm on the sidewall.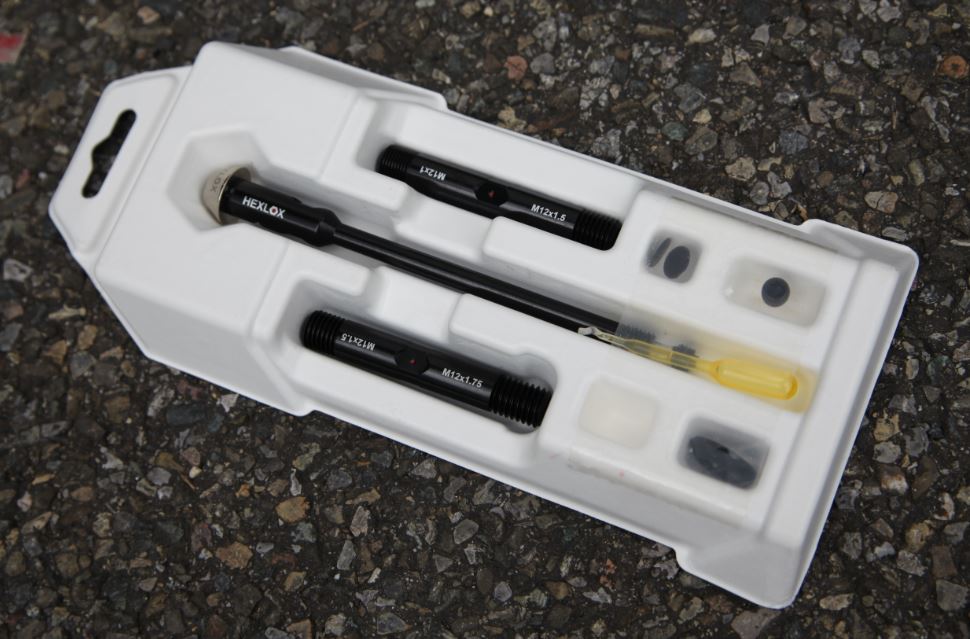 Hexlox (Direct to retail)
One of the more innovative lines we spotted while walking the halls came from bike security biz Hexlox who has come up with a two-part Thru Axle system to secure much of the market's needs.
Similar only in its unique key entry, the axle comes in one of three iterations to fit around 50 possible thread and pitch combinations. This is a boon for the bike shop as it's likely the customer will not have the tools to do this measurement well. As such, Hexlox is seeking to broaden its UK bike shop base.
A special Hexlox kit for Suntour's Q-Lok axles will also be made, we're told.
An upgrade to much on the market, the axle head is steel meaning less chance for worn parts. Simply connect the axle with the appropriate threads, key close the ends and the wheel is secured.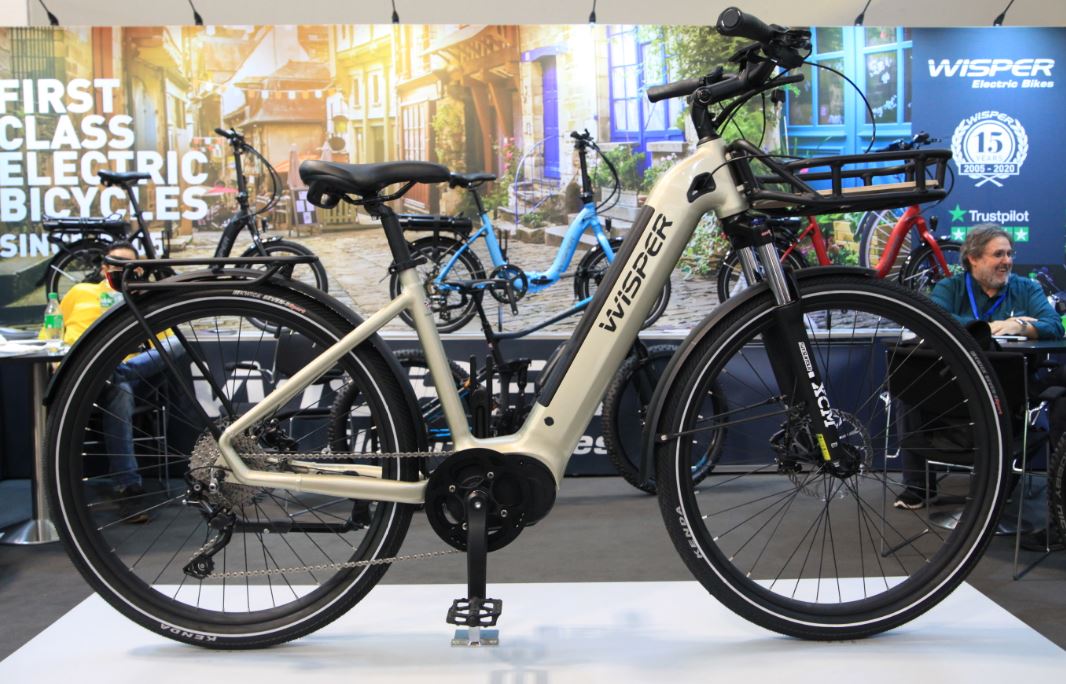 AMPS/Wisper
It's no so much about one single product with AMPS, but more about the custom capability the label now has. Stores, alongside their customers, can now choose to tailor two bikes in the catalogue based on either a cross bar or step-thru frame.
Within this the customer can opt to choose a hub or mid-motor, pick from three battery sizes and adapt the ride qualities; this means choosing a road format with racks and slicks; an MTB format with wide tyres and guards, or an adventure spec. An upgrade to include a Bluetooth compatible display is also on offer for those seeking to read mobile phone data on the go.
The customer has a choice of a 450, 550 or enormous 700 Wh battery via AMPS. Each is sold at £150 increments as an upgrade.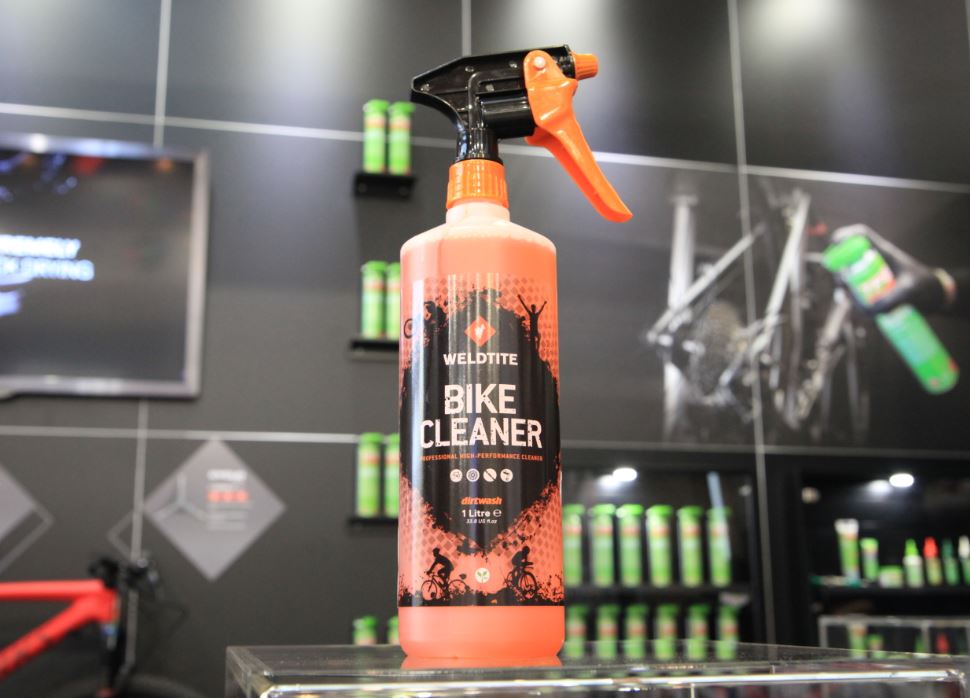 Weldtite Bike Cleaner 
Currently on a two-for-one deal to the trade, Weldtite's biodegradable Bike Cleaner has a 'Power Trigger' designed to let you opt for a fine mist spray or more focused distribution. Shops can take on one-litre cans, set to retail at £9.99, or opt for workshop sizes at 5 and 25-litre.
"We're working hard on the biodegradability of our products," says Dan Leather of Weldtite's marketing team. "The packaging is now all recyclable on this line, even the label so it can go in one bin."
Also launched for Eurobike, Jet Blast is a rapid solution to bike cleaning. Again costing £9.99 at retail, this formula is based off the citrus degreaser but as a faster-drying formula.
Look out for more product news from Eurobike and The Cycle Show in the coming days.