European Commission opts for provisional dumping duties on Chinese electric bikes
The European Commission has opted to impose provisional anti-dumping duties on electric bikes imported from China, according to documents published yesterday.
Duties will be imposed on a per business basis with tariffs ranging 83.6% down to 21.8%. In the UK, duties will apply from tomorrow (July 19th), where a deposit to the value of the provisional anti-dumping duty shall be paid before goods are released by Customs. Products falling under codes 8711 6010 00 and 8711 6090 10 are affected.
Those with an interest are invited to submit comments to the Commission until August 12th. On behalf of numerous businesses the Leva-EU backed Collective of European Electric Bike Importers will pursue a legal challenge against the Commission in protest of what has allegedly been a less than fair hearing process.
By company the duties, which apply for six months, are: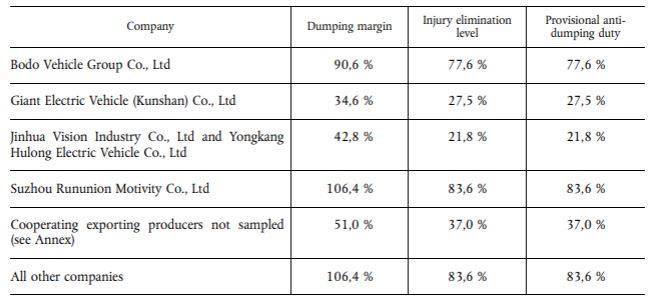 The majority of other Chinese exporters will be charged 37%, though many will see a 83.6% duty imposed.
Giant and Bodo, alongside Jinhau Vision Industry and Suzhu Rununion Motivity Co were among those visited by The Commission as part of the investigation. European producers Accell Group, Derby Cycle, Eurosport and off shoot Prophete GmbH were visited in the EU.
Unease among importers has already lead to businesses taking counter measures, whether it be relocating production to Taiwan, or even reshoring assembly as CI.N witnessed earlier this week with UK business Wisper.
In the documents conclusions the Commission states:
"Although an adverse effect of the measures on small importers of the product concerned and on prices to consumers could not be ruled out, it does not outweigh the benefits to suppliers, the union industry and consumers.
"On the basis of the above, the Commission concluded that there were no compelling reasons that it was not in the Union interest to impose provisional measures on imports of the product concerned originating in the PRC at this stage of the investigation.
"On the basis of the conclusions reached by the Commission on dumping, injury, causation and Union interest, provisional measures should be imposed to prevent further injury being caused to the Union industry by the dumped Chinese imports."
A further decision on anti-subsidy measures will follow, expected to be announced on September 21st.
The decision on definitive measures (and about whether duties will be collected retrospectively) is due in both anti-subsidy and anti-dumping by the same date, 20th January 2019, according to the Bicycle Association.