Maxxis increases Wide Trail tyre portfolio to six
Six of Maxxis' most popular MTB tyres have been selected to feature in the Wide Trail portfolio, a range designed to mirror the general trend for the latest mountain bikes to offer larger rim options.
The Forekaster, High Roller II, Minion DHF, Minion DHR II, Shorty and Aggressor tyres will all be available in WT in both 27.5 and 29" sizes, the rubber giant has announced.
Stephen Robinson, bicycle brand manager at Maxxis said: "It's a great feeling for us at Maxxis to be expanding our WT range. It was only a matter of time before we introduced our revolutionary WT technology to our most popular mountain bike tyres. Consumer demand for these options have been significant for us at Maxxis with the steady increase of rim sizes. We wanted to respond to the market with superior products so our customers can see the best results in their rides. We are extremely proud of the outcome of our efforts and look forward to riders tackling the terrain on Maxxis WT soon."
These tyres are able to maintain a lower pressure in comparison to a standard MTB tyre by 2-3 PSI, leading to increased traction and cornering, as well as better grip over variable terrain. Reducing the sidewall flex of the tyres compared to those of regular rims, WT grants improved cornering as the tyre sidewall and rim is closer to the ground. This technology is designed to aid greater output to effort and accuracy when handling corners and terrain.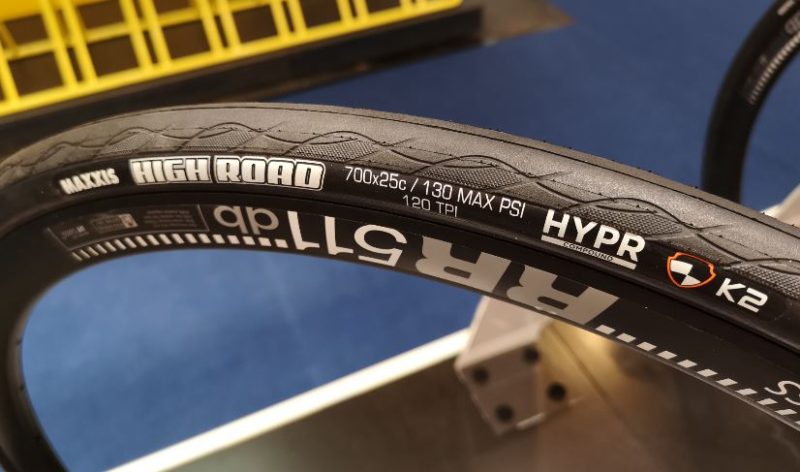 Meanwhile, Maxxis continues to make progress in the road market and now boasts a tubeless tyre under the High Road banner.
Claimed to be its fastest tyre to date, the dual compound rubber uses silica to produce a softer and grippier outer. A 170 tpi casing makes adds to both the weight and strength credentials.
Also found within the High Road is an advance on the firm's K2 puncture protection, said to be 30% more effective.
25mm tyres are to be offered initially, while a 28mm is likely to follow.