Finance workshop: how to promote your offering to customers
Words by the Association of Cycle Traders
With over 850 cycle shops now part of the ACT's Ride it away scheme, dealers are recognising in numbers the benefits of having a retail finance option available to help customers spread the cost.
However, simply just being part of the scheme is not enough. Many retailers may still be failing to make the most of finance, using it solely as a tool to clinch a sale, or offering it only to customers who ask.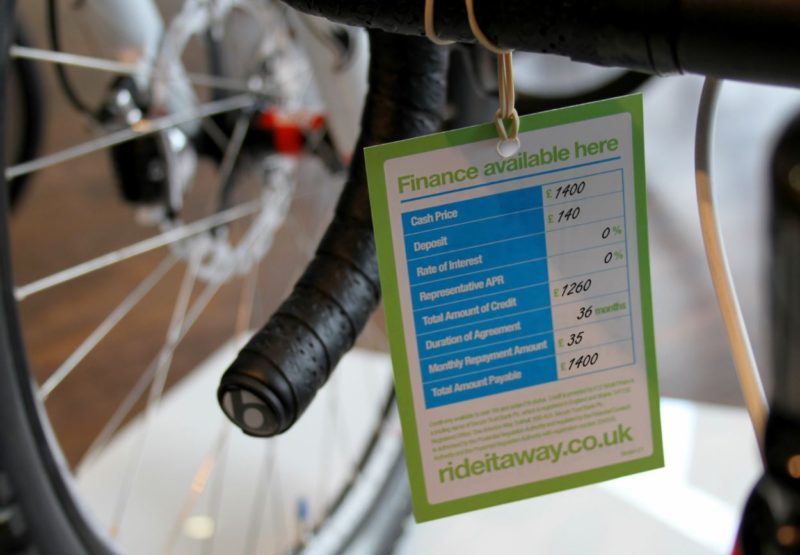 So, how do you effectively promote finance? 
The retailers who have the most success with finance are, unsurprisingly, those who promote it. That doesn't mean introducing it at the point of sale when it's already too late for customers to go up a price point or add on other products, but instead making it clear that it's available at every stage of the sale.
The Ride it away brand was created by the ACT to give retail finance an instantly recognisably identity nationwide. With more consumers now finding their local retailer via the Ride it away website, it's important that they are able to recognise the brand in your shop too.
All Ride it away retailers automatically benefit from a free listing on the Ride it away website. Visit www.rideitaway.co.uk to search for your shop and see how your listing looks. Most site visitors search not just by location but by brand too, so ensure your listing tells customers exactly which brands and products you stock. Need to update your listing? Simply log in to your 'My ActSmart' account and update your consumer promotion listing.
Being able to find your shop via the Ride it away website is key to driving customers in-store, but they also need to be made aware that finance is an option as soon as they walk through your door or visit your website.
An easy way to do this is through the ACT's range of Ride it away point of sale (POS) marketing materials, designed to help deliver a consistent message to your customers whilst being visually attractive.
In-store POS
The full range of in-store POS includes various sizes and shapes of window sticker to let customers know that they can get products on finance before they even walk in to the shop and in-store hanging banners to reinforce the message once they're inside.
To make it obvious which of your products are on finance Ride it away swing tags are available to attach to the bikes and have space to write exactly how much the bike would cost on finance. A tag showing that a bike is available for only £40 per month is much more appealing than one simply showing a purchase price of £600.
Online POS
Whether you have an online shop or just a website, use this space to let your customers know that finance is available.
If you sell online then treat finance the same way you would in-store and don't wait for the customer to get to the checkout to introduce it as a payment option. Download the range of online POS for free and let customers know they can spread the cost as soon as they land on your site.
If you don't offer online sales, but you do have a website or social media pages, the simple message of "Finance Available" could be enough to gain customer's interest and send them instore to find out more.
Help customers calculate their monthly budget
As well as a range of various sized banners to suit your website, there is also a Ride it away finance calculator which lets customers calculate their monthly budget. If you include the finance calculator on your website, it is more likely that the customer will end up spending more, as they can easily compare the monthly repayments on different priced products. The difference between a £900 product and a £1,100 product is just £15 per month!
What next?
To download free web banners and the finance calculator visit biz/downloads.
To view the full range of instore POS and to place an order visit biz/pos.
To update your Ride it away web listing with the brands you stock visit actsmart.biz/online-promotion
The ACT has undertaken rigorous examination to ensure that all Ride it away marketing initiatives conform to FCA regulations, so retailers can avoid the risk of prosecution.
Contact the ACT
01273 427 700
rideitaway.biz