Flectr's new ten-fold smashing Kickstarter set for bike shop countertops
Advertorial
Now running at nearly ten-fold its original Kickstarter goal, Flectr's new 360 reflective rim decals will soon be a bike shop ready product and one with proven demand.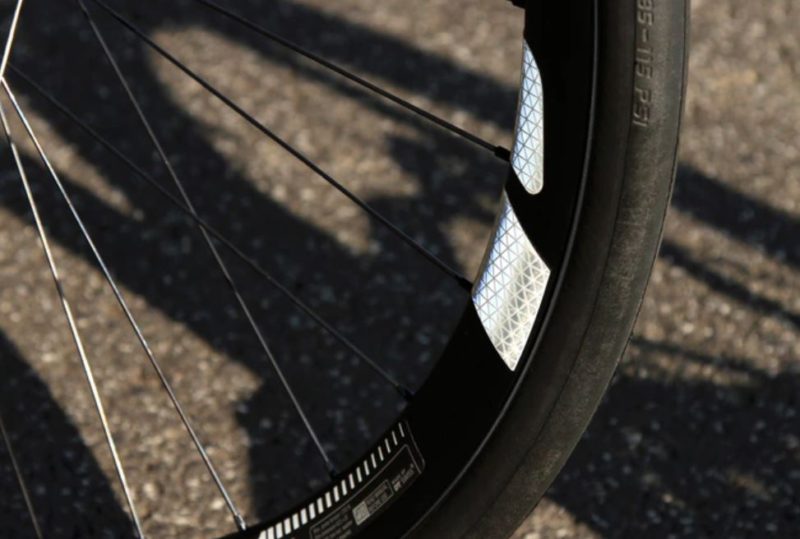 Originally hitting the market with a rigid spoke-clad sticker, the firm's designers have added the new decals in rim depths from 20mm up to 34mm. Once the crowd-funder has run, bike shops and global distributors are firmly within the sights of the brand, founder Jorg Neugebauer told CI.N.
"Our products will soon be set up for retail sale with plastic-free slot hanger packaging, GTIN barcodes and also counter-top displays. Shops are able to place test-orders without MOQ too. A four-piece set will now retail at €14.90."
The new product has a two-piece design, providing flexibility regarding different rims. It fits any wheel diameter or number of spokes and its highly formable custom material bonds properly shape to all rim styles, whether round, square or v-shaped.
"In contrast to common wheel reflectors, the 360 provides constant visibility all around, not only on both sides," said Neugebauer. "Our two-piece product wraps around the rim from both sides and overlaps onto the rim vertex. This doubles the reflective capabilities, particularly in front and backside direction. In terms of design, Flectr 360 follows the Flectr Zero USP: Superior reflection and safety together with the highest possible style factor.
"The Zero received three international major awards," added Neugebauer. "In February 2018 we will share the winner-stage at the German Design Award 2018, together with globally acting top brands. This is insane for a 0.7 gram bicycle accessory."
At present Flectr products are distributed by wholesalers in Canada, France, Japan, Spain, Sweden, South Africa and directly to customers via the online-shop. The firm works directly with retailers in countries where it is yet to be represented by a distributor. The new product will now land with those stockists by March of 2018.
Stockists can enquire about trade packages here.
See more of Flectr's goods at the site here.
Advertorial