France makes bike marking mandatory, will UK again follow the lead?
France has passed into law a regulation that will make mandatory bike marking for security reasons a responsibility of sellers.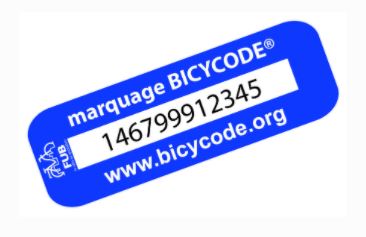 The law will require bikes sold to now carry an engraved BICYCODE identification number, as you might find on the chassis of a car, reports France3.
The law now applies to all bikes sold from January 1st and used cycle sales from July 1st, 2021. The legislation excludes children's bikes with wheels of less than 16-inches in diameter and cycles already in circulation before the start of this year.
A national BICYCODE 3.0 database forms the foundation of the initiative, from which law enforcement will be able to quickly establish the true owner of a bike. Data entered will detail the type of bike, brand name, model, colour and any other detail that may identify the bike quickly. A telephone or email will be carried against each listing, as well as either persons name, or company.
The Federation of Bicycle Users has now called on those who have already pre-committed to the registration system between 2004 and 2020 to verify or update their details in line with the upgraded database.
According to the FUB, without bike marking as little as 3% make it back to their original owner. More than 400,000 are stolen each year and 150,000 are found abandoned.
Will the UK follow suit?
As reported in September, the UK Government's Gear Change document has identified this as a possible avenue to dampen the appetite for bike theft, which continues to run rampant, especially in the face of high demand. As a result of strong sales and the concern on theft, cycle insurance businesses are recording record sales.
The UK has form following moves made in mainland Europe; the announcement of the bike repair voucher scheme came not long after France had made a similar declaration.
Below the process of engraving can be seen in a BICYCODE video. The FUB does not sell the machine, instead relying on an independent manufacturer's product.