Fraudulent brand stores sweep Facebook with sponsored adverts, bike shops at risk
A swathe of suspect stores have been sweeping Facebook in recent weeks, promising discounts beyond 90% on a variety of brands.
Present since the start of March, Facebook users have called into question a series of "too good to be true" sponsored advertisements from brands ranging from Pinarello right through to off road staples such as Transition.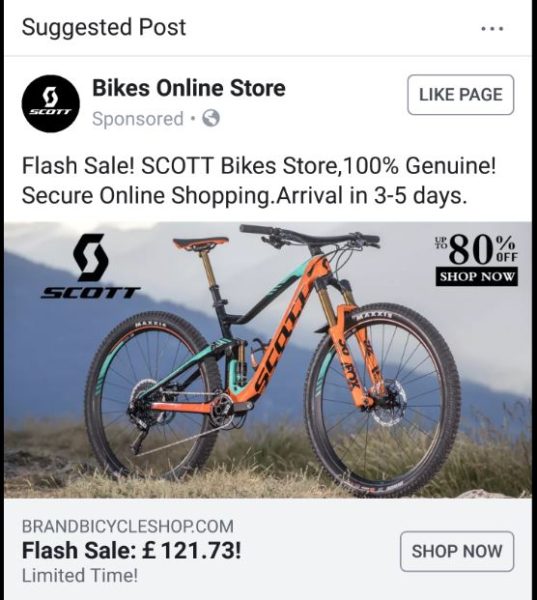 One of a handful of domains used by the scammers lures potential Scott Bikes customers at brandbicycleshop.com. Several clues are present that something's amiss, with legal pages copy and pasted from other domains on the web and the struck out RRPs set at $888.00, regardless of whether it's a Genius or a Spark for sale.
In this instance, the terms and conditions appear to have stemmed from a website called AlbumCoverTees, which was also the case on the imitation Transition brand store.
"I can confirm that site has nothing to do with us and is not an authorised account of SCOTT UK," Scott UK GM Dave Rainsford told CI.N.
A separate domain, cheapbikes2018.com, has mirrored the website of UK Pinarello brand store The Bike Rooms, lifting logos and assets. The Manchester branch this morning told us that they have for the past week been attempting to get the website removed as potential customers have been duped by the scam site.
Furthermore, Partridge Cycles, a main dealer of Giant Bicycles has got in touch to report their experience with the scammers.
"They've done the same to us, lifting our site assets over the past two weeks," said a spokesperson. "We have reported the case to Facebook and GoDaddy where the site is registered, the latter of which said they could do nothing to help. What we're encouraging people to do is to share our posts and this article to raise awareness and ramp up the number of reports going in against the scammers. This appears to be very simple for those behind the pages to create, so it could affect many more yet.
"In our case we have had a Giant representative ring us to complain about what was deemed to be us selling at crazy low prices. A second look establishes quite quickly it's not our store, but it goes to show how people can and are being duped."
In the case of Partridge Cycles, the dodgy domain is found at bicycleyushop.com.
Sites have been registered to Alabama, Kansas and China, suggested that those behind the platforms are attempting to hide their true location.
"One of my customers has ordered from the Transition site," another UK bike dealer told us. "They've not heard a peep since the money left their account."