Fuel shortages prompt uptick in bike buying, but stock remains an issue
Several retailers, including national chains Halfords and Decathlon, are reporting an uptick in bike sales on the back of the UK's fuel shortages, with motorists forced to consider alternative means of transport.
Halfords has seized upon the opportunity to drive a bit of modal share change, announcing the launch of free (excluding refundable £101 deposit), nationwide electric bike trials whereby potential customers can have a demo unit for six hours. On top of this the retailer revealed sales of e-Bikes rising 106% since the fuel shortages panic began.
Decathlon has likewise reported a doubling of bike sales across its 45 store UK network, up 119%, with commuter models in particularly high demand, up an astonishing 194%.
Decathlon UK cycling and active travel commercial Leader David Martin said: "We have seen significant spikes in our bike sales over a very short period, which has been impacted by the shortages of available fuel as people seek alternative ways to get to work, and over worries that they won't be able to get hold of any bikes if they wait too long.
"It is worrying to see so much panic buying happening across the UK, however customers can rest assured that Decathlon is here to support those looking for alternative travel methods and that there is no shortage of bikes at Decathlon."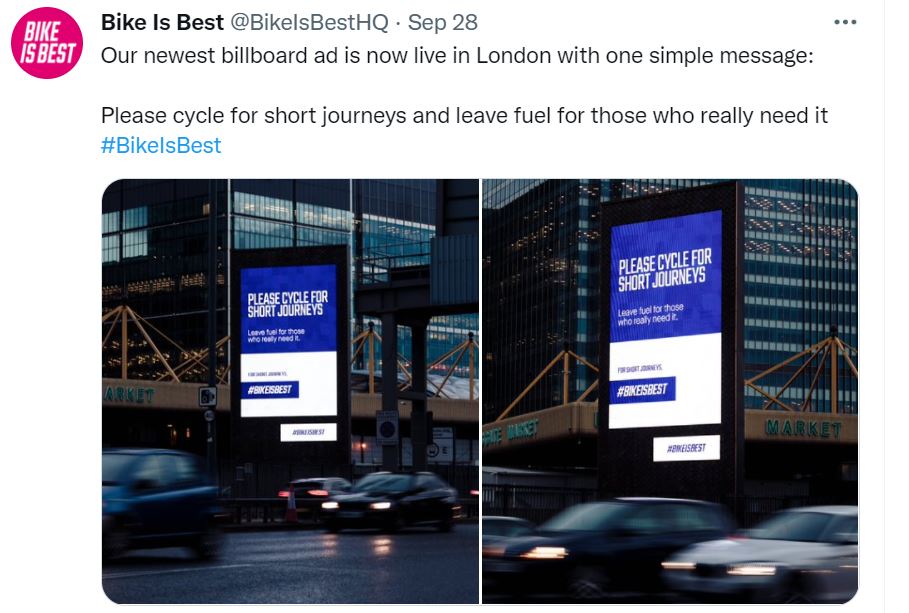 The sales spike comes at a time when the bike industry as a whole is grappling with the aforementioned severe stock shortages that industry leaders are warning may not soon improve.
Speaking to CI.N recently, Bosch eBike Systems CEO Claus Fleischer warned: "I cannot predict the next 12 to 18 months that everything will be okay. Mainly we have a shortage of electronic components, semiconductors, micro controllers; the reason is huge demand from consumer products. Smart phones now have three cameras compared to one, so all-in-all the demand is way higher for these parts. Shortages are still incoming."
With 60% of car journeys registering under five miles, industry campaign group BikeIsBest has taken the opportunity to place marketing messages alongside key commuter arteries. Several bike shops have also taken the opportunity to market a solution to motoring woes, while others have spotted trends coinciding with the reduced car use, such as improved air quality.
To make customers' e-Bike trial even more enjoyable, Halfords has partnered with community navigation app, Komoot, to provide bespoke cycling routes from their stores across the country. All mapped perfectly to the allotted six hours for each trial.