Graphene ticks the box for another Cycling Manufacturer
Words and Pictures  by Chris Keller-Jackson
Following the news that Vittoria introduced Graphene into their Corsa G+ tubular tyres, offering 19% less rolling resistance, there has not exactly been a glut of 'me too' products. Whilst Graphene can be seen to be a theoretical 'wonder product', seemingly being lighter, stronger and more electrically conducting then its more traditional counterparts, industry is slow on the uptake – mainly because 'real world' applications are not so easy to convert from theoretical science.
Spotted on the X-Bionic stand at the NEC Cycle Show was a rather fetching Dassi Graphene bike, a more commercially focussed evolution of the product that launched back in June. It looks production ready, not just a 'light frame'. Hopefully we'll get an update from Dassi for this article.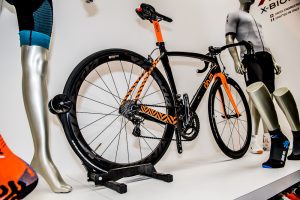 Dassi Graphene Road Bike
Our new contender is looking to capitalise on another interesting trait of Graphene, as well as the weight properties. That of heat conductivity. High end West Sussex based light manufacturer, Exposure Lights has been showing an 'action camera' light called 'Capture' at several cycle shows, to compliment GoPro type products primarily, but also as a useful multi purpose pocketable light.

Utilising many of the technologies incumbent in the current range of Exposure Lights products, this action camera light includes heat management circuitry as well as OLED power and battery life indications. It has two differently configured emitters, a wide angle and a more focussed spot beam pattern with various preconfigured settings to cycle through.
The unit is enclosed in a Polymer casing, and this is where the Graphene is included, as a heat conductor. Studies have shown that the inclusion of Graphene material in a substrate can have dramatic effects on heat transfer. As an example, a competing broadly similar product; established in the market, uses a much larger form factor to achieve a similar result. Though in this product the casing is alloy, as a heat sink, not a polymer as in the Capture. This future competitor is also much heavier (more than double) with lower lumen output. The Exposure Lights offering is designed to be waterproof, uses a standard GoPro type battery and has the standard GoPro style mount points. Exposure already offer a number of adaptors to fit GoPro products.
As to the specifications,
600 Lumens output
69g weight including battery (the current Mk11 Joystick is 88g for reference)
Long burn times with adjustable output.
Target RSP of £99.99
The aim is for a launch via Kickstarter, as this will help introduce the brand and product to other markets outside of the traditional Cycling and Marine markets. These include areas such as Drone, Camera and Extreme Sports markets.
I have been fortunate to have one of the pre-production lights on test, primarily as a DSLR light. I'm highly impressed by the power output, versatility and light weight. Like all Exposure products, its well built and intuitive to use. I can't comment on the ability of Graphene to manage heat, though I'm struggling to see any significant heat build up. Perhaps that is the point.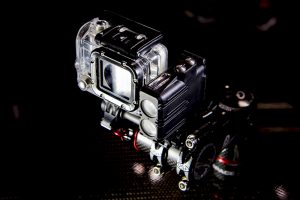 Exposure Capture pre production sample with GoPro – Manchester Bike and Tri Show
As the use of Drones becomes more popular for civilian trade, law enforcement, filming and security, rather than just pleasure; devices such as this light could become very popular additions to remote craft – especially at such low weight. Two of these units affixed to mounts underneath a Drone could give improved night flying capability, whilst adding little overall weight to the craft.
Exposure Lights have become masters of heat management, especially in their larger lighting products that pack a lot of lumen output into a small size. This makes use of battery life and LED's more efficiently. It remains to be seen if Exposure Lights begin to use Graphene in the cycling range to further help heat dissipation, or to further expand the sectors it moves into.