How gravel bike popularity has kept titanium bike makers busy
CI.N's market report this year found 15% of indie stores planning to divert more cash toward the gravel bike market in 2021. This, finds Duncan Moore, has had a warming effect on the titanium market with frames from the nation's top builder's often having an off-road edge…
The rise of the gravel bike segment has no doubt helped to invigorate the bike trade alongside the rise of electrics. The importance of this sector can be seen with both Shimano and Campagnolo introducing dedicated gravel groupsets. There is also another area of the cycle trade that has seen a boost with the advent of gravel – that's titanium frame manufacturing.
More and more companies are adding a titanium option as their high-end offering in the gravel bike market, but where is the production of these frames coming from? While there are many small volume manufacturers in the UK now offering frames and bikes, the reality is that almost all of that production is done abroad. Why is this the case? Are there no frame builders capable of welding titanium? Is it the cost of tooling up to be able to work with titanium tubing, or is it some other reason? Then again, if the market is willing to support the sale of titanium frames manufactured overseas, be they custom or stock sized, should it even be considered an issue?
There is one business that builds custom titanium frames in bulk in the UK – Enigma Bicycle Works. Yet even for this southern-based operation, the demands of building with titanium are so great that it has to employ a hybrid manufacturing plan; its custom frames are built in-house while the stock size frames are imported from a manufacturing facility in the far East.
Another to employ the design in the UK, manufacture overseas model is Vaaru Cycles, which imports its own line of titanium frames and finishes them in-house.
Talking about the lack of titanium production in the UK Jim Walker, founder and owner of Enigma, states, "As far as I know we are the only UK manufacturer who builds titanium frames in any numbers. For me, it's important that we build in Britain."
Despite Walker's desire to keep production in the UK the logistics of doing so are currently proving to be insurmountable. "We don't build everything here because we can't. We haven't got the capacity. I would love to make everything here, but titanium is horrible stuff to work with. There is so much you need to do to get it right and it's taken us a long time to get to the level we're at, to get to grips with it," explains Walker.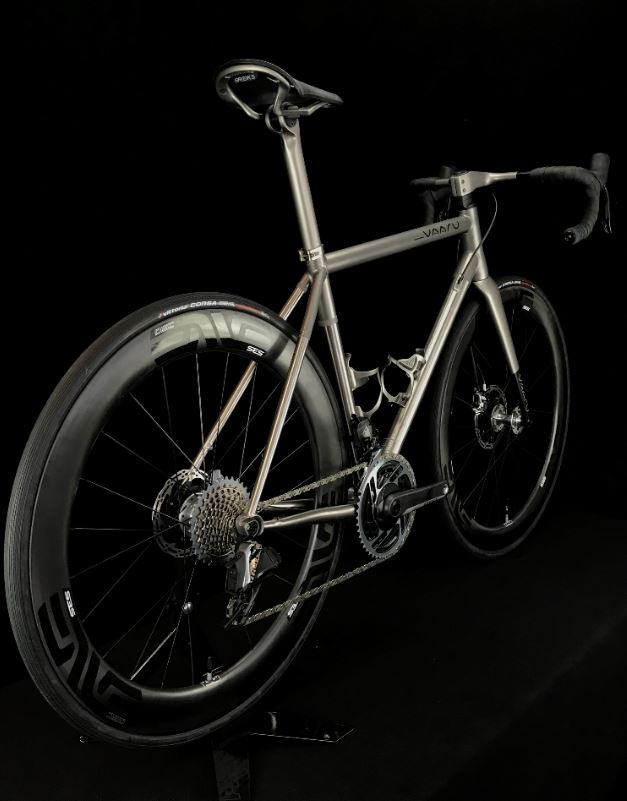 For James Beresford, the founder of Vaaru Cycles, overseas manufacturing holds no worries or concerns. "I ran design projects and spent years bringing high-quality cycling products to the market. I have very little concern about our frames being built overseas. I have worked with them on a number of quality products for over a decade and have a lot of trust in their skills and ability to create a quality product."
Despite his confidence in the operations of the remote frame builders he works with, there are some matters that are beyond anyone's ability to sort that can have an impact on business. "An issue that is out of our control is shipping and freight, the price and the timescales fluctuate which can be challenging but with regular and honest communication we keep our customers up to date," Beresford explains.
Even when manufacturing takes place in the UK, as with Enigma's custom frame, the same sorts of challenges can create concerns. "It's not only groupsets that are late," says Walker reflecting on the current troubles within the cycle trade, "but we've been waiting for our tube deliveries. One seems to have got lost in a black hole with the courier company. We source our titanium tubing from all over the world; the USA, China, Taiwan and Italy. At the moment it is very, very hard to get stuff on time. It's causing us real problems, we've got lots of frames that we can't build because we're awaiting the tubing."
In the grand scheme of things, supply issues are just the latest in a long list of concerns that prevent most small-scale bike manufacturers, the kind of outfits that want to add a titanium option to their existing steel ranges, from taking on titanium frame production in-house. Unlike steel frames where the tubes can be brazed together using readily available, and relatively cheap, equipment, titanium welding is a much more complex process. To ensure that the welds do not get contaminated the joins have to be shielded or purged with argon and to do this properly when building a bicycle frame needs a special jig, one that not only holds the tubes in place but also floods them with the inert gas and this is not a cheap option.
Summing up the difficulties of what it was like understanding how to build with titanium when Enigma began its frame production in the UK, Walkers says with a laugh, "We know and understand it very well now, but it's been painful and expensive. It was like chucking fifty pounds notes away in the early days."
The knowledge that the team at Enigma has gained over the years shows in small ways with the selection of equipment in the workshop. Alongside the aforementioned specialist frame jigs, there are lathes and mills and more surprisingly a large sonic cleaning bath. Due to titanium's sensitivity to contamination during the welding process the sonic bath, although it adds an additional process, improves productivity as it thoroughly cleans the titanium tubes before they are welded and improves build quality.
Given this knowledge that titanium is so difficult to work with, the obvious question is why use it as a frame material? After working in the bike industry for nearly 20 years and being from an engineering background Beresford says he "saw the opportunities with titanium and really liked the qualities of the material".
Beresford continues, "After riding a number of titanium bikes, I loved the feel and knew I could design a quality frame which had great styling cues and focused on bringing out the best in the riding experience.
"I was also drawn to the idea of a bike for life. I understand there are inevitable environmental impacts of making any bike so we felt that by using titanium we can create a long-lasting frame that gives the owner a great basis to keep the miles spinning for many years to come, it would therefore be a more sustainable product throughout its lifespan."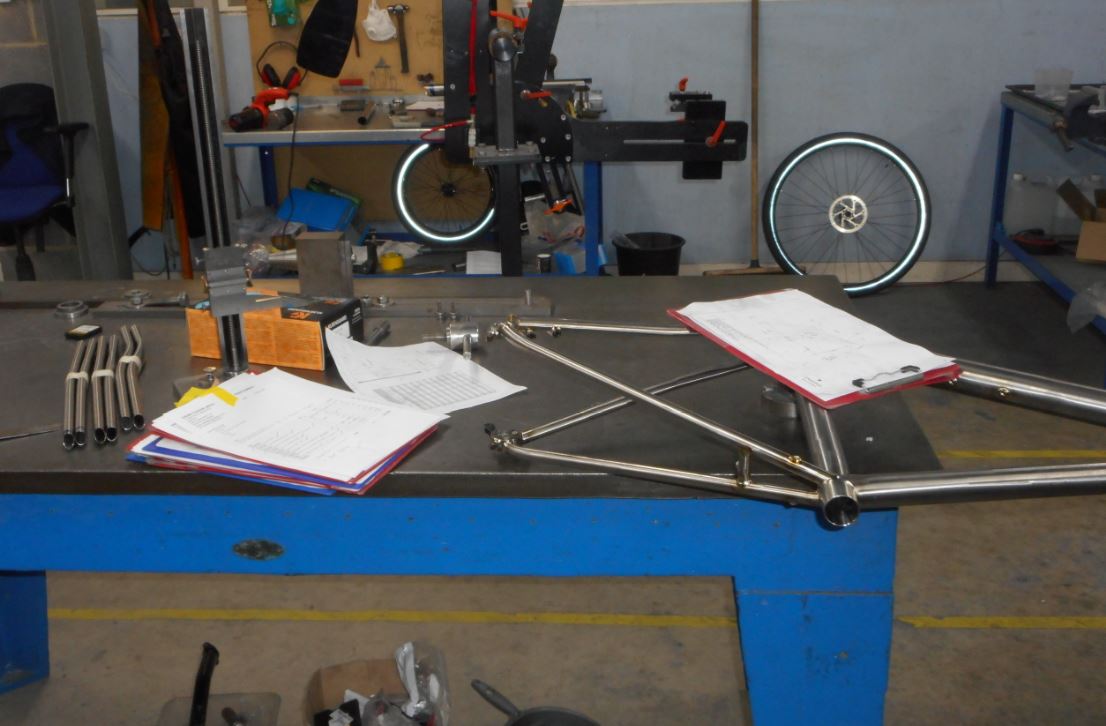 Walker's argument for the grey metal is that "titanium really lends itself to gravel bikes. For gravel and all-road bikes, titanium is the best material."
And it is that rise in gravel bike interest that means the Enigma workshop is as busy as it has ever been, which in turn is creating its own set of problems. "I can't get the frame builders I need," says Walker. "I can't simply place an ad and recruit a frame builder who can work with titanium because they don't exist. They need to be trained. We've never actually tried to get an experienced welder to do it [build a bicycle frame], but it's an option we've been discussing. Doing what we do compared to the work most welders do is a lot different and that's where the problem is. We recruit enthusiasts who have a feel for the whole process. You can tell quite quickly if someone has what it takes to be a frame builder."
Despite the concerns around supply, not only of raw materials but also the talent needed to create frames here in the UK, there does appear to be an upside to using titanium for frame production. The material and how it performs remains a constant as Beresford explains, "With new standards come challenges, however, the majority of these aren't with the material itself. It is in preserving the finish and ride quality our customers expect while embracing changes. So, we undertake a lot of R&D and produce samples to see and feel how these changes can enhance our ride quality and our owner's experience."
A similar point of view is put forward by Walker. "Of course, developments like tapered head tubes, flat mounts and thru-axles have changed our frame specification, yet the material specification has remained pretty much the same as always." Fortunately, for Walker, that's good news as it is allowing him and his team to rationalise operations as much as possible as he aims to eventually bring all frame manufacturing in-house. "We have machines for pretty much every process, with machines set up for specific operations to try and streamline the production process as much as possible. It's a constant process of trying to improve efficiency. It's difficult stuff to work with and the more accurate we can be the faster we can produce frames.
"I'm committed to making bike frames in Britain and I'd eventually like to be in the position where we're making everything here. One day we'll get to that stage."
Related: How much fuel has the gravel bike market left in the tank, by editor of CycloCross-Rider.com Konrad Manning.