Gravel Bike Market: how much fuel is left in the tank?
Alongside electric bike sales and a booming workshop, Gravel bikes have become a standout trend that has shifted up a gear. Konrad Manning, editor of CycloCross-Rider.com and founder of Run.Ride asks how much fuel is left in the tank…
The bike market – certainly pre-COVID – was evolving at an ever-increasing pace. Before many seasoned riders had made the decision about whether they need a gravel bike, along came 'drop bar adventure bikes' and following swiftly – with the press of a button –power assisted e-Gravel bikes from manufacturers large and smaller.
It's official though – gravel and adventure riding has burgeoned into more than merely hype, or a fat bike type fad, and is a healthily growing sector of the bike market up and down the country. It's not just bikes, there are new accessories and component ranges as well, and a fledgling UK gravel and adventure community keen on riding the routes 'less travelled'. (Arguably they are the same routes that might have previously been ridden on a cyclocross bike or a sturdy tourer).
While if you want to race flat out in the winter you should still opt for a cyclocross bike, over the last half decade the range of drop bar bikes capable of venturing off road, and their devotees and events, has expanded rapidly way beyond any existing category.
"You know something is here to stay when Shimano dedicates a groupset to it," says Paul Errington with reference to GRX the gravel specific groupset launched by the Japanese component giant in 2019. Errington is a gravel riding pioneer– he was the first Briton to race in the big American gravel races travelling over for the first time in 2012 as the scene started to emerge.
A trip to J E James' long established Sheffield city branch reveals – even with the supply issues the industry has suffered from in 2020 – seven different gravel bike models on the shop floor from five brands ranging from the 2021 Cube Nuroad Pro at £999 up to a £2,099 Cannondale Topstone (three are equipped with Shimano GRX).
Over the road in James' e-bike store there's a shiny £7,499 Specialized Creo SL Expert Carbon e-Gravel bike. In the gravel bike sector there is now something for everyone at a wide range of price points.
"It's simple, a gravel bike offers an exciting opportunity to combine your passions of cycling and adventure," says Chris at J E James who does most of his riding off-road.
"One of the big sellers has been the Cube Nuroads,"adds Gavin at J E James, "we can sell them all day long and we've needed more than Cube has been able to supply. Same with the Trek Checkpoint, we're getting more people asking about gravel bikes than road bikes."
Despite any doubters – Thomas Burgess of IBISWorld (an industry market research company) told us, "the key offering of these bikes is fundamentally the same as any other bike and is not expected to make any lasting changes to the industry" – gravel is a segment that sits between a cyclocross bike and a mountain bike on the off-road spectrum.
"Gravel bikes are an example of successful product diversification and marketing. The industry has encouraged a market of cycling enthusiasts with higher disposable incomes, looking for a more versatile cycling experience," Burgess continues.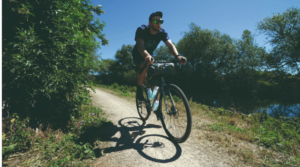 Gravel has become established as the term for what was also tagged 'all road', and, subsequently, 'Adventure' is developing as a parallel segment with bikes designed more specifically for multi-day trips and expeditions (bikepacking). And now added to those is the newest arrival – the one with those extra bells on – e-Gravel.
Last October, CI.N asked "Is gravel a fad? Or in it for the long haul?" In that CI.N article, Paul Errington noted, "It is now difficult to find any bike manufacturer who does not offer a gravel bike in its range" and less than 12 months on the gravel scene and market seems to be even more firmly rooted. It's the way gravel bike riding is able to draw in road riders and mountain bikers that makes it a long-term segment Errington believes.
"Gravel bikes for us have been exceptionally popular," says Andy the manager at Giant Sheffield. "Liv have just launched the women's specific Devote gravel range and we've seen all types of customers ask about them. That's people who are using them as an all-rounder, a commuter, a leisure bike, as well as the higher end stuff," he adds.
"Giant has been giving a lot of emphasis to gravel, and rightly so," says Andy, "because it fits a different market and they also suit the customer who comes in to buy their first road bike but doesn't need a race bike. I see gravel's popularity only growing in 2021 particularly with what we're all enduring at the moment and if international travel continues to be affected by COVID."
Halo brand manager Jordan Lunn at Ison-Distribution is looking forward to seeing what happens to gravel cycling in the next few years.
"New ideas are still emerging in the sector, and there isn't a go-to wheel size or amount of suspension yet defined, which I find really exciting." Jordan says.
"There has absolutely been a large growth in the gravel sector in the last few years. I think that some consumers see it as a great way to get back to pure cycling – riding a bike for fun without worrying about KOM's and performance. It's also partly down to the industry's hunger for new sectors to promote and grow. Halo now offers a full range of hand-built Vapour GXC wheels for gravel, as well as a range of hand-built dynamo wheels using SP Dynamo hubs. We also have a specific range of tyres coming soon," he adds.
Gravel bikes have certainly come a long way since pioneering models from Salsa, Surly and Genesis were some of the chief weapons of choice.
"There is no such thing as one bike that can do it all, but a Surly comes pretty damn close. They made a "gravel crusher" long before gravel bikes even existed. Versatile, hard wearing, steel bikes for all occasions," says Ison-Distribution's general manager Andy Diss.
Paul Errington is now the owner of Northern.cc, Northern manages the global gravel event series Grinduro.com and in 2019 created – in conjunction with ICE in the Netherlands – a community for the new segment called the Gravel Union (supported by Shimano).
"We wanted to create a home for those riders coming to gravel who needed a single point of access to event and general info," says Paul, "Our aim was to also work with event promoters mainly across Europe, allowing them to promote their event, no matter how big or small, to our audience. One of the great things about gravel riding is that it can be interpreted in many different ways – events are very diverse in their routing choices – it is always fun to ride somewhere new and get to experience someone else's thoughts on what gravel riding is."
WHAT'S NEXT FOR GRAVEL?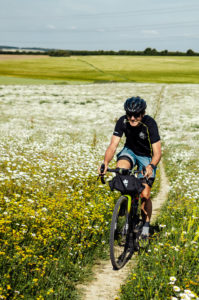 As more road cyclists become less comfortable on Britain's roads they will continue to look to bridleways and 'g-roads'. We are not necessarily being forced off the roads, but more and more riders are discovering the joys of mixed terrain riding.
The 2020 surge in bike sales (and usage)– fuelled by the pandemic – can only help increase the numbers of Gravel and e-Gravel units sold. With obesity linked to virus case survival rates at least some of those people who emerged exercising during the lockdown could be buying new bikes as an alternative exercise or method of getting to work.
"As a gravel bike is so versatile then so is an e-version. I expect to see many being used as the commuter's tool of choice to cope with multi surface routes as well as ever deteriorating road surfaces in some areas," says Paul Errington.
21% of bike shops who took part in the CyclingIndustry.News Retail Channel Study 2020 said that they would carry more gravel bikes in store going forwards. If road cycling (or sportive riding) did indeed become something of the new golf over the last decade, is gravel riding going to become the new road cycling?
Despite gravel racing having an independent vibe, one events company has a weekend planned in Suffolk this autumn which they bill as the first-ever "British Championships." Errington thinks an expansion in gravel events is inevitable and will further expand the market.
"We are at a tipping point in terms of the direction of events and racing. I don't think we can stifle growth and we will see the governing bodies looking to input. Do I think this is a bad thing? No, I see this as an opportunity for further sustained growth and access to a wider audience to introduce more people to gravel," he says.
The number of brands in the bikepacking bag making sector continues to grow and gravel also looks set to become something of a technology test bed and an area to keep a close eye on for new products.
Cyclocross racing has been used as a proving ground and, myth or not, Sven Nys reputedly tested early Shimano Di2 groupsets by throwing them in a swimming pool before they were fitted to his race bikes. Ridley's recently launched Kanzo gravel offering is the first bike to be specced with the new Classified wireless hub gearing system. Watch this space.