Gudereit UK seeks to build network of 30 independent bike shops
European bicycle and electric bike label Gudereit has begun to establish a footprint in the UK thanks to a deal inked with a brand enthusiast.
Duncan Harrop registered Gudereit UK in 2019, having travelled overseas to meet third generation owner Tobias Gudereit. Having previously owned an early Japanese-made hub motor clad e-Bike, Harrop says that his first Gudereit "fitted like a glove" and changed his enjoyment of cycling. From there he has gone on to establish a connection with the German label that sees UK dealers able to order bespoke builds from the UK arm, which builds to spec on its own assembly line.
"We have just four partner stores so far, but I would like to build a network for around 30, each with a significant radius," Harrop told CI.N.
Quickly addressing the first question on any bike shop manager's mind at present – the ability to supply – Harrop says that there is of course a slightly longer than usual lead time, but that the German business had stockpiled surprisingly well and as such was ahead of the market on some fronts.
"We can produce and have some e-Bike specs to the shop in eight to ten weeks. Our supply chain, like others, is affected, but Tobias had good foresight and ordered key Shimano spec ahead of many. All of our bikes carry Bosch drive systems and most utilise a Gates Carbon drive. Because the German market are fond of hub gears we have Rohloff, Nexus and Altus equipped bikes, as well as a few with the Pinion gearbox."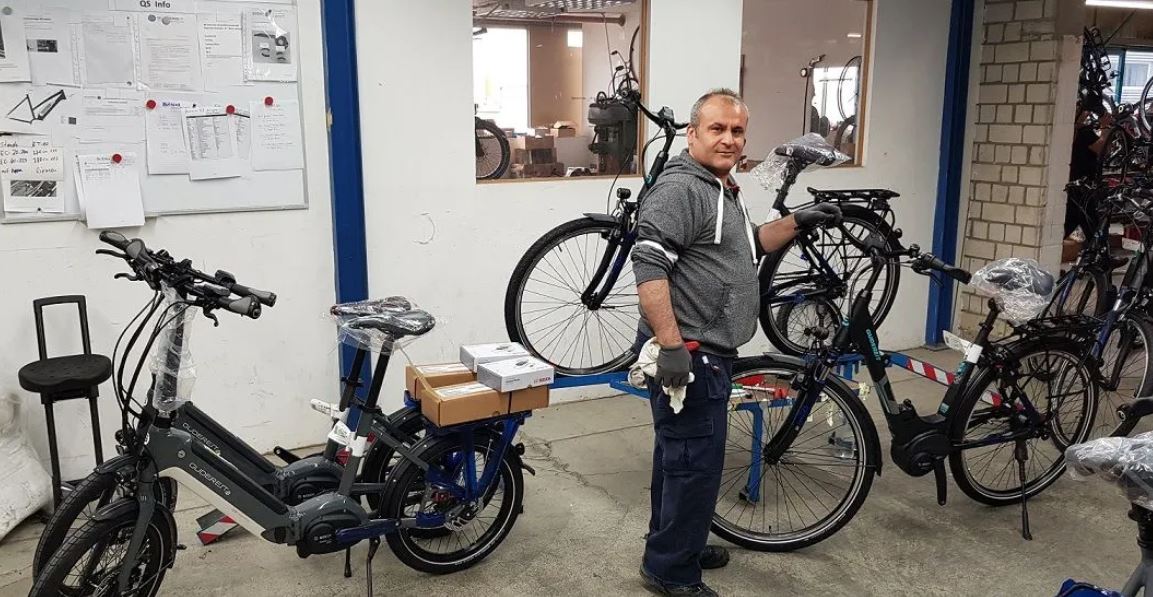 Harrop is keen to stress the value for money element of his catalogue, which he says comes in a good slice cheaper than similar sized e-Bike manufacturers targeting the same mix of city and trekking customers.
For context, Gudereit are producing around 35,000 to 50,000 bikes annually, both bicycles and electric bikes, though it is only the latter that are now carried in the UK.
"The bikes are carrying a lot of premium aftermarket components for the price tag; for example, all come with a suspension seatpost and we've Selle Royal saddles rather than cheaper options," says Harrop.
The UK assembly line set up by Harrop is well equipped to deliver or the bike shop, even hosting its own paint shop, should bike shops wish to create something unique for their customers.
"Each bike is built to commission for our dealers, they can select from six colours, three frames and four frame sizes. We don't do 1,000 of one model. At the end of our assembly line each bike is safety checked," says the Gudereit UK founder.
Complementing his team's expertise, Harrop put himself through a Cytech level 2 course, as well as Bosch qualification. "I have to know what my accounts are talking to me about when they call," he explains.
As an added perk, we're told that warranty work will go through the UK arm, meaning the dealer will not be lumbered with any tariff costs on work required under guarantee. Likewise Harrop has begun keeping a database of chassis numbers in a bid to assist in theft cases, telling CI.N that "I could tell you instantly if one was stolen should it end up listed online."
For more electric bike specific news and analysis, why not bookmark CI.N's EV page, here.