Halfords lifts lid on "store of the future", promises accelerated overhaul
Halfords has presented its new take on the "store of the future" at the Kingsway Retail Park in Derby.
As is already the case in most branches, the store is split over two floors to separate its motoring and cycling divisions, but there are a number of additions.
The new flagship model offers:
A cycling department reorganised by gender, style and price point, as well as changing rooms.
A "smart fit" cycling centre, which the firm says allows customers to have their exact measurements taken in store as part of a bike fit.
A custom lounge with wifi and refreshments
Staff have been issued headsets allowing them to communicate instantly across the shop floor and stock rooms.
Measuring 5,729 square feet, with an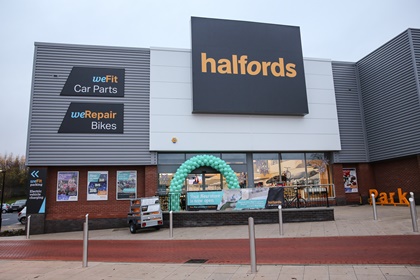 additional 3,522 of mezzanine, the Derby branch is the first to receive a mechandising overhaul, which will accelerate in the next financial year. Another three stores are expected to be overhauled by the end of March.
CEO Jill McDonald has pledged to invest in understanding the Halfords' customer, with an increased focus on service going forwards.
The retailer has also reported a 12% dip in half-year profits, blamed largely on the fall in sterling.
Retail Week has a deep gallery of the Derby branch, seen here.