How will Ofo help London "challenge Amsterdam's cycling modal share" and will bike businesses benefit?
Ofo has been making a lot of noise lately. First Zhang Yanqi, the 30-year-old co-founder, suggested he would "turn London into Amsterdam". Then, last week, the UK Director Joseph Seal-Driver suggested that Ofo could play its part in reshaping cities for cycling. But what substance do these rallying calls have and how will we get there? CyclingIndustry.News sat down with Seal-Driver to find out…
A headline piece of data from Ofo's YouGov commissioned study of cycling behaviours returned an all too familiar result. Once again safety concerns dominated the responses of the 2,059 polled. 68% identified with feeling "unsafe" cycling on the roads, primarily down to the lack of safe cycling infrastructure.
As the world's largest dockless bike sharing business – estimated to have around 65% of the market's share – Ofo has been vocal on improving conditions for its customers, urging city planners to take note of its research and the wide-ranging calls to make cycling safe for what isn't a typical demographic of cyclists. In fact, many were "not cyclists before trying the dockless bikes" and perhaps would still not identify as such, we were told.
"We're hitting a broader demographic than even the docked hire bikes. That may be in part to having bikes available outside of Zone 1, something we're still expanding in cooperation with boroughs," said Seal-Driver, who brings to the job prior experience within BMW's car share arm. "The data shows that we've proportionately more female riders. Docked bikes tend to be found at either end of commuter arteries, while ours are found anywhere in the city. As such we're finding different people – who may not have had access before now – are using the bikes and not just for commuter journeys."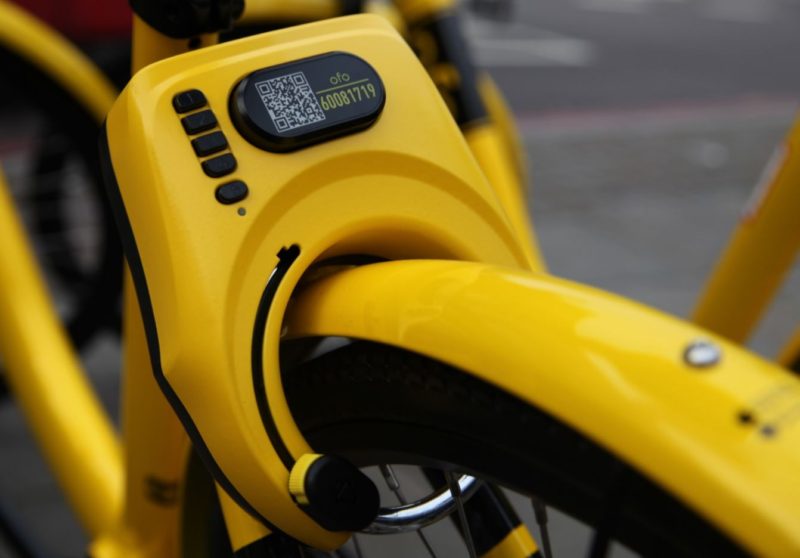 Weighing in at 16 kilograms, Ofo's admittedly still sturdy bikes are nearly 9kg lighter than the docked Santander-branded bikes dotted around London. Priced at 50 pence per half an hour or £5 for the day (deposit free), where available Ofo's bikes have been popular. Unlocked with the use of an app, designed to track a bike using GPS, all users need do to get started is download and add their payment details.
The low-cost for access model is a popular one. Ofo is, like many others, using its significant reach to bank on a profitable future. As shown by BlueGogo, deemed to be the third largest in the world behind Mobike, it's a risky business, but it's quickly realising the potential of untapped ridership that's the key, explains Seal-Driver.
"The curve is extraordinary, we were in only three countries in May. If you consider that Ofo has been operational since just 2014 where it started life in Peking's University, the business now has 10 million bikes in 180 cities and racks up 32 million journeys per day. In London, despite our relative youth, we are already seeing 3 to 4 hires per bike, per day. That's more than the docked offering and they cost £200,000 to install with the tax payer footing the bill. This makes better sense for cities and is the key to unlocking a genuine cycling revolution."
Hitting the dizzying heights of Amsterdam's modal share, which has recently been shown to peak at around 48%, is a long way off for London. So how much weight does Ofo's recent advocacy carry?
"The main thing we're offering is data, free of charge, to local authorities to help develop the route-planning of infrastructure. Others charge for this and often well," says Seal-Driver. "Having looked at our worldwide trends, I tend to disagree that the main barrier to cycling is safety. More than that it's having access to a bike. Docked bikes have been excellent in that they've normalised cycling in cities, dockless takes the idea further."
Seal-Driver suggested that it's unlikely that Ofo would financially contribute to infrastructure as many might have hoped on the back of recent interviews. Placing an anticipated 150,000 bikes in the Greater London area for use by anybody with a smartphone (there are currently just 11,000 Santander Bikes), is highly likely to make an impact on modal share, however.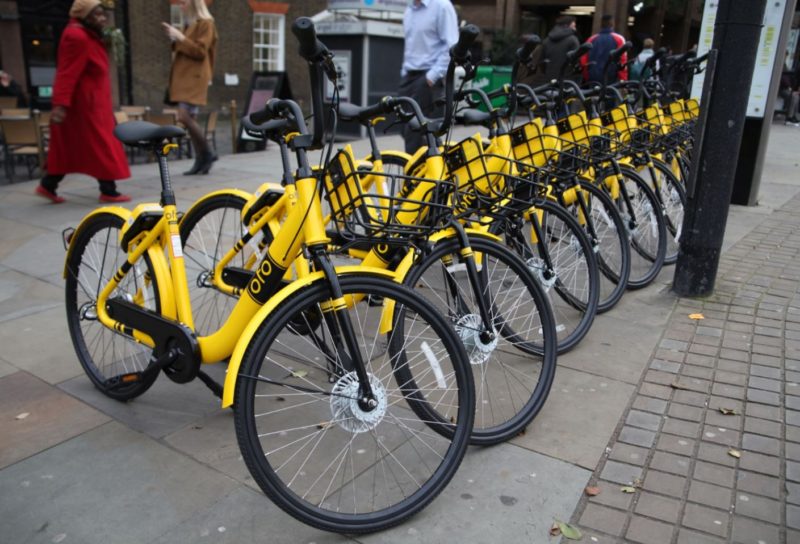 So, is this good or bad news for the bike business at large? Opinion is divided on that point, but Seal-Driver points both to Ofo's bike shop service links and its record of recruiting talent as to points where the bike industry stands to benefit.
Reg Taylor Cycles is one case study Ofo points to as an example of bike shops benefiting directly.
"Being in partnership with Ofo brings us a steady stream of business that's keeping our workshop nice and busy, said Gareth Pentz, a partner at Reg Taylor in Oxford.
"We're servicing between six and eight new bikes a day prior to them being released on the streets and we're also repairing around one of the existing fleet each day too. It's a good level that lets us still focus on our core customer base of locals and students.
"Ofo's bikes are well built, and use traditional parts so there's nothing unfamiliar, although they do use special fasteners for security reasons to prevent parts going missing.
"For us as a business dockless is a positive thing, and it's nice to see an international business working with local partners and doing something positive to promote cycling."
When asked just how wide a scope bike dealers have for getting involved as service partners, Seal-Driver points to the firm's "ambition to be present in every major and medium-sized city."
Paying "normal workshop rates" to partnered bike shops, just a handful currently benefit, but where Ofo is present in Cambridge two stores currently earn from the share giant, we're told.
When it comes to recruiting, the business again has a significant upwards trajectory, in part to keep in line with its own self-imposed code of conduct.
"Per territory we currently have a team of around ten marshalls in branded kit whose job is to keep the streets tidy and quickly deal with complains or repair situations. These staff move around the streets on electric bikes that tow trailers carrying the bikes, so it's a low-carbon, low-congestion operation. There are a number of office personnel too," explains Seal-Driver.
"From the word go it's been crucial to abide to a code of conduct to keep things organised. Many firms have approached dockless all wrong and subsequently been banned or restricted. Ofo was heavily involved in developing the BikePlus code and continues to abide by strict rules of operation. One such clause is not to start-up in a territory without an invite. TfL can take bikes away if they find operators in breach of rules."
Will Bylaws eventually dictate how such schemes operate? "That may come, but primary legislation has become unlikely since Brexit, so self-regulating has become important to ensure Ofo can remain a welcome presence," adds Seal-Driver.
Now on to its third generation bikes, Ofo's bike spec and sizing is now more apt to the UK market, building in a dropper post for quick and user-friendly vertical sizing adjustment. Users are now encouraged to leave bikes in pre-defined green zone areas shown in the app, with benefits now including free rides. This goes a touch further to ensuring clear pavements and eliminating bad behaviour on the firm's bikes.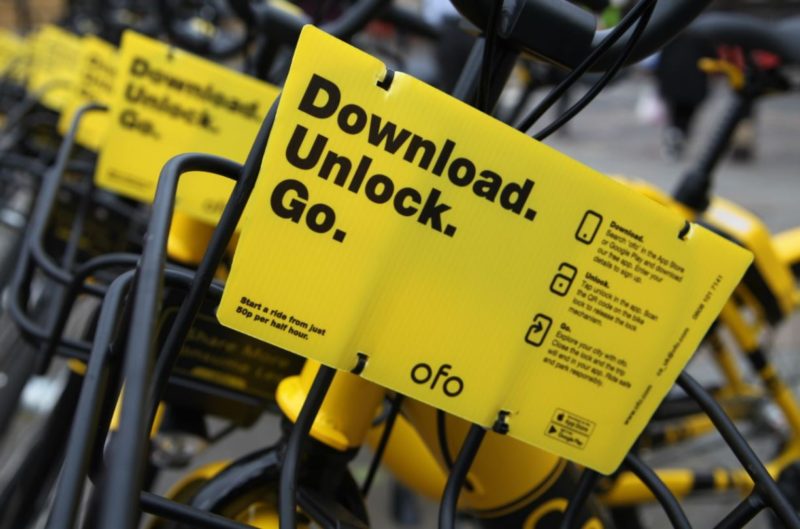 Eagle-eyed visitors to global trade shows will have noted that Ofo has been dabbling in non-commuter style builds, something we're told may eventually see the roll out of more utility led bikes, singlespeeds and other styles.
"I'd love to see a cargo bike down the line," says Seal-driver," but introducing higher value bikes brings about additional costs in training and insurance, so it'll have to be viable."
The profit for Ofo will eventually come simply from sheer volume of hires, not data richness, it is hoped. That, in turn, will lead to a hard-to-ignore demand for safe infrastructure.
"I can promise you our bike is better than the Northern Line," jokes PR Manager Matthew Sparkes. "That's where we're hoping to pull the customers in from. Tube strikes spike our hire numbers and that effect continues for a while after, so I think it's safe to say we're creating new cyclists."
That can only be a good thing, can't it? Let us know your thoughts in the comments below: