Intermodal cycle and public transport use growing among tourists in Rome
Words by Claudia Vianino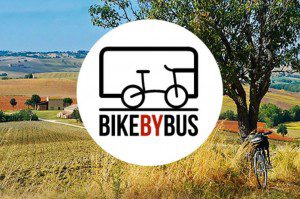 Visiting Rome could be really exciting and very tiring at the same time. There is so much to see and do and so many places to visit you might need months for a proper, thorough exploration. Forget the car though. Bus, metro or motorbikes would be probably a better choice. As to the bike… well, very few tourists have dared to do a tour of Rome by bike; at least until now.
Percorsi Zebrati Onlus, a social co-operative whose activities are aimed to the social introduction of young people with cognitive disabilities, launched the "Bike by Bus" service in early 2015.
Bike By Bus is an ecological, fun and intermodal way of visiting the "Eternal City": 40 foldable bikes are proposed for renting and you can bring them with you for free in all metro, bus or tramway lines. The bike is dropped off (and picked up) at the hotel (or wherever the tourist is staying) in a time slot that suits his/her needs. The price also includes the renting of a helmet, helmet liner and padlock. (The hire fee doesn't include the bus/metro ticket, but you can take the folding bike with you for free)
Although launched in January 2015, the service never really took off until recently when some of the major Italian media gave highlight to the initiative.
Alessandra Lo Baido, one of the founders, explains: "Percorsi Zebrati is a social co-operative. We help young people with cognitive disabilities to be autonomous in every moment of their life. So we thought to a way to support them with a real job, something that could give them the trust and strength for facing their everyday. With the "Bike by Bus" initiative we succeeded, though sales are still low. The service was officially launched one year ago but we were unknown until now. We are a small non-profit organization and we get no support at all from whatsoever state authority or the mayor of Rome. Our start-up money went mainly to the website design and the SEO activity. We never really communicated the service properly. That is also why the service never really took off up to now".
The "Bike By Bus" service is tailored for the so-called "low cost" tourists: young people with low budgets or people that want to get the maximum from their traveling experience in Rome. The renting fee for one day is 20€, for two days is 38€ and for three days is 54€. Each additional day costs 15€.
"Rome has no cycling lanes –Lo Baido explains – thus for an average tourist it is impossible, for example, to visit the Castelli Romani by bike or go to the seaside. With our "Bike by Bus" service they can do that: we also give them maps to ride on interesting and "out of the common circuit" bike tours; they can see Rome with a different perspective".