Could sensory data be the key to effective city planning?
Hayley Everett catches up with See.Sense co-Founder Irene McAleese to find out how the brand's sensor technology could provide the key insights needed to bring about cycling infrastructure utopia…
Since the launch of its first intelligent bike light on Kickstarter in 2013, See.Sense has grown into a global cycling technology brand, with its products used by more than 70,000 cyclists worldwide. See.Sense is also the official bike light and ride insights supplier to both British Cycling and Cycling Ireland, something co-Founder Irene McAleese could not have predicted a decade ago. Their recent partnership with Dublin City Council and Vodafone keep them at the forefront of cycling and tech data, as their real time sensor data will be used to monitor near misses, collisions and cycle route activity in Dublin city centre. 
"We are a husband and wife team, the idea first came about when we moved to Singapore and my husband, Phillip, would commute to and from work," She explains. "He looked at his handlebars one day and thought, what if I could take the sensor technology you get in smartphones and integrate it into my bike light? The idea would be that the bike light would have situational awareness and know when a rider is in riskier environments, such as at a roundabout or road junction, and be able to increase the cyclist's visibility to other motorists."
The couple ran the idea past colleagues and friends, who all said the same thing; if you could do that, we would buy it from you straight away. A couple of years later, the pair launched its first intelligent bike light on Kickstarter which quickly met its funding goal. The Kickstarter was so successful, in fact, the first retailer to stock the bike light was online retail giant Chain Reaction Cycles.
"It was really unusual to go from a Kickstarter product to suddenly being stocked by a retailer like that," McAleese says. "Being a start-up with no marketing budget or anything, the cycling community have been fantastic because they have seen the innovation in the product and through word of mouth we have been able to win a lot of awards and recognition."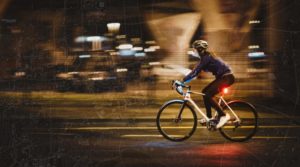 The intelligent bike light uses sensors to detect risky situations, flashing brighter and faster to heighten visibility to other road users. The light processes sensor readings at around 800 times per second, allowing the collection of incredibly granular data, such as the quality of road surface the cyclist is riding over, their position on the road, their cadence and numerous other insights.
"When we explained this to someone, it was a bit of a penny drop moment," McAleese laughs. "We realised it was actually quite a big deal that we've worked out a way to collect this kind of data. It was then that we started thinking about how we could get all of this data off the light and aggregate it up to give some really interesting data for cities, so they could help improve conditions for cycling."
This would mean that planners could not only see a heat map of what the popular cycling routes are in their city, but also have access to a sensory layer of information underneath to detect where cyclists are braking and swerving, where collisions are happening, in what areas the road surface is unsuitable, and so on. This would then enable them to narrow their focus to certain areas and make infrastructure changes or install preventative measures to improve cycling safety and experience.
To do this, the McAleeses' had to find a way of uploading the data from the bike light into the Cloud, which led to the launch of a new intelligent and connected bike light in 2016, the ICON. To encourage cyclists to want to connect their bike light and share their data, the ICON introduced a couple of extra features, such as an inbuilt crash detection alert alongside a theft detection alert effective over a 100m range. The light also provides basic statistics such as the number of miles cycled, how much CO2 was saved during a ride, and how many calories a rider burned.
"It needed to make sense for cyclists to want to connect to the app," McAleese explains. "Once they agree to share the aggregated data from their bike lights, we can then share these insights with the cities we work with to improve cycling infrastructure, and we have a really high opt-in rate for this."
Before they got to this point, See.Sense carried out several closed data trials to test out the data collection, focusing on how cyclists felt about sharing their information and how to handle the huge volume of data from a technical point of view.
According to McAleese, working with individual cities was not without its difficulties and in the earlier years provided a real learning curve for both parties.
"When we first started working with cities in 2017, we presented the data to them in a big data file, not really knowing at the time that they might not have the necessary capabilities to take that data, analyse it, and then take data-led decisions from it. To help them with this, we created an interactive dashboard which is easy for people to use and doesn't require any GIS experience. It's also really good for stakeholder engagement."
The dashboard collates and visually presents key points from the data file, providing layers which can be taken away and added in order to show different aspects of the data, from cycle speed and popular routes, to heavy braking and road surface quality.
The unique granularity of the data collected has allowed See.Sense to work with cities such as Dublin and Manchester to unpack cyclists' experiences in near-real-time, and use this to inform upon infrastructure changes such as the position and width of segregated cycle lanes, road surface changes and upkeep, traffic flows through cities, the rearranging of road junction layouts and traffic calming measures to improve safety and comfort. See.Sense is also working on projects with Oxfordshire County Council, Birmingham, Exeter and Faro in Portugal, among others.
Additionally, the brand has launched a See.Sense Report function on its website in response to the Covid-19 pandemic, which provides free data to cities to help them implement appropriate temporary infrastructure and cycling measures. Cyclists do not need to own a See.Sense connected light to provide their data, as any cyclist can provide feedback through the brand's app.
"We would really like to encourage all cyclists to use this," McAleese says. "We're making all the See.Sense report data that people are contributing to visible on our website and will also be making it available to local authorities and councils in order to better inform them of cycling infrastructure demands and feedback."
When asked what the See.Sense data revealed about cycling trends since Lockdown was imposed, McAleese identified a huge drop-off in commuter cycling numbers, but that these journeys would reappear as leisure rides, often for longer durations and at faster speeds.
"Where cities normally count cycling data through stationary loops under the road or cameras mounted at busy junctions, these methods would see the drop in numbers and that's it. However, because our data collection is mobile it is able to pick up all those journeys that traditional stationary measures can't."
One challenge the brand faces, though, is capturing the data from new riders who have picked up cycling during the pandemic, or got back on their bike after several years out of the saddle, and who might not necessarily be aware of the advantages of buying a smart, connected bike light in order to invest in one. McAleese hopes by being part of the industry brand-neutral BikeIsBest campaign, among other cycling advocacy initiatives, See.Sense can communicate the benefits to this new group of cyclists.
"One of the biggest barriers to cycling is safety," she offers. "We're trying to reach out to new cyclists, especially those who have taken up cycling during the lockdown, to share their comments and feedback via the app. We want to help them understand that by doing this and sharing their data, they will be making the roads and temporary infrastructures put in place safer for everyone, while improving their own cycling experience."
Another product which may capture this new group's attention is the See.Sense AIR, a bike theft tracking device due to launch in early Q4 of this year. The product could fall nicely into this niche, McAleese explains: "If a new cyclist has bought a fairly cheap bike and doesn't want to take out a whole insurance policy for it, they could still have peace of mind that their bike is protected, at a price point which is much lower than putting in an insurance claim.
"Fundamentally, we can attract a lot of people to use existing cycle lanes and temporary bike lanes, and if we want to embed this change and not go back to how things were before, it's really important that cities make that network as appealing as possible to people in terms of safety and comfort, and getting the data feedback from these new groups of people taking up cycling will help that."
Another area See.Sense hopes to make an impact is in bridging the gap which has traditionally existed between advocacy and the cycling industry.
"Our technology has the potential for wider applications, and we're open to exploring collaborations and partnerships around this," McAleese says. "We've come from a values-led approach with the safety of cyclists at the forefront of what we do, but there is also an ecosystem around this which could potentially benefit the wider cycling industry if done in the right way, particularly through maintaining relationships with customers and deciphering their needs.
"The See.Sense app gives people a voice on what they want and need to change to feel safe while cycling, and cities will see this when they analyse the data. Bike shops could help facilitate this by telling their customers about the app, even if they haven't bought a See.Sense product, and we would encourage them to reach out to us if they are interested in learning more about our connected products."