As logistics traffic swells the right tool for last mile is the cargo bike, believe experts
With last mile deliveries under the spotlight thanks to swelling demand generated by online shopping, among other things, how to move goods and people is one of society's big questions. Andrew Brown of Just Ride The Bike asks the experts whether shops should load up on cargo bikes in anticipation of a change that may come sooner than some expect…
Cargo bikes have never had such a high profile as they do now. As Charles Ford of Pure Electric puts it: the chariots are coming. They have been for some time. In the past few years last mile delivery has been reinvented. Firms like Zedify, PedalMe, Pedicargo and Pedal & Post have started up and challenged the status quo and in most UK cities there is a low carbon, or even zero emission service on offer to move people and materials via power assisted cargo bikes.
The concept has moved so far from being a thing people in Denmark and Copenhagen do. The City Changer Cargo Bike project has figures from the first European Cargo Bike Industry Survey showing sales close to doubling in 2020. The 38 bike brands taking part sold 28,500 cargo bikes in 2019 and forecast sales of 43,600 across Europe in 2020. The survey doesn't cover all sales of cargo bikes, but it represents massive growth both for private and business use with most of the bikes sold electric. Does that mean we are seeing a perfect storm for cargo bikes?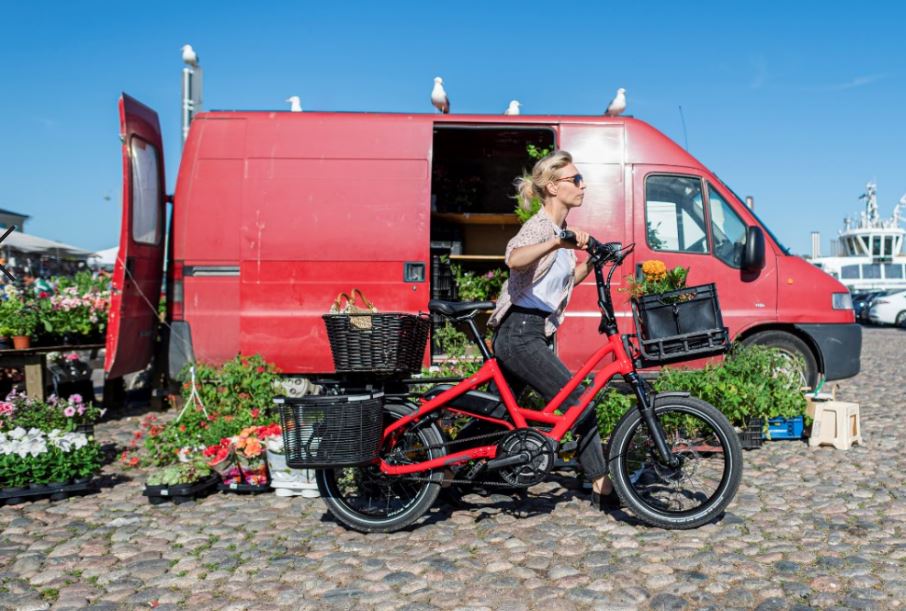 E-cargo bike retailer Pure Electric clearly think the market is ready for growth. The firm recently took over 11 Cycle Republic stores and hired staff both here and overseas. It anticipates as many as 500 stores opening around its electric mobility model in eight years.
"Changes in attitudes to our environment, changes in road space and provision for charging means it is a boom time for electric cargo bikes. We think the same thing that's happened in Europe will occur in the UK," says Charles Ford, business development manager for Pure. "The ultimate aspiration is that people have a cargo e-bike instead of their second car for short journeys. And it can work for businesses within urban areas. Often a plumber or electrician on home or site visits doesn't need everything in a van, they can use a small toolbox. There are a few products on the market specifically designed for this too, like the new Babboe Pro-bike E."
But can a switch to e-cargo bikes go further?
Richard Armitage of the UK Cycle Logistics Federation (UKCLF) says, "We know exactly what e-cargo bikes are capable of. They regularly move loads of up to 250 kilos in London and in major cities such as Amsterdam and Copenhagen. Business Improvement Districts (BIDs) in London have researched the role of e-cargo and bikes and the London Bridge BID hired MP Smarter Travel to run its bikes for business programme – so clients are driving this too.
"With the right contract, the right client, and the right mindset there is every reason to believe that bikes can provide logistical support that's not just beating ICE and EVs in terms of CO2 emissions and wellbeing but is financially viable too. Right now, and they have a point, FM service providers have to balance consistency of service, sustainability, and ethical goals against what's commercially feasible. E-cargo bike manufacturers and trade bodies such as UKCLF, the European Cycle Logistics Federation and Cycling Industries Europe are assembling a strong business case for their emerging sector."
That business case is alive and kicking and it has advocates in some quite different places. One champion is Michael Barratt, development impact assessment manager at TfL. He has been setting up successful trials of e-cargo bikes in the construction industry for last mile delivery. He's behind a pilot scheme with FM Conway and another with Crossrail and both demonstrated bikes are up to 30-minutes faster, safer and cut carbon.
Perhaps more interesting is the work done on a scheme in Hackney, where Michael Barratt and TfL teamed up with construction logistics business O'Neill & Brennan Logistics and hired PedalMe to move construction materials on a project for Morgan Sindall.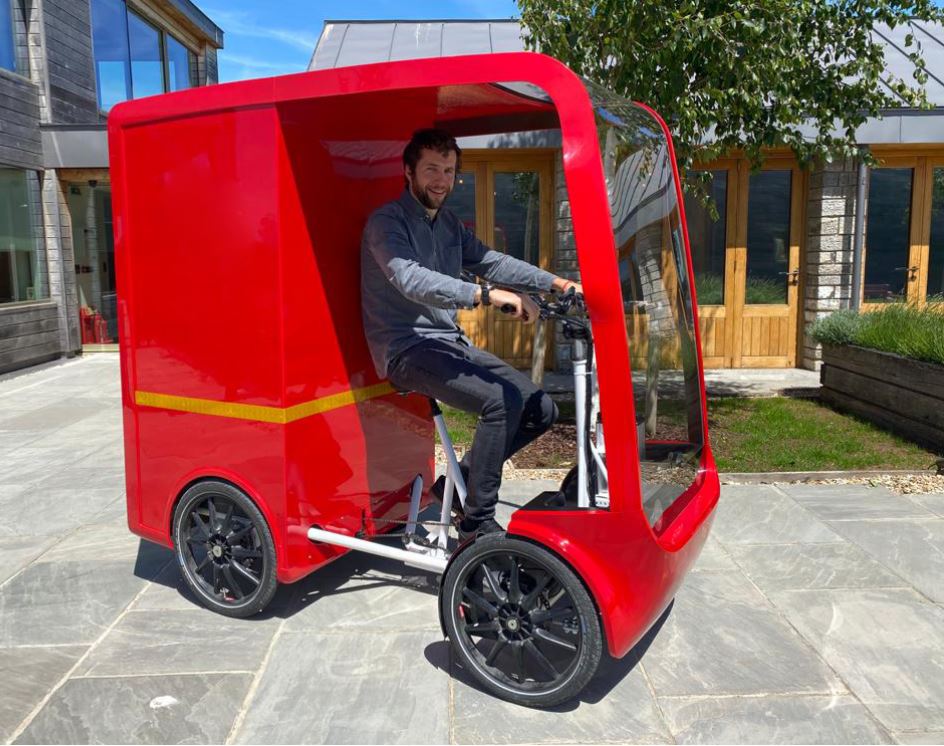 Barry Mitchell, operations manager said the trial showed that bikes helped cut some costs and saved time: "The speed of the cargo bike deliveries has been incredible. Being able to book them on the same day has assisted us massively when urgently needing certain products. During COVID 19 they have been of huge assistance. Whilst a lot of suppliers furloughed staff and stopped delivering items, we were able to get emergency items delivered same day or within 24 hours. Another reason they are incredibly helpful/positive is because we can utilize them to collect and deliver products and materials between our own projects eliminating the need to use unreliable couriers who in turn are also an expensive service."
As reported earlier this week on CI.N, medical packages, for which timing can be paramount, are now being moved to cycle couriers in many cases to ensure prompt delivery.
Importantly, Barry Mitchell sees a role for cargo bikes on larger schemes. With the help and support of Michael Barratt, Hackney Council and Morgan Sindall, they have created a dedicated cargo bike area on the project site and foresee that being the norm on all jobs. The plan is to buy their own bikes. Exciting stuff, but Dr David Land at Just Ride the Bike says it could be the tip of the iceberg.
"The traffic management changes implemented to aid social distancing are fast tracking measures councils have long sought the budget and time to deliver. They are all about restricting the access of vehicles into central business districts. So, if there was a time to consider a different operating model for business support services logistics then it is now. E-cargo bikes definitely offer a viable option – but they need to be tested."
Just Ride the Bike is advocating research to establish a business case for switching all, or part of the white van based mobile service engineers onto bikes.
Simon King, Director of Sustainability and Social Value at Mitie, one of the UK's biggest FM companies says, "I get the proposition, and e-cargo bikes can play a part in moving to a low or zero carbon FM offer. But there's a long way to go before we can turn this into reality. The whole operational model needs to be assessed as typically operatives will carry anything from engineering tools to a water bowser."
That means setting up a hub type operation – not dissimilar to that of last mile delivery companies. Simon King continues, "The stem, or the route taken from home to the first job, is one obstacle. Then there is the type of vehicle used and the load capacity of the bicycle. Yes, there are varieties of bikes available from two wheeled to four, but there is a lot of research to be done to see what we can do and what the bikes are capable of."
Mitie and other service providers need to see more evidence, but the facts and figures they need are increasing all of the time. London's Cross River Partnership has been promoting the use of cargo bikes by small traders. Coopers Bakehouse in south-east London has saved 3,825kg of CO2 per year and £1,300 by switching to cargo bikes from white vans. London Smoke & Cure from Streatham has saved 89.6kg of CO2 and also improved staff wellbeing.
Adam Tranter, Coventry's cycling mayor and founder of bike and active travel PR firm, Fusion Media says, "68% of all journeys are under five miles and if you think that most 7½ tonne lorries are carrying about two things, they are not as efficient as haulage companies might have you believe. Cars, vans, lorries are nowhere near as effective and efficient as the public perceive. It's all about the right tool for the job and it starts with the last mile – then cargo bikes can expand their offer from that point."
Pedicargo in Hereford started business in 2007. It is based next door to a builder's merchant and confident they can move anything. Founder and CEO Will Vaughan says, "It has never been harder to get anywhere in a van and there has never been more cash spent on infrastructure, so things are good! It is an exciting marketplace which is moving quickly. As a business the multitude of technological advancements have made things so much easier, to book, send, charge, invoice, communicate, we can remain dynamic and this really came into play recently where we could focus on the rising need and had the tools to manage it."
What does this mean for bike shops? Can anyone sell, distribute, fix, and maintain the growing number of e-cargo bikes? Charles Ford of Pure Electric sees this growth as an opportunity for independent bike shops to not only sell the cargo bikes and e-bikes, but also support with servicing, particularly for local businesses. Mostly, they use the same components. The only specialisation is going to be with things like refrigeration units or mechanical boxes used for last mile delivery – then they may need special servicing.
"If a bike shop can service e-bikes and are trained on their motors then they can service a cargo e-bike if they have space! One challenge to tackle is facilities for lifting cargo e-bikes, which can weigh 65kg or more, within a small store," says Charles Ford.
Jim Blakemore of Bikeworks, the London based cycling social enterprise says, "Space is an issue but the as the market grows so the bike industry has to adapt. There are bikes out there now that will carry a euro pallet, so to service them you'll need to find a garage style space, not the rear of a shop. But they are in demand – our six cargo bikes are in constant use delivering food, medical suppliers and materials across the communities we work with and someone needs to service them."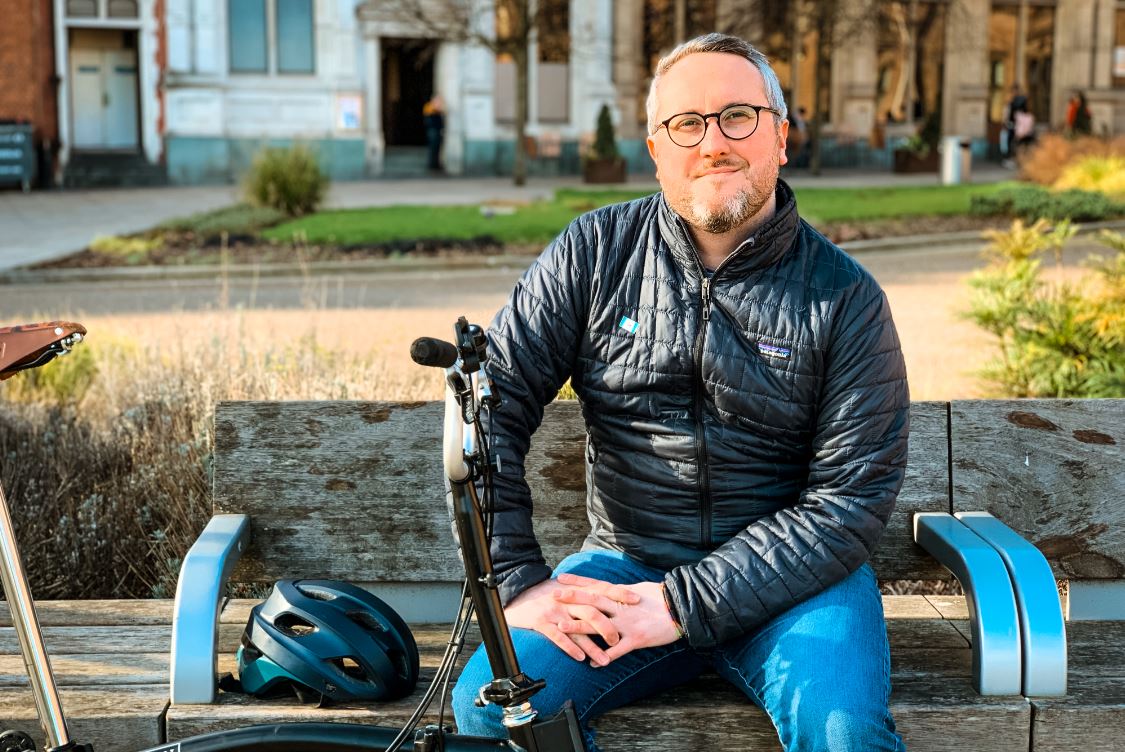 Recently a number of councils have embarked on e-cargo bike trials, encouraging small businesses to try them for last mile delivery and sponsoring share schemes for residents. This means there is scope for maintenance opportunities. Adam Tranter reckons the independent bike shops can do this. They can also aim to offer contract servicing for bigger cargo bike users.
Chris Dixon at PedalMe says, "We can't forget that these machines are different, and riders not only need to know how to handle them, but they need to understand them too. It starts with proper instruction. You can maintain a cargo bike like any other bicycle of you know the basics, but you need to pay attention to its performance. We think there are more jobs to be created from cargo bike maintenance. We are considering offering some form of support for cargo bike users or even training up bike shops."
Cargo bikes do represent huge potential benefit for society, businesses of different sizes and the bike industry. What's needed now is some joined up thinking between cargo bike users, their customers, and local authorities.
Chris Dixon from PedalMe: "I worry that what we are doing might turn into something like the wild west. To make sure the potential is realised properly and to avoid the market turning into an unlicensed situation comparable to that of mini cabs. We are better than that."
Will Vaughan of Pedicargo agrees: "We need to tighten our standards. Hugely overloaded bikes and trailers with cargo open to the elements aren't always reassuring to the customer or investor and there is also some thought which must be had about the right tool for the job. Clever thought process can really open this up, a carpenter or plumber getting materials delivered to site and then commuting to the job over the week with their tools in a cargo bike really makes sense and these are natural progressions as it get more difficult to get to jobs and the cost of labour increases. Then there's the market for needing materials quickly, so I can see a move to distribution to site from larger companies via these methods."
The chariots are coming – but need to be managed right.
Related: Could the electric cargo market match the light van market by 2030?