London's cycle hire figures jump 32.8% as fresh infrastructure opens
Despite a rainy end to spring and start to summer, London's cycle hire figures are showing strong growth not long after the opening of safer segregated infrastructure.
Having just surpassed the 50 million hires milestone, the now Santander sponsored scheme offer over 10,000 bikes at over 700 docking stations across the city, found at between 300 and 500 metre intervals.
Recent updates to the data show that between April and May this year – the period in which the Cycle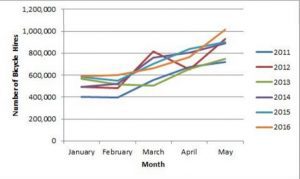 Superhighways began to open in full – cycle hires spiked. In April 763,308 people took out a bike, while May saw 2016's first 1 million plus breach at 1,013,666 – a 32.8% rise in usage.
Year on year usage is up by just over 100,000 hires in the month of May, but 12.63% up on the year to date thus far and that's despite some very questionable weather thus far in 2016.
Average hire time rises and falls with the seasons, yet has also seen a year on year rise, from 17 minutes in May 2015, to 21 this year. That trend has, more often than not, been steadily rising since the first stations were installed in London.
Potentially contributing a small amount to the figures was one of Sadiq Khan's first cycling announcements as Mayor – an incentive for businesses to get employees on hire bikes.
Further to the East-West cycle superhighway opening, London's first quietway now connects Greenwich and Waterloo. More are planned, but campaigners are wary of potential a decline in quality.
This article has now been added to our Cycling Advocacy Resource – a library of statistics and information for campaigners looking to push cycling onto the political agenda.