Cycling researcher Rachel Aldred scoops ESRC Oustanding Impact on Policy award
Westminster University's Senior Transport Lecturer Rachel Aldred – a noted researcher of cycling's impact on cities – has scooped the Economic and Social Research Council prize for 'Outstanding Impact in Public Policy'.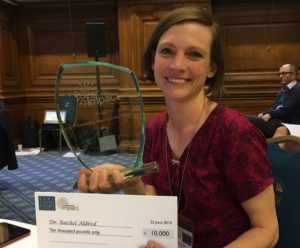 The annual award recognises and rewards researchers whose work has make a measurable difference to society or the economy. Aldred has now received a £10,000 cheque to continue to develop her research.
Dr Alan Gillespie CBE, Chair of the ESRC said: "The ESRC focuses on supporting the highest quality independent research with the power to aid growth, promote innovation and shape society. By encouraging and supporting ESRC-funded researchers to maximise the impact of their work, we ensure that their research has a significant impact across all policy areas and helps make a genuine difference at the local, national and international level. All of our winners and finalists should be congratulated on having achieved significant impact and making a real difference to so many lives here in the UK and beyond."
The ESRC notes Aldred for having set up a network of stakeholders and events with regional and national leaders, stating that her work has challenged traditional transport models, which are often built around assumptions of how people choose to travel.
Outside of London, Aldred has worked with the Welsh Government and the Department for Transport to achieve cycle proofing, as well as change perceptions with key planners.
Celebrating the award, Aldred said on Twitter: "Thank you! So pleased. Plenty of plans for impact activities with prize money. Great to cycle back east along Embankment after. Big grin on face."
Some new evidence of cycling emerging as a transport choice alongside suitable infrastructure has emerged in London.