Lunar Cycle downlighters focus on safety
A new bike light, Lunar Cycle, has been launched that casts a perimeter of light on the floor around the cyclist.
The downlighter shines an orange footprint on the road covering 1.5 metres – in effect a 'keep clear' area that matches that focused on by Operation Close Pass. #OpClosePass pulled over and prosecutes drivers who are spotted passing too close to a cyclist (less than 1.5 metres).
The lights are currently available through the Lunar Cycle site, but the firm told CIN that it was very interested in bringing its range to consumers through bike shops.
Jim Thomson, director of Jimmy Beam Downlights Limited (JBDL), said: "Cycling has become one of the nation's favourite pastimes. More children and families enjoy cycling and more people like to cycle to-and-from work as part of a healthy and active lifestyle.
"When the nights draw in cyclists employ front and rear lights, which let approaching motorists know they are there but doesn't highlight the area needed around them to be passed safely.
"The Lunar Cycle bike light is a ground-breaking cycling accessory that makes sure the cyclist is visible. The visual effect is obvious, while the immediate prompt it gives to both driver and cyclist to be mindful of safe distance is subtle, but highly effective."
The Lunar Cycle bike lights are available as a set of forward-facing lights attached to the handlebar and rear-facing lights that can be attached to the seat post or may also be obtained separately as a front or rear unit.
Each Lunar Cycle bike light weighs approximately 220 grams and made from a sturdy composite plastic. It is USB rechargeable and takes up to four hours to charge. Once fully charged it uses LEDs and works up to six hours on one charge using one of five flashing modes, and three hours using the continuous lighting option.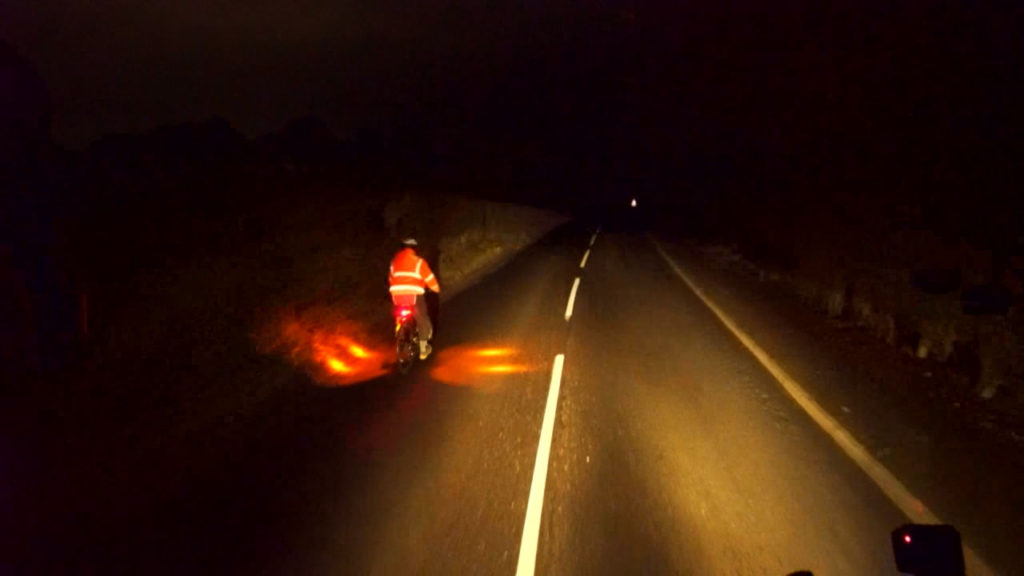 The Operation Close Pass initiative was adopted by West Midlands Police in 2016 with the aim to reduce the number of cyclists killed or injured on the region's roads. The West Midlands Police website reads: "We are experimenting with running #OpClosePass into the fading light using the innovative #Call4Safety (Lunar Cycle) downlighters set at 1.5 metres. This will make it quite obvious when a driver has passed too close as they encroach into the displayed halo of light that surrounds the cyclist. On testing, the "halo" of light around the cyclist, seems to reinforce our desired modified driver behaviour as #OpClosePass intended, so we may end up with fewer offences."