Market study: Which segments of the bike business are bearing fruit for the independent
At the close of 2016, CyclingIndustry.News undertook a study of the bike retail market. In this, the latest in a string of analysis pieces on everything from bike shop wages to what stores are stocking, our report focuses on which sales trends have been evident in recent times.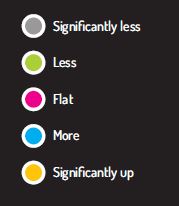 The sample: We quizzed 74 independent bike retailers. Stores ranged small to large in size and were all UK-based.
The outlook: During August, CyclingIndustry.News reported on UK bicycle imports heading for a lull not seen since the turn of the century and perhaps longer. With e-Bikes now representing 12% of bike imports, dealers look to be coming on board and helping pedal-assists' projected growth curve steepen. UK's shipments look on course to dip below 2.5 million units for 2017, one million less bikes than entered the country in 2014.
It's hard to say with any certainty which sector of the market those 1 million bikes will be cut from, but there appears to be a worrying trend toward shrinkage of the independent bicycle retailer sector, something CI.N is currently investigating.
Encouragingly, before electric bikes are taken into consideration, it appears that the average sale value of the bicycle is rising in the UK.
The question: On a scale of one to ten, how big an increase or decrease in business have the following segments seen year-on-year?
Mountain Bikes

Significantly less: 3%
Less: 10%
Flat: 34%
More: 42%
Significantly up: 10%

 
Commuter Cycling 

Significantly less: 0%
Less: 4%
Flat: 34%
More: 52%
Significantly up: 13%

TOP OF THE PILE: Commuter cycling scored most highly among our pool of retailers as an area where they had witnessed sales growth

Women's Cycling (on road)

Significantly less: 1%
Less: 1%
Flat: 40%
More: 45%
Significantly up: 12%

Women's cycling appears to be a growth segment for the independent, with 45% stating that on road sales had risen, while 28% pointed to off road progress.

Women's cycling (off road)

Significantly less: 1%
Less: 4%
Flat: 57%
More: 28%
Significantly up: 8%

 
Cargo Bikes

Significantly less: 2%
Less: 4%
Flat: 86%
More: 6%
Significantly up: 2%

 
Folding

Significantly less: 1%
Less: 3%
Flat: 56%
More: 34%
Significantly up: 5%

 
Electric Bikes (on road) 

Significantly less: 1%
Less: 0%
Flat: 38%
More: 41%
Significantly up: 20%

Widely considered the market's cash cow, feedback on e-Bikes certainly indicates an uptick in sales. Tarmac going and off road bikes alike recorded "significantly up" ratings with 20% and 21% of dealers, respectively.

Electric Bikes (off road)

Significantly less: 1%
Less: 0%
Flat: 52%
More: 26%
Significantly up: 21%

 
Performance road 

Significantly less: 3%
Less: 11%
Flat: 41%
More: 35%
Significantly up: 10%

Is the road boom over? 45% of our panel reported growing sales year-on-year at the high-end, while just 14% had said trade had suffered like-for-like

Low to mid-range Road

Significantly less: 2%
Less: 8%
Flat: 53%
More: 28%
Significantly up: 8%

 
Kids' bikes

Significantly less: 2%
Less: 4%
Flat: 45%
More: 37%
Significantly up: 11%

 
Leisure cycling 

Significantly less: 2%
Less: 3%
Flat: 44%
More: 34%
Significantly up: 17%

 
Triathlon

Significantly less: 4%
Less: 2%
Flat: 72%
More: 18%
Significantly up: 4%

 
Time Trial

Significantly less: 3%
Less: 2%
Flat: 76%
More: 19%
Significantly up: 0%

 
Touring 

Significantly less: 1%
Less: 3%
Flat: 52%
More: 43%
Significantly up: 1%

A near unanimous verdict from the retailers that sales of touring bikes are at worst flat and at best growing nicely.

BMX 

Significantly less: 9%
Less: 13%
Flat: 62%
More: 11%
Significantly up: 5%