Mintel report forecasts ups and downs for bike market in coming years
A new bike market report by research giant Mintel forecasts a continued rollercoaster ride over the next few years, prior to a market valuation north of £1 billion by 2023.
The research suggests that around 2.5 million bicycles were sold in the UK at a value of £940 million in 2019. Despite a spike in sales related to the Covid-19 exercise permissions, it is expected that 2020 sales may only tally £842 million. Mintel suggests that as the crisis begins to abate demand will drop in line with wider consumer spending.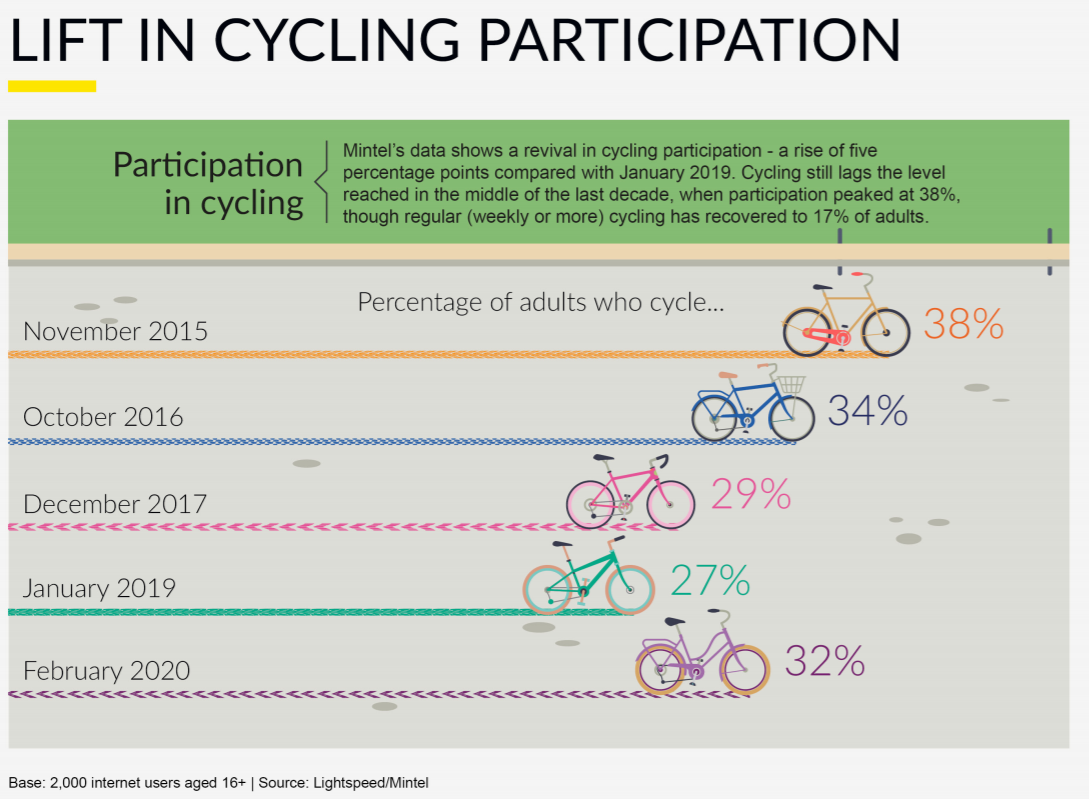 "The COVID-19 crisis and its economic impact have ushered in a period of unprecedented volatility in the cycling market. The crisis has provided a boost to demand in the immediate term, but bike sales are likely to fall later in 2020 as an anticipated deep recession bites. The likely repercussions of COVID-19 on cycling participation are complex. The UK lockdown is disrupting patterns of behaviour, which initially resulted in lower levels of weekday cycle commuting overall, but a boost to weekend leisure riding.
"As lockdown restrictions ease and Brits return to the workplace there is likely to be a shift from crowded public transport to crowded streets. The fact that at the beginning of the year a third of adults who didn't currently cycle said they would consider doing so in the future suggests there is huge potential to increase cycle participation rates. Once spending recovers from the impact of the recession, the long-term market potential is strong. Cycling is uniquely placed to benefit from growing health, wellness, and environmental trends – all of which may be boosted by the COVID-19 crisis – and a broader urban mobility revolution which includes e-bikes and e-scooters."
Mintel's headline teasers suggest that an open goal opportunity exists for the bike industry to tap into a pool of new customers, a message that appears to be getting through steadily with campaigns like #BikeIsBest tailored around reaching those shifting from other transport forms.
Among stats released, we're told "a third (32%) of Brits cycled to some extent", as of February 2020. The  Mintel bike market research further points to "huge untapped cycling potential", stating that a third (32%) of adults who don't currently cycle say they would consider doing so in future.
Women and those aged under 45 are interested in cycling as "59% of potential cyclists are women, while under 45s (55%) outnumber those aged 45 and over (45%)."
When it comes to electric bikes, Mintel calculates that sales volume grew by 40% in 2019 to around 100,000 units, up from an estimated 78,000 in 2018. By volume against all bike sales, the research estimates that the market make up is still small for pedal assisted bikes at 4%.
That estimated small base may soon grow and rapidly. CyclingIndustry.News' own study of the independent retail market, which took in the views of over 220 businesses, illustrates that over 60% will dedicate more floor space to the sale of electric bikes this year. Just 6% suggested they would reduce the presence of pedal-assisted bikes. To purchase this report in full, email the editor here.
Cycling Industry.News readers are offered an exclusive 25% discount on the Mintel report, which normally retails at £1,995 (exc Tax). Use the code RESEARCH25 at checkout to register the discount. For an overview of the content, click here.
According to Mintel, much of the forecast led information stems from the feedback of over 2,000 internet users aged 16 or over.