MiRiDER expand with new 7,000 sq ft facility: "Don't say it can't be done!"
Having recently expanded into a new 7,000 square foot facility, within which distribution and assembly processes are streamlined, Wigan's e-Folding label MiRiDER invited CyclingIndustry.News to see first hand how the group has dealt with the recent supply chain issues plaguing the industry.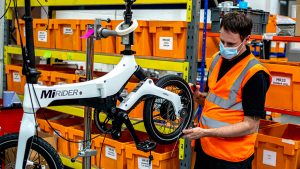 With over twenty-five years' experience in a variety of sectors, the entrepreneur behind Disklok, Festive Lights and DRi BOX, family firm MiRiDER has created a fool proof and efficient system for ensuring that its customers receive products on time.
Stock issues have taken precedent over all other concerns in the past twelve months, however stock and supply have not been an issue for the group. MiRiDER sources the majority of its parts from the Far East but by building its folding e-Bikes in its UK based assembly facility, the brand ensures the quality of build, best components, as well as continuation of supply and customisation.
Stephen Alty, Company Manager, said: "We believe that we have got to deliver excellence the entire way through the chain, from sourcing, building, and distributing. Our philosophy is to deliver the best product, at the best retail price and we believe in excellent customer service."
The new facility boasts individual build stations, packaging stations, its very own test track, sub assembly section and floor to ceiling high boxes full of stock.
Relying heavily on customer reviews and its positive Trustpilot rating, MiRIDER's customer service team have worked tirelessly to improve and meet customer demands when it comes to its e-Bikes. For example, the group received feedback for its Mark 3 folding bike, which lead MiRiDER to adjust the weight and height on the seat.
Product development is also done in house, thanks to the groups 3D printing machine. This investment allows MiRider to create more bespoke and personal touches for the folding e-Bikes. For example, the magnetic feature located on the wheel of the e-Bike allows it to hold itself together when folded, increasing efficiency for commuters. This again, has been adapted based off of consumer reviews.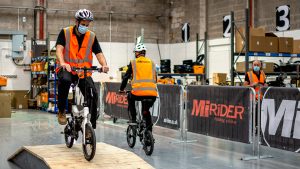 Top tier quality assurance is a perk of localised production at MiRiDER, with each bike builder being responsible for assembling, which takes up to 90 minutes. The bike builders then test the product on the test track located in the new facility, ensuring it is of a high standard and is ready to be packaged and distributed from its warehouse facility, which is located just behind the new assembly base.
In addition to high levels of quality assurance, in an Aston Martin type fashion, the folding bikes receive a personalised sticker with the name of the bike builder, highlighting once again the personal nature of the assembly phase.
Additionally, the ordering of the e-Bikes factors in new accounts joining, with minimum order quantities as low as a single unit, though free delivery comes into play with a trio of e-Bikes. The brand told CI.N that roughly three to four new dealers join MiRiDER each week, with its more successful dealers selling around three to four folding e-Bikes per week.
When it comes to profit margin, this varies depending on the quantity of bikes ordered. New dealers also have the option of free POS which can be adapted and personalised entirely for that particular brand.
MiRider has also brought out a 'loan bike' option for dealers that might be slightly hesitant. However, Mark Higginson assures dealers that "nine out of ten people who try the bike will make a purchase. We are confident in the product."
CI.N also got the chance to speak to Mark Higginson Senior, the entrepreneurial mind behind several companies, including MiRiDER. When asked what the advantage of running a successful family business, Higginson replied: "The advantage of being a family business is that each family member has a different skill and a different role, which allows MiRiDER to grow and develop." From close family friends who passed on the idea of founding a folding e-Bike company after struggling to find a bike that would fit into the back of his car, to the trainee's that have just started, each staff member has a purpose and does their job to an extremely high standard.
Alongside an accessory expansion and continuous product development and new design models, MiRiDER has a goal of becoming a worldwide company. The group also hopes to one day source all e-Bike parts from the UK and is always developing ways to make its e-Bikes more efficient and user friendly.
Whilst visiting the new facility, several members of staff relayed a common quote from the Managing Director that could perhaps be responsible for the growing success of the Wigan based brand- so, in the words of Mark Senior, "Don't say it can't be done!"
To become a MiRiDER retailer head to www.mirider.co.uk/become-a-retailer/