Muc-Off debuts bicycle pressure washer product in Europe
Hot on the heels of the launch of its refill programme, Muc-Off will expand the coverage of its bicycle pressure washer product to mainland Europe.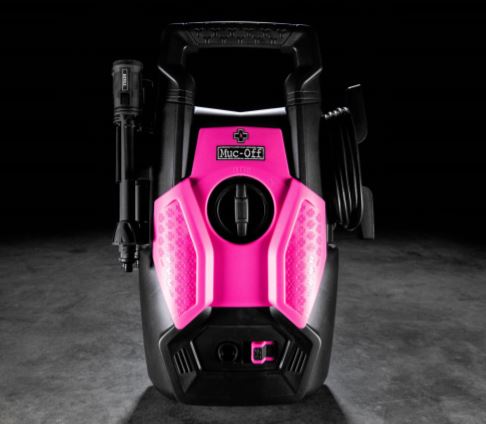 Adapted to deliver a lower pressure for bicycles and thus not displace essential greases and lubricants, the pressure washer gives a max flow rate of 6.5L/Min and a max pressure of 100 bar. The unit is all housed in a tough, impact resistant, modified copolymer outer casing to cope with being carted between races.
Alex Trimnell, CEO at the bike care specialist said: "I'm so excited to see the Muc-Off Pressure Washer launch in Europe. The reception our home market has blown me away and we're stoked to be able to offer our customers a product that answers one of the biggest challenges in cleaning your bicycle or motorcycle."
Each part of the gun and lance is coated in a soft touch matt black finish, not only for user comfort but to lower the chance of damage if the nozzle knocks accidentally against a bike. A high-pressure hose with metal contact points for durability is also included.
Muc-Off has developed and tooled specific lances to ensure the bicycle pressure washer won't damage any surfaces including suspension seals or bearings. All the below lances are included with the washer bundle:
One for bicycles. Lower pressure for use on light to medium dirt.
One for motorcycles. Higher pressure for use on light to medium dirt.
One bespoke, adjustable pressure lance. Adjustable higher pressure for heavy grime on tyres and anything else that your customer cares about that needs cleaning with a bit more pressure.
A low-pressure snow foam lance that won't damage any delicate parts and transforms your bottle of Muc-Off Nano Tech Bike Cleaner into thick, snow foam for the ultimate and efficient deep clean.
Each unit is supplied with a custom dry bag carry case that is adapted to carry the extra fittings. A one-litre bottle of Bike Was and one-litre bottle of concentrate are further included in the package.
European customers can now place orders online.