NDBA releases 2017 health check of the U.S. specialty bike retail channel
The National Bicycle Dealers Association (NBDA) has released the 2017 edition of the Specialty Bicycle Retail Study which presents an in-depth profile of the retail marketplace in the United States. It covers the 2016 calendar year, and includes projections from retailers about their views of the market.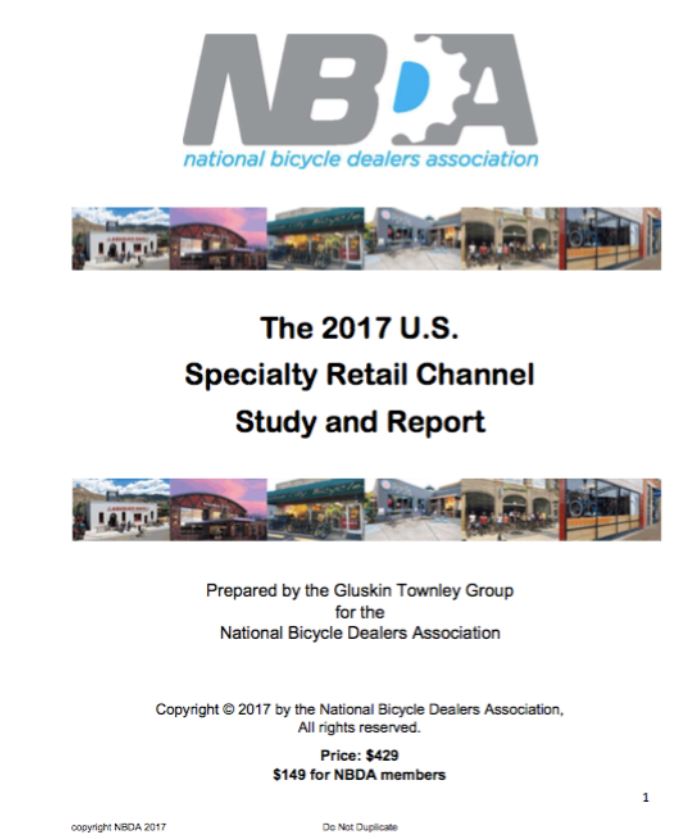 "We are happy to be bringing this report at this time of disruption in the retail channel of the bicycle industry.  With a larger response rate than previous reports, and new questions that probe into areas like employee compensation, this report is one of many tools that the industry as a whole should be reviewing as decisions are being made that impact the independent dealer network." said Todd Grant, President of the NBDA.
Many key aspects of bicycle retailers are covered in depth, including location and size of store, product category mix, brands carried, marketing, technology and challenges in business.
Business confidence questions cover such areas as supplier relations, protected market areas, mass merchants, mail order, employee issues (including wages), and competition from the Internet and mail order.
The U.S. Specialty Bicycle Retail report was conducted in first Quarter of 2017 and released in June 2017. A random sample of approximately 1,500 specialty bicycle retailers were invited to participate, and the study is based on 332 usable surveys. The report is 250 pages long, including extensive charts and graphs. It is available only as a PDF file. The Gluskin Townley Group conducted the research for the NBDA.
One half of the Gluskin Townley group, Jay Townley, is a regular contributor of in depth market analysis to CyclingIndustry.News. You can read Jay's articles here.
Non-members may purchase the report for $429. Members of the NBDA may buy at the discounted price of $149. Older studies are listed in the on-line catalog and are available for a reduced price.
To download a free copy of the table of contents or purchase they study, click here.