Pashley marks 90th anniversary with two special edition builds
At 90 years old and laying claim to the title of the UK's longest established bicycle manufacturer, Pashley has marked the occasion with two special edition builds.
Founded in 1926, the Stratford-Upon-Avon bike builder today employs over 50 and has the the support of over 95 UK-based suppliers and sub-contractors.
The first is a special edition Speed 3 bicycle, inspired by the path racers which were popular in the 1920s and featuring a traditional Reynolds 531 steel frame in satin black with chrome and bright alloy components. These, together with the stunning frame lug detailing and classic number plate, are deliberately reminiscent of the Art Deco period of the mid-1920s. It's been equipped with a Sturmey Archer 3 speed hub, another design that has stood the test of time. A unique head badge has also been recreated for this special edition.
The Speed 3 SE is to be available in 20.5", 22.5" & 24.5" (double-top-tube) frame sizes.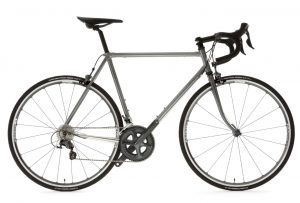 Pashley's other landmark build is a stylised take on the modern road bike. The Roadfinder special edition features a Pashley hand-crafted Reynolds 725 steel frame in a unique dusk-silver finish and with a polished Reynolds 921 stainless steel chainstay. It is equipped with specially selected components, including a full Shimano Ultegra 2×11 mechanical groupset, Ultegra wheelset, Brooks lightweight C13 saddle with carbon rails, and GB handlebars and stem.
Customers can choose from 50, 53, 56 and 59cm frame sizes.
Pashley's General Manager, Steven Bell, says: "Pashley is unique; it is one of the last UK bicycle businesses that actually manufacture its own bicycles and offers the most extensive model range of all of the remaining UK makers. We are rightly proud of our products, our factory and our employees.
"We recognise our heritage, but we are not stuck in the past, we are continually creating new products for the various markets and customers around the world that we serve.  We are a forward looking business, with a great team of people who are working towards our continued success."
The two builds are now available to independent bike shops.