Retail finance: Why the ACT works with V12 and the opportunity for retailers
In a series to be delivered exclusively via CyclingIndustry.News, the Association of Cycle Traders will over the coming weeks be going into depth on how bicycle dealers can maximise returns with retail finance tools. In this, the first of the series, the ACT talks about why they've chosen to work with V12 as its preferred partner for the cycling industry:
Whether buying a new car, furniture or jewellery, most people will have at some point purchased a big-ticket item on retail finance. We've all come to expect this payment option at the point of sale, so why should the cycle sector be any different?
Offering retail finance can help your customers overcome the barrier of price when it comes to purchasing what they really want, but think they can't afford. Many customers visit a shop with a budget depending on the money they have in the bank, but by offering finance you give them the option to base their budget on a monthly spend rather than a lump sum.
Finance isn't just a 'nice to have' option for your customers anymore, it's something they've come to expect as standard. According to credit score and report site ClearScore, 82% of UK adults plan to splurge on big ticket items this year, with nearly half (47%) saying they will use credit to fund at least one of these purchases.
Research from V12 Retail Finance's Customer Survey 2015 shows that when finance is available, almost a third (28%) of customers will spend more, whilst without the option of finance over half (52%) will not make a purchase at all.
So we've established that finance options are vital for independent bike shops, but selecting the right finance provider is key.
The ACT has long partnered with V12 Retail Finance to offer a range of affordable credit options for members. Discussing the reasons for partnering with V12 Retail Finance, ACT board member Chris Compton says "Since forming a longstanding partnership with the ACT, V12 have shown true commitment to the independent retail sector. They are dedicated to providing excellent customer service to both retailers and their customers, and their investment in ongoing product development has helped the Ride it away scheme grow bigger than ever before."
Established network 
V12 Retail finance are the number one provider of retail finance to the cycle sector, working with c.900 IBDs who make up the Ride it away retail network, thanks to their long-standing partnership with the ACT. As such, we thinkg V12 understands the cycle market better than any other finance provider.
Kevin Hughes National Account Manager at V12 suggests: "it is important that you work with a retail finance company who has experience and always puts the needs of your business, and your customers, first. Retailers invest time and effort in recruiting a customer so it is essential that the finance company is able to look after this investment for you."
As well as working with hundreds of independent bike shops, V12 are also proud to work with some of the UK's largest industry suppliers including Madison, Trek and Moore Large. Not only does their support cement V12's status as the number one provider in the market, but through these partnerships retailers are able to access lower promotional subsidy rates, thanks to Partner Finance Promotions designed exclusively for V12 users by the ACT.
Service and support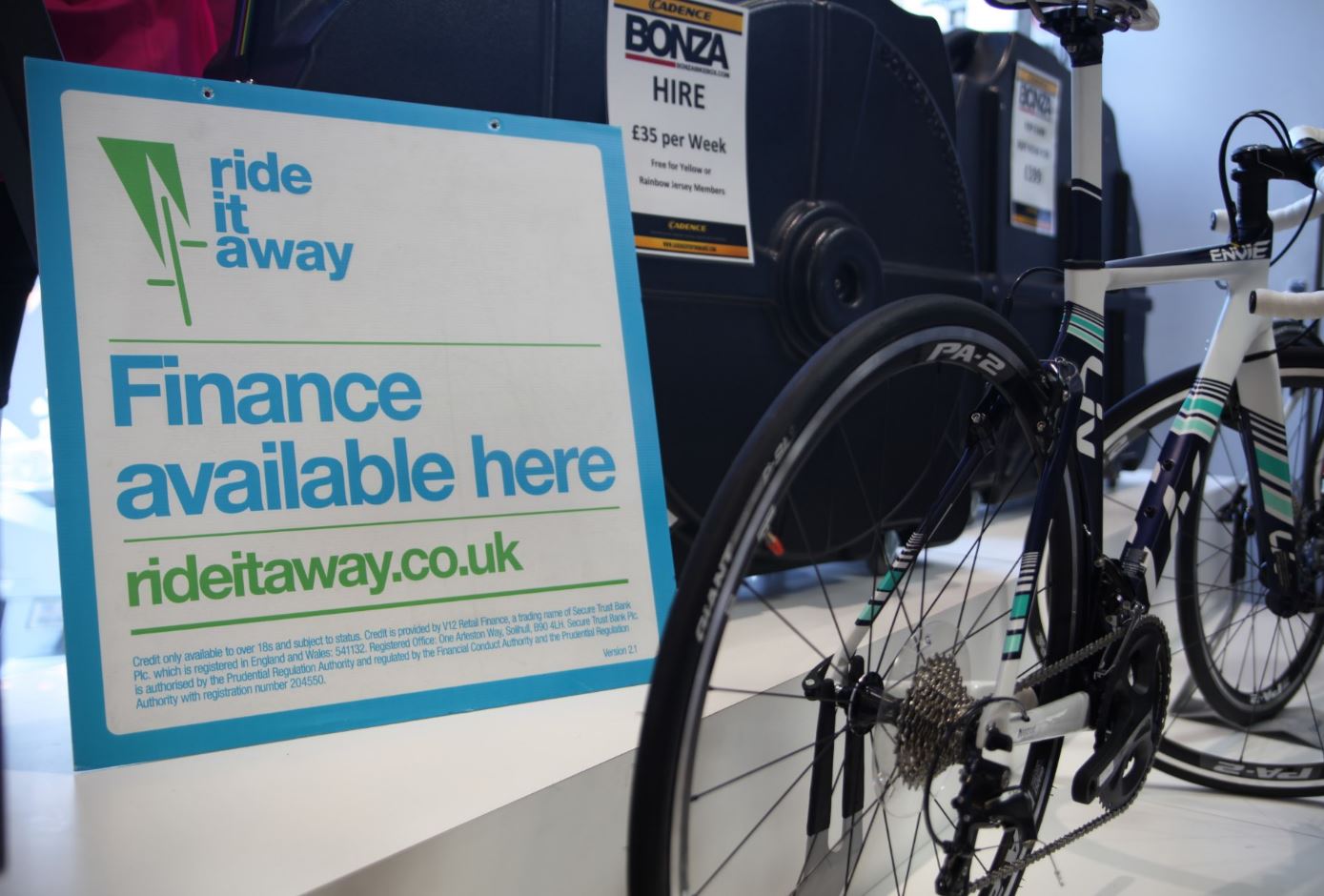 V12 customers have access to support 7 days a week. The partnership with the ACT also means businesses have additional support that other finance providers cannot match. This includes help through the application process and guidance on FCA authorisation and reporting.
To further support cycle retailers, the ACT and V12 created the Ride it away retail finance brand, giving cycle finance an instantly recognisable consumer identity nationwide.
The ACT also provide additional Ride it away sales tools, from a range of specially designed, point of sale materials approved in line with the FCA guidelines to let your customers know that finance is available, to a dedicated website which directs thousands of customers straight to your shop.
Thanks to a new and improved digital customer application system, your shop's customers will have a quick, simple and seamless shopping experience whether they choose to shop on a desktop, mobile, tablet or in-store, which also ensures your staff aren't tied up with the application process for more than a couple of minutes.
"Customer service is extremely important to us", says Hughes, "as demonstrated by our Feefo rating (4.8 out of 5) and we want your customers to have a hassle free service. Satisfied customers are more likely to buy from you again so it is important that they are very well looked after."
Cost
Cost plays a key role in a retailer's decision to offer finance. But, even though lower rates may seem attractive, these do not always mean more sales or a bigger profit.
Whilst V12's rates are competitive, there are other finance providers who advertise even lower rates to attract retailers. However, in addition to the rates you'll be paying it's important to consider the cost of set-up fees and any ongoing monthly fees – both of which are free for V12 dealers thanks to their partnership with ACT.
Hughes adds; "There is an increasing number of finance companies out there that lead their proposition with the talk of lower costs. However, they do not have the experience or expertise of this market sector."
"Many retailers forget to factor customer experience into their choice of finance provider and focus on price. In our opinion this is a short sighted view as most of the retailer's costs are attributed to securing the hard earned sale. Finance must be integrated seamlessly into the retailer's sales process. This is where V12 Retail Finance can really make the difference," says Hughes.
Getting set up with V12 is straightforward and can be done in as little as two weeks with no upfront costs for ACT members*.
For more information visit www.rideitaway.biz or contact the ACT on 01274 427 700 or info@theact.org.uk
* Ride it away retail finance is exclusively available to ACT members. Subject to terms and conditions, including but not limited to, a minimum 12 month trading history, the business declaring a positive net worth and the search results of credit reference agencies.