Road Monitoring Smart light wins an international award and seeks funding
A University of Sussex graduate's bright idea to use cyclist generated data to improve road infrastructure has been named one of the top student product design innovations in the world. His product allows cyclists to record data about potholes, dangerous junctions and other dangers with the press of a button.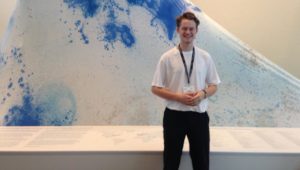 Product design student Jake Thompson has been winning awards and gaining international attention in the months since the launch of his bike light Flare, which has three buttons which cyclists can use to flag up problems along their route including potholes, close pass points and dangerous junctions.
Jake was one of three product design students to receive an honourable mention after being shortlisted for the Global Grad Show Progress Prize yesterday [Thursday November 15].
The 24-year-old was just one of 32 students from seven UK universities invited to attend the Global Grad Show in Dubai this week, an annual exhibition of innovation from the world's leading design and technology schools which this year brought together 150 inventions set to shape the future.
Jake said: "The opportunity to attend the Global Grad Show was just so incredibly exciting and to be shortlisted and then to receive an honourable mention is just out of this world."
After completing his Product Design degree at the University of Sussex this summer, Jake and 9 course counterparts attended New Designers London 2018 where Flare Cycling was selected as one of the Top Five Ones to Watch by Sarah Weir, CEO of the Design Council.
Flare was also shortlisted for the Creative Conscience Award in September and was recently presented with the Sean Morley Memorial Award and Best Road Safety Product Award at the Houses of Parliament by road safety charity Airso.
After Flare's launch, Jake received enquiries from Australia, USA, Japan and Belgium from a range of interested parties including cyclists keen to launch Flare in their area, local authorities asking about the possibility of a pilot scheme, motorcyclists who asked for a similar device to be designed specifically for motorbikes and news organisations reporting on the project.
Since it was first announced in Feb 2018, Jake has been working on a further iteration of the mobile app to test with cyclists, having received help and support from the University of Sussex's own business incubator the Sussex Innovation Centre (SINC), and is in continued discussion with product development teams to produce 50 devices for a pilot scheme in the UK.
He said: "I'm really pleased with the scale of the positive response to Flare since it launched, it has vindicated a lot of the work that I did on my course in establishing the product. Now I'm really keen to find the right partners or private investors that can help bring Flare to market as soon as possible."
For more information on Flare visit here or watch a promotional video here.