Sadiq Khan: "Cycling needs to be important in the mayoral contest"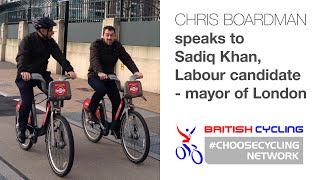 Sadiq Khan has pledged to increase the funding for cycling if he triumphs at the May 5th London mayoral elections.
In an interview with British Cycling's policy advisor Chris Boardman, Khan explained that, while Boris and Ken Livingston deserve praise for their cycling ambition, much more can be done.
He said: "I want cycling to be really important in the mayoral contest. I want London to be a byword for cycling around the world. That means we have to make it easier and safer to cycle around our city. I want to build on and accelerate the progress we've made in cycling within London in the past few years.
"That means rolling out the cycle hire schemes and learning the lessons of the Cycle Superhighways. That means looking at new routes, looking at more segregated lanes and making sure more Londoners feel that it's safe to cycle."
Watch the interview with Boardman above and if you've yet to read it, check out what cycling advocate and former mayoral candidate Christian Wolmar believes the next London Mayor must do to improve cycling's modal share.