Santini and Polartec collab results in new flagship winter jacket
Santini has released a new winter jacket, dubbed the Vega Xtreme, set to release just ahead of the sales season.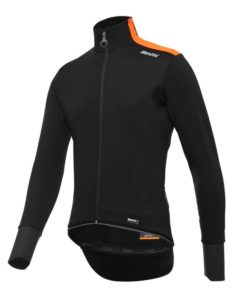 The jacket features an outer layer of Polartec Windbloc which protects the wearer from wind, rain and damp, as well as offering superb stretch, breathability and body heat balance.
Polartec's Alpha fabric, on the other hand, is used on the inside of the collar to keep this delicate area warm while still allowing optimal sweat evaporation.
The raw cut sleeves are made from padded fleece with a completely waterproof outer PU layer at the wrists and a longer back for maximum protection.
Visibility on the road is boosted by two orange stripes on the shoulders that also feature small reflective dots, alongside the standout Santini logo on the back. A waterproof zip back pocket keeps valuables safe and dry.
CyclingIndustry.News recently ran an in depth piece on fabric science with Polartec, including the aforementioned technologies, which you can catch here.
Available via ZyroFisher, the Vega Xtreme will be priced at £210 in the UK.