Selle Royal launch new Vivo Reflective Athletic saddle
Selle Royal has launched its first reflective saddle, Vivo Reflective Athletic, which will be added to its range of saddles and bike accessories.
Designed for safety and comfort, the new Vivo Reflective Athletic offers increased visibility through a reflective film sealed on the rear of the saddle. During the day the film is subtle in colour, but in darkness it bounces light from headlamps of cars, bicycles and other vehicles, making the riders presence known.
Michele Manca, Product Manager at Selle Royal said: "The Vivo Reflective Athletic gives that extra peace of mind that riders need when cycling on busy streets. We hope this new saddle will encourage those who have started to enjoy the benefits of a cycling lifestyle this year – whether that's for fun, fitness or just getting around town – to stay on their bikes as the summer draws to a close."
The Vivo Reflective Athletic is also suitable for riders who like to get a workout from cycling and can be used on bikes set up to be ridden in a sportier position as well as for those who like to cycle as a means of greener transport in urban areas.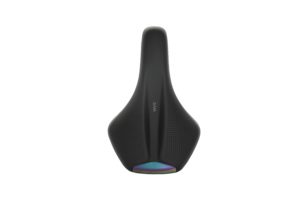 The new Vivo Reflective Athletic is made from a foam matrix structure that increases the elasticity and breathability of the saddle for durability and comfort. The company have also  positioned a channel down the centre of the saddle to help relieve pressure in the pubic area for both men and women, and also added an embossed surface on the saddle where the ischial bones come into contact with it to enhance grip when riding.
With 60 years of experience in saddle creation and innovation, the Vivo Reflective Athletic was created through Selle Royal's unique Havac production system. This fuses vacuum technology with the lightness of handmade technology for a clean look, whilst helping to increase the water resistance of the saddle to protect against splashes and rain.
The Vivo Reflective Athletic Saddle is available to purchase for SRP: €29.90 on the Selle Royal website and in Selle Royal retail partners worldwide.
Last year saw the Italian saddle company announced the launch of a new retail-focused B2B programme in a bid to improve the brand's presence in stores.