Silverstone Sports Engineering Hub will offer wind tunnels & space for cycle industry
The Silverstone Sports Engineering Hub is to open in February, promising cutting-edge R&D facilities for the whole cycling industry.
The facility will include two new wind tunnels, plus office and workshop space for rent, and enquiries are now being taken.
The £4m plus project has benefited from a £2m grant from Buckinghamshire Thames Valley Local Enterprise Partnership.
The Hub is the creation of TotalSim, experts in aerodynamic design, testing and computer modelling. TotalSim were part of the original 'Secret Squirrel Club', which was set up by Chris Boardman to provide a technical advantage to Team GB. They have also contributed to the huge success of British Cycling and a number of F1 teams. TotalSim said it had identified a lack of affordable R&D facilities for sports teams and businesses, so the goal of the Hub is to build a community of innovation, powered by the most advanced technologies and supported by its expertise.
The facilities include:
Sports performance wind tunnel – Pitched as "the most advanced wind tunnel of its type", optimised for cycling, winter and para sports
Fabric development wind tunnel – The fabric-specific tunnel enables highly controlled and repeatable testing of fabrics, the area that has seen some of the biggest performance gains in recent years
3D scanning – 3D scanning tools can capture athlete and equipment dimensions for CFD (computational fluid dynamics) modelling
Bike efficiency rig – The rig uses robots to 'ride' the bike and represents a generational leap in the realistic, accurate and repeatable testing of frames and components
Silverstone Sports Engineering Hub is located in Silverstone Park, which is already home to over 70 companies and lies at the heart of Britain's 'F1 belt'. The region is home to nearly every F1 team on the grid and their many specialist suppliers, created an exceptionally high density of engineering skill. As well as offering leading R&D facilities, the Hub puts all of this expertise on the doorstep of the brands which take up residence.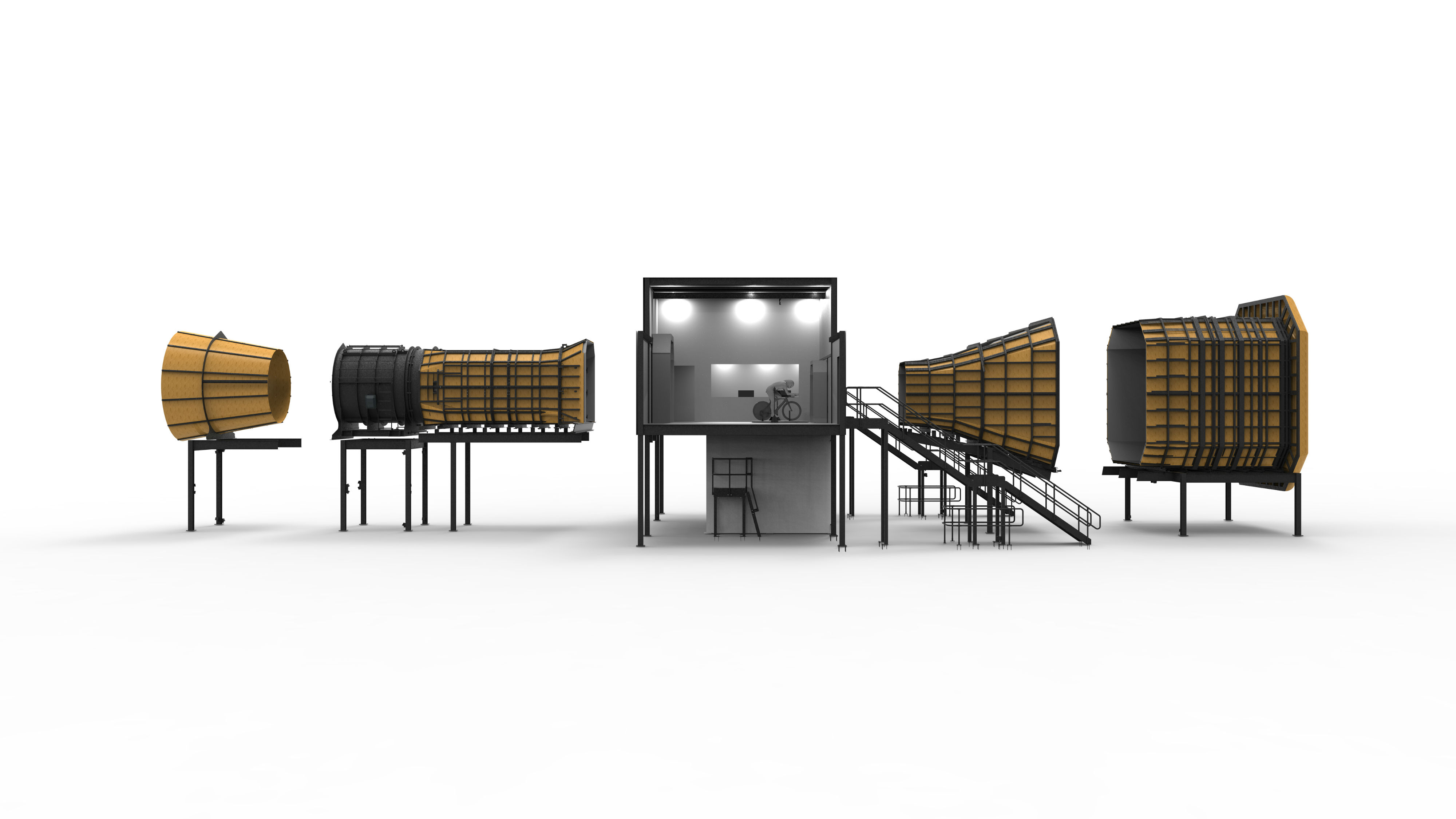 "We are aiming for this to be the best R&D centre for sport in the country," said Rob Lewis, MD of TotalSim. "What's more, it's going to be affordable to companies that previously could only dream of carrying out R&D at this level. We're inviting professional teams, bike brands and clothing manufacturers to make the most of facilities that until now we know have been the preserve of only the best funded national federations."
Broadening the appeal even further, the Hub's facilities will be available with as much or as little technical support as the client needs, as the Project Team Leader, Jon Paton, explained: "We're aware that every company has its own requirements and existing expertise. For those entirely new to using a wind tunnel, we can provide an aero engineer to run the testing and analyse the data. Alternatively, there will only be a technician to operate the wind tunnel and the client can run the testing. Beyond that, we will offer training to clients so that they can operate the tunnel themselves. This will offer the best value to clients based on site and also the most peace of mind for clients running highly secretive projects."