Beryl roll out e-Scooters in Norwich
Beryl have announced the launch of its e-Scooters in Norwich as part of the Department for Transport's 12-month trial.
This comes after the micromobility firm showed its willingness to launch services with local councils who have expressed an interest in running shared electric scooter trials earlier this year.
Philip Ellis, Beryl's CEO said, "We're thrilled to be introducing the Beryl e-Scooter to Norwich and be part of the additional benefits that flexible, smart and sustainable travel solutions can bring."
"As people return to their usual day-to-day journeys, we want to encourage them to take that trip in a greener way. We believe, through providing a mix of vehicles and infrastructure, we are able to deliver a first-class service for a wide range of journeys, for Norfolk County Council and its community. Two-thirds of all journeys in the UK are under five miles, and an e-Scooter, e-Bike or bicycle can be a great way to make that trip instead of going by car," he continued.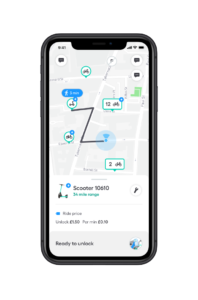 As part of the agreed 12-month trial with Norfolk County Council and the Department for Transport, Beryl will introduce up to 100 e-Scooters into the community with will see Norwich become the first city in the UK to have access to a three-tiered vehicle scheme. The e-Scooters will be available for hire alongside Beryl's existing bicycles and e-Bikes through the Beryl App and will be available from four key city centre Beryl Bays.
Councillor Martin Wilby, Norfolk County Council's cabinet member for highways and infrastructure said: "I am delighted to see the first e-scooters arrive on the streets of Norwich, bringing further sustainable transport options to an even wider range of people and supporting our shared aims to reduce pollution and congestion across the city."
Councillor Wilby added, "It's important to note that while this is a government-backed trial, it is still illegal to use privately owned e-scooters on the highway. Safety will be of paramount importance, which is why we are introducing the scooters gradually, in a controlled manner. We've already put a number of measures in place and will be working closely with the police and key local stakeholders to ensure their use is appropriate and does not impact negatively on the wider community."
Beryl e-Scooters can be used on roads, cycle lanes, carriageways, and other areas where cycling is permitted but not on pavements. Every Beryl e-Scooter has vehicle approval from the DfT, ensuring it meets the highest safety standards. During the trial period, riders will be required to provide a valid UK Driving License to use the e-Scooter and will be asked to provide feedback on their experience.
Beryl have worked closely with the Norfolk Constabulary to support the roll out of the trial and will jointly monitor safe use. The Norfolk Constabulary will also be a key partner in the development of safety guidance as the trial progresses.
Inspector Graham Dalton said, "We are pleased to support this initiative which could offer an efficient and more affordable form of travel for local communities. Whilst we look forward to seeing how this trial is received by members of the public, it is important that people are aware that the use of regular E-Scooters remain illegal on the highways. This includes pavements, cycle paths and other public areas. Although these government trials are currently underway, the legislation still remains the same and individuals could face a fine or penalty points if used outside of this initiative."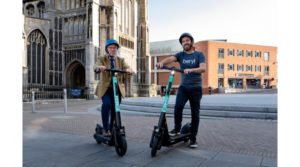 To begin a trip with a Beryl e-Scooter, users may follow the simple in-app directions that will unlock the vehicle for use. At the end of their ride, users must lock the scooter via the app and will hear a chime from the scooter to register that it is locked. Beryl has updated existing parking infrastructure to allow e-Scooters to be hired and parked in an orderly and secure manner. Beryl e-Scooter's available to hire are visible both on street and in the app, with Beryl Bays and Norwich's operating zone also shown in app.
The e-Scooters will be available to hire through two payment choices. These are; Pay-As-You-Ride where users will have to pay £1.50 as an unlocking fee and the e-Scooter will cost 10p per minute, or Minute Bundles where the user will have to pay a £1.50 unlocking fee but can choose from a variety of bundles priced at 5p per minute. These bundles include 100 minutes for £5, 200 minutes for £10, and 300 minutes for £15.
Beryl reminds riders to park a hired e-Scooter in one of the four allocated Beryl bays as anyone who parks the e-Scooters elsewhere will be charged a £5 convenience fee, while users that lock a Beryl e-Scooter outside of Norwich's operating zone will be charged £10.
Beryl will continue to consult with key organisations such as Norfolk police and local disability groups as the trial progresses.