Strava's Metro data shows immense climate benefit of cycle commuting
Digital training and ride-logging platform Strava has been able to demonstrate the immense climate benefits of cycle commuting through its Metro platform.
Riders pinning their data to their commutes had a median cycle of 8.3 kilometres in the UK last year, with total miles ridden adding up to 112.6 million kilometres. This equated to a carbon offset of 28,270 metric tonnes against driven miles in the UK alone.
Globally, the figures tallied 507.1 million kilometres logged and 127,304 metric tonnes of carbon saved.
The report's scope goes well beyond environmental benefits, however, and Strava flags some quite difficult social issues in its headline findings.
The data has a segment dedicated to the disparity between men and women cycle commuting, in particular in the UK where the likelihood to cycle to work sits at 32.8% for men and 29.3% for women.
There is an undertone of safety concerns running through the report, with British women much more likely to both run and cycle in groups, especially after dark. In this respect the UK is worse than the global and European averages.
In the UK 27% of rides by men are grouped vs. 37% of rides by women, while 22% of runs by men are grouped vs. 32% by women.
The cycle commuting gender divide stands at 12% outside London and 6.7% in the capital where safe infrastructure and a perception of safety in numbers has steadily become more prominent.

Unsurprisingly the prominence of the virtual workout has risen on Strava. Virtual cycle rides are up 4.7% in June and 9.7% in January (2015-2019) showing multi-season use.
There are some industry bragging rights tucked deep within the study too.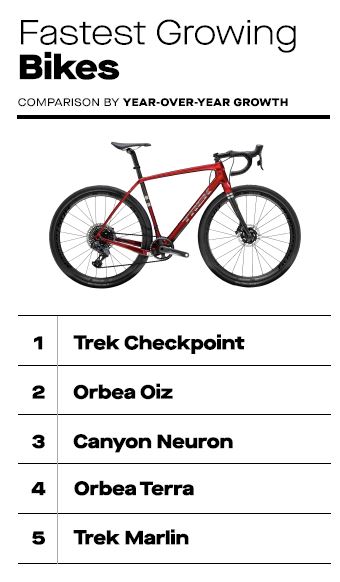 Those pinning their bike model to their data have inadvertently helped Strava demonstrate Canyon's Speedmax to be the fastest bike in the world, with Cervelo's P5 and Giant's Trinity following up with the highest average speeds logged.
In distance terms Colnago's C64 at 49.3km average, Bianchi's Speciallissima at 48.9km and Trek's Emonda SLR at 47.km had the highest average ride distances.
From a sales perspective the data is also able to highlight the most common registrations, showing Trek's Checkpoint, Orbea's Oiz and Canyon's Neuron to be the year's top selling bikes by year-on-year growth.
Gareth Mills, UK Country Manager of Strava, commented: "There's so much to celebrate in the Year in Sport this year. The growth of distance running on Strava is mindblowing, and something I don't believe has been captured effectively in the past. As we are living increasingly sedentary lifestyles, particularly in developed countries, perhaps the call of the marathon or ultramarathon distance becomes a way of combating this trend for many of our community.
"At the same time, we are clearly engaging a broader range of athletes than ever before – from 50 percent of the pro peloton at the Tour de France to almost a third of parkrunners in the UK.
"The data also spotlights areas for improvement. It is disappointing to see that British women are much less likely to commute by bike than men compared to the global average, and we should refocus on the root causes. Organisations around the world, including TfL, are working with Strava Metro to find insights in our data which can support better infrastructure planning – and it's great to see that London performs far better than the UK average in this area."