"The cyclist cities should target doesn't ride a bike yet," says AI firm helping global cities get moving
Bike share schemes around the globe are now beginning to benefit from artificial intelligence, something which is helping cities create both profitable and innovative hire solutions, says transport logistics firm Stage Intelligence.
Operators and developer of a real time reporting system, Stage is actively working with cities around the globe, including some of America's largest and expanding schemes to drive fleet efficiency.
"We use algorithms that have been proven over time to keep fleets running, often at above 96% at all times," explains Stage Intelligence's Tom Nutley. "For cities the main challenge of bike share is how to efficiently manage a fleet during a rush hour, or how to calculate man hour variation between say a summer season and winter. After just four weeks of good analysis, our developers can have a city's van fleet operating at maximum efficiency in real time. As cities begin to come to terms with having to make different transport investments, bike share is emerging globally as a solution to a number of critical and costly problems, from congestion to pollution, as well as overcrowding on trains."
An efficient operation and how to run one profitably hasn't always been immediately obvious to even some of the largest hire schemes, says Nutley.
"There's a lot to take into consideration and poor fleet management can be costly in terms of time lost, vehicles and staff on the road that needn't be and fuel spent. In fact, it's not always easy to run these things profitably, it's often those who invest in joining the dots and doing it properly who reap rewards. If you've both historical and real time data doing the maths for you right in front of you on an app, it takes out both human error and the countless things to remember in fleet management that can be asking a bit much of the average human brain! With this system, everything is considered, from the exact number of bikes needed on the truck, to the most efficient routes around the city to replenish hot spots ahead of schedule."
With bike share schemes on the cusp of technological evolution, Nutley believes management efficiency could be about to become even more crucial.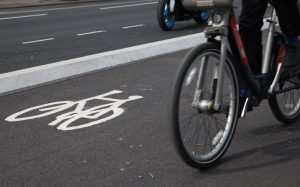 "We're in a position now where cities are really embracing the available technology. The bikes are not only gradually offering electric assistance, but schemes are increasingly looking at integrating computers into the bikes. This works two-fold; the consumer can not only manage everything with the transaction on a user friendly interface, but they can also generate their own ride data. These screens will be able to offer things like calories burned on a cycle and GPS navigation."
As we all know, data is invaluable to those in the cycling world and also highly valuable to advertising firms like JCDecaux, the managers of France's capital city's share scheme. With users perhaps only semi-aware of their input, hire scheme operators are suddenly in possession of data on which to leverage greater spend from Government health departments for either scheme expansion, or for safe infrastructure, which of course ride data can further assist in creating. 
"There is to come a point in the near future where the docks of today become more flexible. The street won't need to be dug up, they'll simply be bolted down and as a result the whole thing becomes cheaper and more versatile. It's also likely, within reason that the dock as we know it will become less relevant. Most new bike share bikes are now fitted with GPS. That means they can in theory be left anywhere (again, within reason). If you look at Pokemon Go, people are demonstrating just how far they'll walk between stops and mapping is quite a familiar user experience on a mobile by now. Cities generally have a dock within at least 400 metres apart, often less, but eventually there will come a time where bikes can be locked and left within a certain radius. Our software will always Geo locate a GPS clad bike, so fleets can always recover bikes and users can always locate them too."
It is widely expected that, like with Portland's Nike sponsored scheme, that smart cities will begin to integrate their travel cards with hire bike systems, meaning a train user can go from door to door simply by swiping.
"That has to be the future," says Nutley. "Despite some appearances, multi-modal transport is very much on the mind of planners and officials. When a commuter network kicks off due to overcrowding or congestion, city officials now have to listen, or else things descend into chaos quickly. It's interesting to see some clever firms in the mainstream cycling business take note too. Brompton's lockers, for example, tapped into an opportunity."
As demonstrated by NACTO, there is of course, a lot more to making a bike share scheme truly work. Pairing safe infrastructure with bike share can be a golden ticket for efficient cities.
"You can put all the money you like into bike share, but if user confidence in cycling safely is rock bottom, it's going nowhere. As demonstrated the world over, build it and they will come. The cyclist both the industry and cities around the world need to target doesn't ride a bike yet and that's unfortunately the majority of people."
Stage Intelligence are transport logistics problem solvers. At present the business's primary interest is bike share, but may grow to other transport modes in time.