Titanium manufacturers report strong trading as high-end purchases soar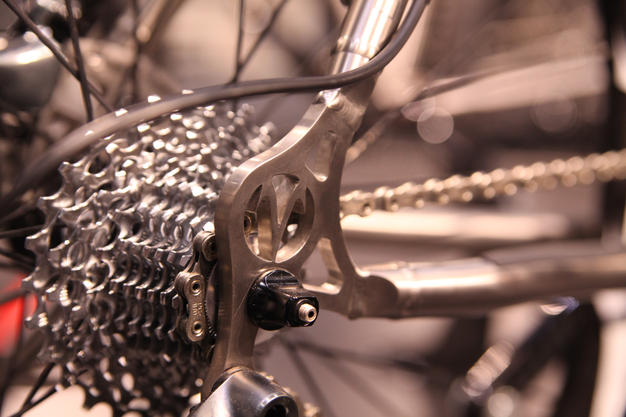 "We're getting noticed more and more in luxury cycling circles. Enigma Bicycle Works is not shy about the price of our product because it's among the very best you can buy and our customers know that when they size up."
The topic of price rarely came up in our chats with Titanium manufacturers, but Sussex based Enigma must have had that discussion a few times at the recent unveiling of its £10,995 Exemplar.
"Bikes like this further raise our profile for our quality," says MD Jim Walker. "In December we were up 40 percent over the same month last year and the company is up 32 percent in the first four months of our financial year. The ti market, while competitive, is growing and our expertise, paired with the fact we handmake frames in Sussex, is a big draw for customers."
As revealed here just a short while ago, the company is on the verge of tripling its titanium build capacity with new expertise, as well as doubling the size of its paintshop. Impressive growth for a business that celebrates its tenth birthday this year.
Boardman Bikes, which also has fresh titanium additions for 2016 on the back of strong demand, have bikes that are hand finished by the Sussex business.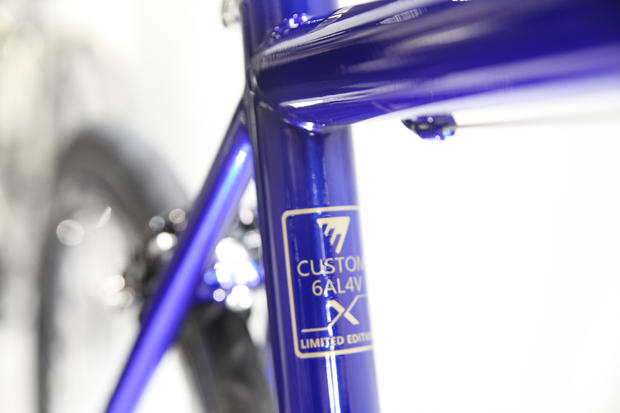 International trade is growing at Enigma too, with South America the only continent Walker believes he is yet to hit.
"We've shipped to China now," he says with a smile. "Shows like this (The London Bike Show) generate a lot of interest from all over. Generally we're finding our goods are increasingly going to ex-racers who want some all day comfort. If you think about it, if you want speed you'll generally be looking at carbon. If you want a bit of class, comfort and something that'll last the rest of your time in the saddle it's got to be titanium. And at 40 to 60 years old on average, most of the customers have a bit of money."
Outside of the typical customer Walker has noticed a new demographic emerging.
He said: "Two years back we were selling almost exclusively to riders aged 45 to 55. Lately, however, we've had a lot of younger creative types who are well educated and with some affluence coming through. It helps that we now have some lower price points too."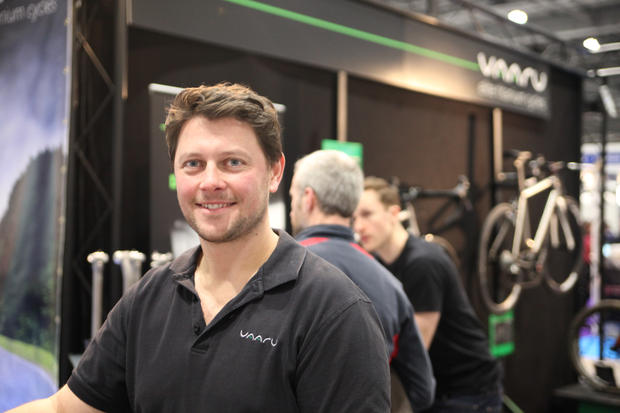 Upstart ventures too are riding the wave too, says Vaaru founder James Beresford whose business is just over a year old.
He said: "It's been hard to manage our growth as a one man band, so I'm considering adding resource. When I set out we were producing five mountain bike frames to one road build, but as soon as we began to tease a bigger catalogue of tarmac-suited builds the demand has flipped. It's now three road to one mountain bike frame sold."
Though most sales are to locals, Vaaru has begun to ship internationally and will be developing its online presence accordingly.
"I'm feeling my way through, seeing what people react to," says Beresford. "We've recently introduced a lower end distance road frame – the 3AL/2.5V MPA – which comes in at sub £3,000 for a complete build and £1,699 for a frame kit. But our premium 6AL/4V product is looking like it'll do great business."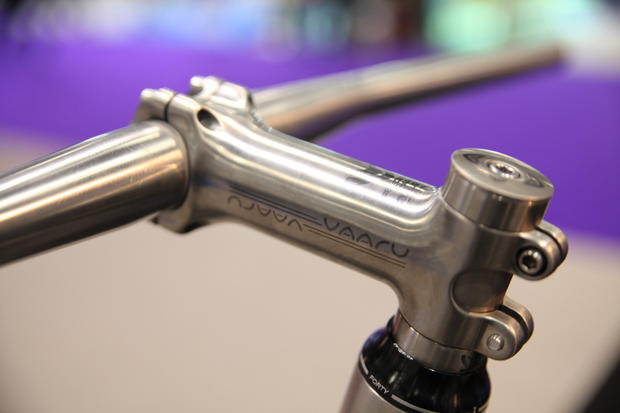 Aftermarket components too are an expanding area for Vaaru, with customers wanting to keep the look and feel consisitent. A new £500 rigid mountain bike fork, weighing in at 800 grams, recently joined the catalogue, as did the above £200 stem – available in 90, 100, 110 and 120mm lengths. Sandblasted and lazer etched to finish it's something we'd all love on our bikes.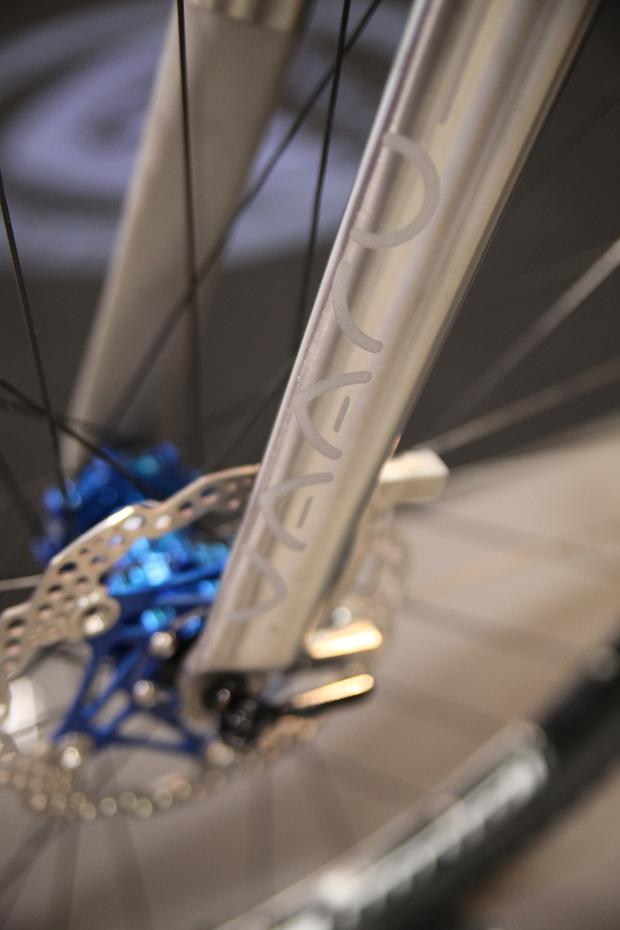 Beresford's other project, lighting brand Evica, is currently on hold until later in 2016 while Vaaru continues to grow.
On that development Beresford said: "There's a patent going through at present that details how the LEDs work with the user interface, but we won't be revealing the details until the end of Summer."
Meanwhile, Italian specialist Nevi expects to double UK sales this year, with strong export business also emerging in Holland, Japan, Germany, France and South Korea.
Consuelo from Nevi said: "We only produce titanium frames and components, all made in Italy. We are the only brand that welds titanium in a vacuum chamber, largely because we also produce parts for industries such as automotive and chemical applications. The upside is that this is the best way to weld titanium for bicycles."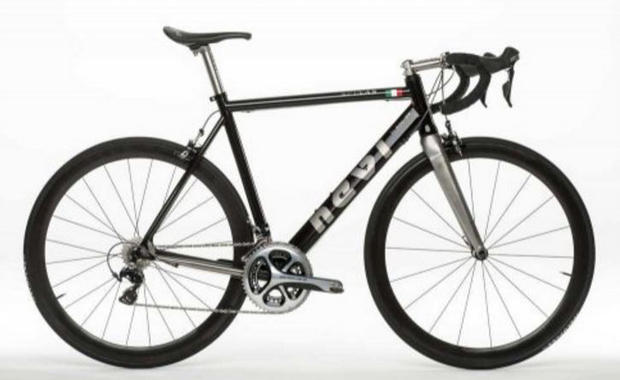 Global giant in the field Van Nicholas, which became part of the Accell portfolio in 2011, is set to open a new showroom at the start of March at the home it shares with Koga in Heerenveen. The firm's 2016 catalogue, its largest to date, is now displayed here and available to customers to view on appointment.
Within the 2016 catalogue you'll find belt driven tourers, a Pinion drive gearbox, the firm's take on a rigid titanium lefty fork and plenty more innovation and experimentation that few others would dare to pursue.
The firm echoed its competitors telling us at the London Bike Show "demand has never been so high, business is growing across the board. It's a good time to be involved with titanium."