Trump to delay tariff increases in Chinese goods
US President, Donald Trump, has announced via Twitter that the US is to yet again delay imposing tariffs on imported Chinese goods, initially planned to start 1st March.
Trump approved tariffs on around $200 billion of Chinese imports, including $1 billion in bike products last year, with the initial round of tariffs coming in to effect on Monday 24 September, starting at 10%.
In December, Trump and his Chinese counterpart, Xi Jinping agreed a temporary truce on their ongoing trade war, after the two leaders had dinner together at the annual G20 summit in Argentina and agreed a 90-day delay on tax increases, in the hope that a more lasting deal could be negotiated in that time.
Seemingly, negotiations seem to have been fruitful for both sides, as Trump posted the tweets delaying the tariffs for a second time, due to "productive" talks between the two leaders: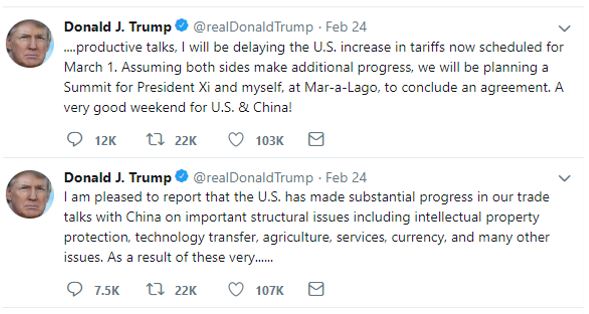 The tweets did not provide a timescale for how long the delay in tariffs will last, and there has been no further elaboration from Trump himself, or from the White House.
Yesterday, Trump referred to the relationship between China and the US as "very strong", which may hint that a possible truce to the ongoing trade war between the two countries is not too far away.