Vanmoof debuts e-bike with "unprecedented connectivity" in Electrified S
Vanmoof has debuted a new pedal-assist build with a number of fresh twists,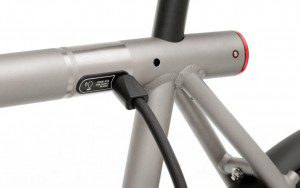 but perhaps most interestingly, the first 1,000 are selling with a $1,000 discount until April 30th. (Some colour options are now sold out)
Dubbed the Electrified S, the build is touted as the manufacturer's smartest yet, offering "unprecedented connectivity" and control via a mobile phone, as well as a 75 mile range.
With a 20mph top speed, adjustable depending on local regulations, the build is available to be shipped worldwide. Europe, which has tight regulations when it comes to classification of electric bikes and mopeds, will see a reduced speed model shipped.
"On the first day of preorders, VanMoof made sales all over, from Edinburgh to Milan, Amsterdam to San Francisco," a spokesperson told CyclingIndustry.news.
"In reinventing the e-bike, we were determined to build a bike that is beautiful inside and out, but with brains to match," said Ties Carlier, who along with brother Taco is a co-founder of VanMoof. "We're confident we've built the smartest and most connected e-bike on the market, and one that advances VanMoof's mission of breaking down barriers to commuting, empowering more people to get from point A to point B in cities around the globe."
The Electrified S press release points to a number of innovations: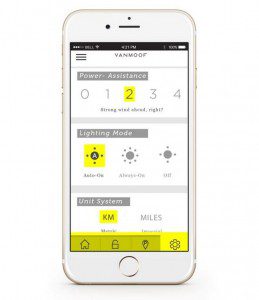 ● Smartphone Connectivity – A sleek smartphone app allows owners to change speed settings, track their bike's location on a map using a built-in GSM connection and activate anti-theft tracking.
● Keyless Lock – Place your hand on the bike, and its integrated Bluetooth technology will confirm that you're the owner and automatically unlock the bike.
● Fully Integrated – The bike's electronics, battery and battery-powered LED lights are all integrated inside the frame, keeping the bike's design clean and streamlined.
● Lightweight – A small, nearly-silent motor results in a mere 40-pound bike, making it one of the lighter e-bikes on the market (though not the lightest). That's without sacrificing power: the Electrified S claims to offer a range up to 75 miles and top speed of 20 miles per hour. That latter claim might prove a barrier to the bike's entry into some markets.
● Digital Touchpad Display – Embedded inside the bike's top tube, the digital display is easily viewed while riding and shows details like speed, distance travelled, power level and battery life.
● Power Boost – A push of the power boost button helps riders accelerate faster.
Those who take advantage of the initial price of $1,998 will have bikes shipped in June. The offer is limited to the first 1,000 orders.
The build will also go on sale in the brand's Brooklyn brandstore from June.