Analysis: Key London Mayoral candidates all #SignforCycling, but how do they stack up?
Just 24 hours after Sadiq Khan pledged support for cycling in London, key candidate Zac Goldsmith has followed suit.
"I will spend at least £100m a year in order to deliver more space for cycling," said Goldsmith.
That would represent a slight increase on present day commitments, which in a 2013 Mayor's Cycling Vision announcement pledged £913 million over the next ten years.
"Don't underestimate how important this will be in reversing the projected drop in cycling spending" – said Ashok Sinha, CEO of the London Cycling Campaign following Zac's sign up.
The successful campaign has now resulted in all mayoral candidates offering up their takes on what the #signforcycling pledge means. You too can pledge support for cycling, as near 11,000 have, here.
Cycling currently has an estimated 3% modal share in the UK capital, a figure that's grown through outgoing mayor Boris Johnson's tenure. But come May 5th a fresh face will be representing London and bold leadership will be required, says transport expert Christian Wolmar. 
CyclingIndustry.News stacks each of the main candidates and their pledges against each other:
Sadiq Khan, Labour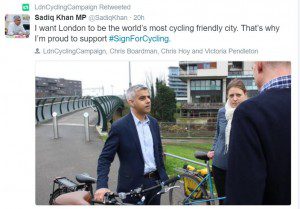 Having pledged to triple cycling infrastructure in the capital, the front-running candidate is behind the campaign's calls to export the Mini Holland scheme into each London borough and reduce blind spots on HGVs entering the capital. That'll be expensive, so it's worth noting that, at the time of writing, Khan has yet to put a figure on his ambitions.
Khan previously interviewed well in a bit alongside Olympian turned advocate Chris Boardman, but was second to last to pledge.
"I'm proud to support LCC's Sign for Cycling campaign, and will work towards achieving the campaign's goals as part of my plans to make London a byword for cycling," said Khan in a statement not too dissimilar from his February interview.
"In my Manifesto for all Londoners, I set out my intention to continue the Cycle Superhighway programme, with a focus on segregated provision. I will keep us on course to triple the extent of current provision and I'll look at what's working best from the existing schemes and make sure we deliver the best, safest road cycling network possible."
On danger posed to cyclists from HGVs, Khan stated: "I will promote safer, cleaner lorries. I will work with the boroughs and using City Hall procurement to set new safety standards, work to make sure City Hall and TfL contracts specify 'direct-vision' lorries, and use planning and other powers available to me, so that the safest lorry types become the norm on London's streets as soon as possible."
Sian Berry, Green Party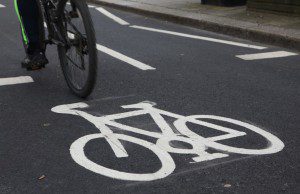 The Green Party nomination pledged to spend 15% of London's transport budget on active travel in her first term if elected, which puts Berry lightyears ahead on this particular topic.
That figure is one that cyclists in the capital the UK as a whole can only dream about at a stunning £1.5 billion over four years. With the nationwide budget running at around £300 million over five years, Berry's figure represents £175.6 a head of London's population, or £43.9 a head every year of her possible term.
(Want to see what the UK's cycling budget compares to in transport, or even MP's expenses terms? Click here.)
Berry told the LCC: "I fully support LCC's Sign for Cycling campaign and, as a cycling Londoner myself, and a longtime transport campaigner, I couldn't support its aims more. If elected, I would deliver on the campaign's three-point agenda.
As Mayor I'd make sure we keep at least the same level of funding going for segregated space for cycling on major routes, and make sure these extend to outer London. Every borough would see investment in projects for people-friendly streets modeled on the current mini-Hollands, and I'd make sure every lorry had a direct vision cab before being allowed on London's roads by 2018.
I hope all my fellow candidates will promise the same, as helping more Londoners get around by bike is an essential part of building a safer, cleaner more accessible city."
It's much the same story in Scotland for the Greens. Speaking at Pedal on Parliament, Alison Johnstone raised the stakes on cycling, proposing to spend 10% of transport budget on active travel. 
Zac Goldsmith, Conservative
The last to sign up and widely considered the least favourable choice thus far by cyclists. In fact, prior to today's sign up, Goldsmith pledged to rip up London's cycle superhighways if judged to not be working in a February LBC interview. In a bit alongside Chris Boardman, however, Goldsmith is now talking up his cycling credentials
Pledging £100 million per year would result in a spend of around £11.71 a year per head, which slightly tops the £10 a head recommended in the Get Britain Cycling Report.
In signing up, Goldsmith took the opportunity to praise outgoing mayor Boris Johnson's track record. Johnson has recently said he wishes he'd built more cycling routes in his time in office.
He told the LCC: "Boris made it his mission to get London on two wheels. He has delivered record levels of investment and thanks to him cycling in London has doubled over the past decade. I am absolutely committed to building on that legacy, and am committed to achieving the three-point agenda of LCC's Sign for Cycling campaign. Through my Action Plan for Greater London I will protect the cycling investment London so urgently needs.
"So I am delighted to say that I am committed to achieving the three-point agenda of LCC's Sign for Cycling campaign and, as Mayor, I will spend at least £100m a year in order to deliver more space for cycling; a mini Holland in every borough – provided communities are fully engaged in the design process  – and also safer and fewer lorries.
"I am the only candidate that can promise investment in cycling. Sadiq Khan's £1.9bn experiment will pull money out of the transport network and you cannot sacrifice that amount of cash without something having to give. Investment in cycling would be put at risk."
At around £30 million a pop, Goldsmith might not have much change left if he was to roll out a Mini Holland project for London's 32 boroughs.
Caroline Pidgeon, Liberal Democrats
The first to sign up was Liberal Democrat candidate Caroline Pidgeon who pledged back on March 10th.
Taking Transport for London's £11.5 billion budget from 2015/2016, Pidgeon's goal is to allocate 3% of this cash to cycling, which is more than double the current spend, equating to £345 million. As London's population goes, that's around £40 a head, well above targets set by campaigners and "the start", says the Lib Dem candidate.
"The London Liberal Democrats and I are fully committed to meeting the three-point agenda of LCC's Sign for Cycling Campaign," Pidgeon told the LCC.
"I am totally committed to more segregated cycling facilities across the whole of London, real action to tackle London's most dangerous junctions and gyratories and speeding up the delivery of Quiteway routes. I support the roll out of the Mini-Holland programme to every London Borough. We also need to tackle the immense danger of HGVs with a rush hour ban and reducing the need for lorry movements, such as through better use of the Thames.
"To deliver all this, investment in cycling must increase – by 2020 it must reach at least 3% of TfL's budget."

Pledges relating to cycling include:
an extension of Mini Holland projects
Ensuring the budget allocated to cycling is spent. In 2014 to 2015, £105 million as set aside, but just £60 million spent, Pidgeon points out.
reviews of all major junctions to improve safety, including introducing further cyclist priority
A pedestrian and cycling crossing between Rotherhithe and Canary Wharf
Promotion of the cycle hire scheme, in particular to women and young adults, as well as expand the docking stations in south London
Add contactless payment to bike hire
Other non-cycling pledges by Pidgeon include:
a surcharge of £2,50 on diesel vehicles in the congestion charge zone
Increase congestion charges inline with public transport fares
A workplace parking levy of £3,000 in central London on every parking space provided to employees, with exemptions for blue badge holders and emergency services.
A peak time ban on HGV's in central London
Extend 20mph zones on streets controlled by TfL
George Galloway, Respect
The latest to sign up is George Galloway, the Respect candidate.
Talking to the LCC, he has stated that at least £200 million in annual spend on cycling in London would be advisable. In the four year term that would mean Galloway proposes to spend around £23.42 per head every year on cycling.
In a public exchange with the LCC yesterday it appeared that Galloway would back 2 of the 3 manifesto points, though today the mayoral candidate has come out in favour of all three.
Sophie Walker of the Women's Equality Party has also signed up. UKIP's Peter Whittle is still to comment.
———————————————————————–
Mayoral candidates Sadiq Khan, Zac Goldsmith, Caroline Pidgeon, Sian Berry, Sophie Walker, Peter Whittle (UKIP) and George Galloway (Respect) will debate cycling and other transport issues at a hustings jointly being held by the London Cycling Campaign and The Times on the morning of Friday 29th April. Tune in to the #signforcycling and #asklondonmayor hashtags between 9 to 10.30am on the 29th for live coverage.