Fifth Pedal on Parliament Scotland sees record turnout, politicians woo crowds
Pedal on Parliament Scotland – a mass ride designed to keep cycling high on the political agenda – has achieved a record turnout over the weekend.
The active travel movement was this year supported by a handful of politicians, including three party leaders and a Government minister. Feeder rides stemming from cities outside of Edinburgh swelled numbers, while a simultaneous ride in Aberdeen added to the voice of the campaign.
The ride follows on from Cycling Scotland's Annual Cycling Monitoring Report, which shows that cycling levels are up 46% in a decade. Within this report it is revealed that cycling's modal share is rising slowly, but perhaps overlooks lack of infrastructure when detailing the reasons why more new cyclists aren't taking to the streets.
Transport minister Derek Mackay addressed the gathered crowd in Edinburgh having ridden across cobbled streets, which he jokingly pledged to tarmac if re-elected.
"We will match current record spending on active travel, revisit the CAPS and implement the walking strategy," said Mackay.
Aliston Johnston of the Green Party was one of the three key politicians on two wheels at the rally. Speaking to the gathering she laid out some ambitious goals, including the creation of a presumed liability law on Scotland's roads.
"It's fabulous to see so many people here today – but isn't it frustrating that we have to keep campaigning for the most affordable democratic form of transport there is – Scotland must do better and we need clear leadership."
F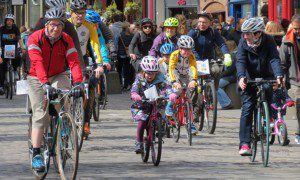 urthermore, Johnston called for 20mph zones to be extended far and wide, as well as pledging to invest 10% of the transport budget into active travel. She also questioned the Government's "obsession with massive new road creation."
Acknowledging that the Cycling Action Plan's goal of ten percent of journeys by bike in 2020 won't be achieved without some funding, Sarah Boyack sounded out her Labour party as the one to drive safe cycling forwards.
In a pre-event statement she said: "A Labour Scottish Government will put cycling back on the agenda. We know investing in cycling is investing in public health and the environment, making our town and cities cleaner and more active. We need sustained year on year investment nationally and locally to create the safer routes that will encourage more people to cycle."
Liberal Democrat Willie Rennie, another of the leaders to participate, pledged an extra £20 million of active travel spend to achieve the 10% target.
For the Conservatives, Miles Briggs referred to images of a taxi driver assaulting a cyclist, stating: "We need to develop a safe network for all road users be they on two or four wheels. Scottish Conservatives want to see investment in active travel and the development of at least one segregated cycle route in each Scottish city – linking outer city limits to the city centre. At this election we are proposing a £100 million roads maintenance fund. Edinburgh has some of the worse roads in Scotland and it is time for action to make our roads safe. There is cross-party consensus that we need to see more investment in cycling."
But is it all just point scoring noise? This columnist at The National who attended thinks much of it might be.
Read the campaign group's own report on the April 23rd event here.
To read more on Scotland's Annual Cycling Monitoring Report, including a breakdown by region, see here.
All Photos by Chris Hill