ArroWhere seeks international partners on the back of strong early trading
Just a year into trading, visibility specialist ArroWhere is gearing up for expansion, having enjoyed some considerable early success with its unique apparel and accessory collections.
A producer of waterproof jackets, windproof vests/gilets, shells, waterproof backpack covers, airstream jerseys, vests and gloves, the business's founder has one simple ethos – to enhance a cyclist's safety on the road, giving passing motor traffic a clear indication of the space needed.
Khyle Pinkman, ArroWhere's Co-founder, told CyclingIndustry.news: "This really represents the end of our first full year in business and, as such, we have experienced some exciting new developments, especially with our R&D. Earlier this year, for example, we teamed up with some institutions (including a Canadian university) to help explore the extent to which our patented/patent-pending products and designs positively affect its users. ArroWhere hopes to release some of its findings later this year. As is always the focus with clothing and design companies, we plan to release this fall some of the cool new gear we have been developing behind closed doors (including ArroWhere Dark)."
ArroWhere Dark, as the name suggests, taps into those customers looking to blend in, bringing casual style to an incredible effective visibility garment. Indeed, tests have shown Arrowhere's clothing to be visible to on-coming cars at a range of 1/4 of a mile away.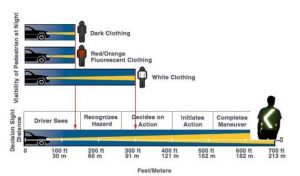 "Not everyone appreciates the high-viz and I completely understand that. A lot of people rather wear something less conspicuous, but these same people would like to arrive home or at work safely. ArroWhere Dark was developed to give these same people the opportunity to wear non-high-viz clothing that still sports ArroWhere reflective designs (and the ArroWhere Effect), but they will only appear when light reflects off them. In essence, they are wearing a dark vest, jacket, or backpack cover that has camouflaged reflective material. It's super cool," explains Pinkman.
A combination of performance characteristics, a custom cut designed for the commuting cyclist and availability of both men's and women's garments have seen sales surge. With patents both active and pending on his designs, Pinkman's catalogue has touched a nerve, not just domestically, but further afield.

"Retailers are more than welcome to contact Chris at Leveret Productions for UK stock availability, who handle some of our UK distribution. The owner, Chris, is a great person to deal with."
The product's crossover into running, horse riding and other active territories offers great potential for the outdoor business, concludes Pinkman.
"There is an international demand for ArroWhere and we are doing our best to meet it. Secondary to seeking international partners, we are also offering co-branding opportunities to those who wish to licence our designs. If you are interested in becoming an ArroWhere distributor, please do send me an email at sales@arrowhere.com."